Strictly Come Dancing on Stars with Ice Factors in the Jungle makeup I can handle.  Especially when I got the opportunity to play and wasn't completely horrified by the actual quality.  Plus they'd made the most of all the sequins, glitterballs, cutely packaged bits and bobs… it has that tack-tastic quality that you want from a Strictly Come Dancing makeup line.
This?
I'm not so sure.
[stextbox id="custom" caption="They Say" ccolor="ffffff" bcolor="b0c4de" bgcolor="e6e6fa" cbgcolor="b0c4de"]Become the ultimate diva with this new show-stopping collection of Glee inspired cosmetics. The dazzling selection of nail colours, eye shadows, lip glosses and lip balms offers Glee fans the chance to create their own personal 'Gleekover'.[/stextbox]
I'll be honest… I've never watched Glee, but surely if you were going to capitalise on the whole Glee phenomena with a little sideline in makeup… you could put a bit more effort into it?
Picture the scene (and bear in mind I have no actual idea how this works.)   So… we're in the Superdrug/Glee/Wholesale Cosmetics people's boardroom.  Eating doughnuts… probably.
"Hey guyyyyyys!  How about some Glee Makeup for Christmas?!"
*audible gasp*
"Ah-mazing!"
"But how can we make it Glee makeup as opposed to any old generic cheap crap makeup?  We don't want our customers to think that we're taking advantage of an opportunity without putting any real thought into it."
"Let's stick some Glee stickers on it!"
*audible gasp*
"Genius! – If it's good enough for MACs latest collection… it's good enough for us."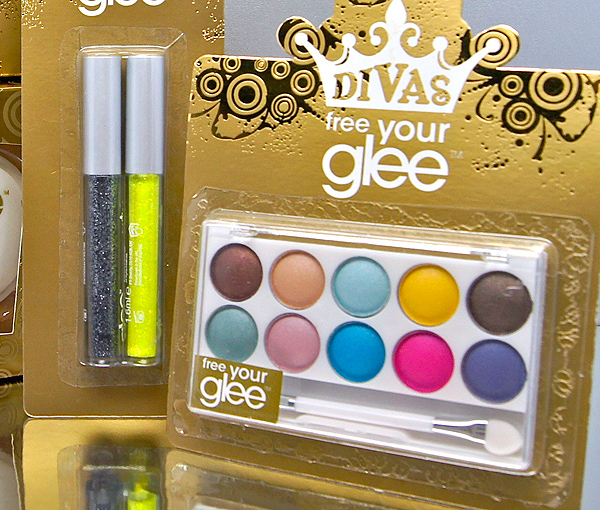 At least MAC's stickers were printed in more than one colour.  Cheapskates.  How in the hell is this Glee-inspired makeup?  Once your Gleeky consumer has torn away the cardboard packaging… don't you think they may be just a teeny bit disappointed with what's left in the way of Glee-spiration? (ok, I'm stopping with the quips now).
You can go buy your *cough* Glee-inspired makeup which includes *cough* BeautyUK-esque eyeshadow palettes instore at Superdrug now.  With prices starting at £3, I'm not saying they won't make excellent stocking fillers… but if I find one in mine?  Mr. L won't have much to be "Gleeful" about.