This Valentine's day, why not share a bath with someone you love?  Just make sure that you don't get the tap end.
LUSH have released some new delights and brought back some old favourites in celebration of the mushy occasion!
New to the LUSH party this year are…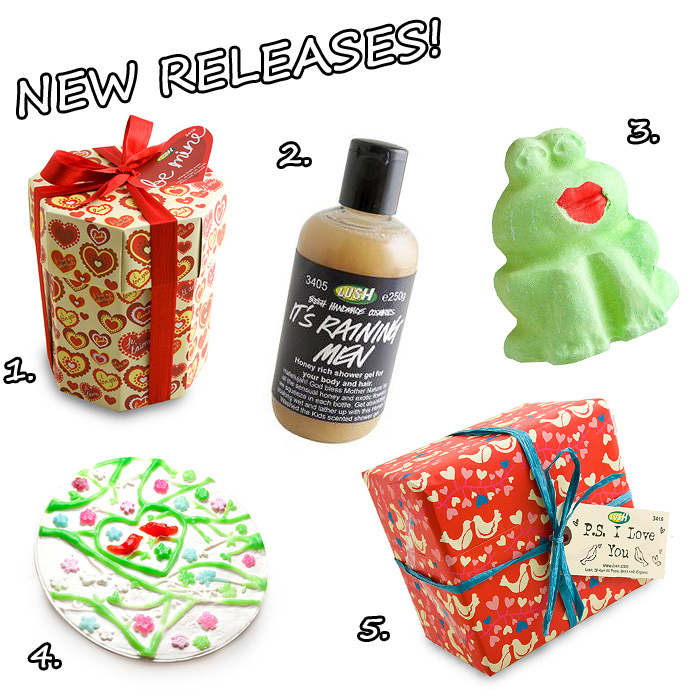 1. Be Mine (£26.95) … A sexy selection of six scrumptious treats that's sure to make the one you love 'be yours' this Valentine's Day. Inspire someone to melt into a marshmallow bath, let it rain men in the shower and get up close and personal with a Soft Coeur massage. A gift to ensure they'll stay yours as well! Contents: Melting Marshmallow Moment bath melt, The Frog Prince bath ballistic, It's Raining Men shower gel (100g), Sex Bomb bath ballistic, Sugar Babe sugar scrub, Soft Coeur massage bar, Lust solid perfume.
2. It's Raining Men shower gel (£4.25 for 110g / £7.95 for 260g / £14.25 for 510g) … hallelujah! A divine shower gel scented with our best-selling Honey I Washed the Kids fragrance … amen! Shower with this luxurious honey and tropical flower gel and your skin will be left deliciously soft, scented like crème brule and extremely lickable!
3. The Frog Prince bath ballistic (£2.75) … kiss this cute little character (on his bright red, pursed pout), throw him in a tub of warm water and, as the fairytale goes, marvel as he dissolves in front of your eyes to reveal your very own Prince Charming … or in this case, a sticker of one of our charming compounders from the Lush factory! And as you would expect for royalty, he has his own, exquisite, sultry brand new fragrance – a majestic blend of jasmine, sandalwood, rose and neroli.
4. Love Birds soap (£3.00 for 100g) … something for all those lovers out there, this gorgeous new soap is scented with some beautiful aphrodisiac essential oils to make Valentine's Day that extra bit special! It's the Keep It Fluffy fragrance, which includes sensual jasmine and vanilla for a romantic soap that will soften and moisturise skin, while leaving it delicately scented.
5. P.S. I Love You (£13.95) … say it with Lush and tell that special someone what you've been meaning to say for ages. This cute little gift is a foursome of romantic products to leave your special someone feeling in no doubt of your feelings. All wrapped up with love birds and heart embossed paper. Contents: The Joy of Jelly shower jelly (100g), Strawberry Feels massage bar (mini), Love Birds soap, Sex in the Shower emotibomb.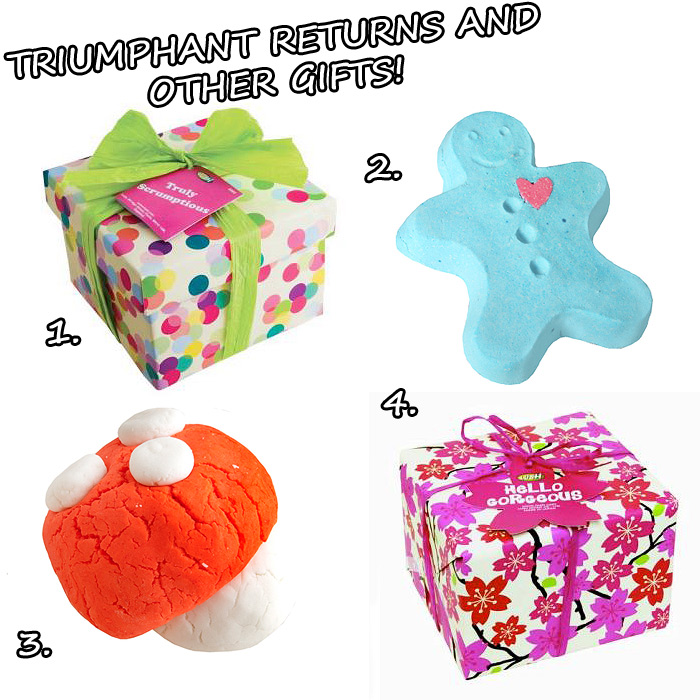 1. Truly Scrumptious (£27.25) … a delectable collection of Lush's sweetest treats, what better way to tell someone you're sweet on them?! Contains Lush's best-selling Honey I Washed the Kids soap, a chocolately Whipstick lip balm, Space Girl and Butterball bath ballistics, Vanilla Dee-lite body lotion, Creamy Candy bubble bar and a Melting Marshmallow Moment bath melt. All in all, it's exactly what it says on the tag!
2. Ex Factor bath ballistic (£1.99) … a gingerman shaped little friend to join those Valentine-less folk in the bathtub, who may be feeling a little blue at this time of the year and fed up with all the lovey dovey paraphernalia wherever they look! He dissolves in the warm water in a swirl of ylang ylang and vanilla to reveal a small pink candy heart. The delectable mix of essential oils is the same as our best-selling Butterball bath ballistic, so will leave you feeling happy, relaxed and ready to meet someone else!
3. Magic Mushroom bubble bar (£2.30) … a fun-guy to share Valentine's Day with, this charming toadstool is a frothy strawberries and cream scented wonder for your bath. The fragrance is a blend of Lush's best-selling Vanillary and the popular strawberry-sundae Yummy Yummy Yummy. Crumble under running water for masses of skin softening strawberry and vanilla scented bubbles.
4. Hello Gorgeous (£17.90) … it's always good to tell people they're gorgeous and what better way than with a selection of Lush's most gorgeous products. There's a Japanese influence, with a cherry blossom design on the outside and the mimosa scented Sakura bath ballistic on the inside. Also contains a small tin of Gorgeous, our extra special orange blossom moisturiser; Helping Hands hand cream; cherry and mimosa Rub Rub Rub shower scrub (100g) and a lovely pink luxury bath melt made with marshmallows.
..
I haven't decided if I'm falling in line with the marketing this year or going all-out I HATE HEARTS AND FLOWERS.
Are you a Valentine's celebrator?  However I'm feeling about all that love stuff, I never fail to use the occasion as a magnificent excuse to do things that I couldn't get away with on an 'ordinary' day… hello Chinese takeaway, self-indulgent baths and leftover Quality Street.  Love yourself I say!