I know!  Right?!
But before you get all excited (as I did when I read about this), the offer is only available to new Boots Treat Street customers.  So, if like me, you're already justifying your eBay addiction by reminding yourself that you earn Boots points with every purchase courtesy of Treat Street, this deal doesn't have your name written on it.  The bastards.
However…
If you're new to the world of Boots Treat Street, there isn't a better time to sign up.  Except for that time when I signed up and got £15 in Boots points (kerr-ching) via a Living Social deal.  Sorry, you've missed that boat and no-one likes a gloater.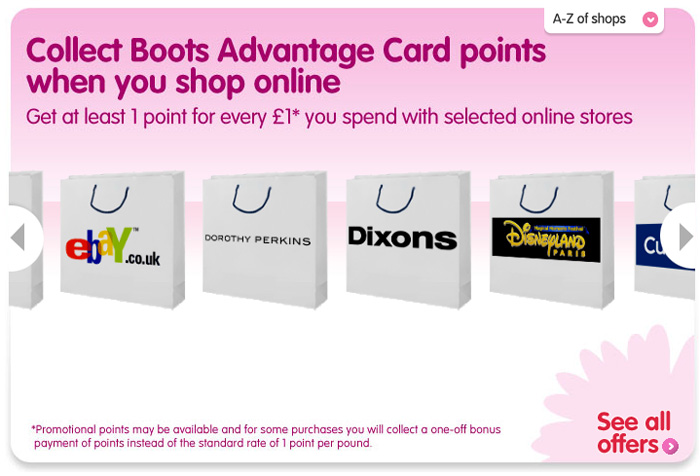 So, what's this Treat Street malarkey all about then?  Well, to put it simply… it's the Boots Advantage Card system extended to other stores (but only online).  For example, you can't walk in to Dixons brandishing your Boots card but you can click through to the Dixons website VIA the Boots Treat Street website and subsequently earn Boots points on any purchases.  Clear as mud?  Good.
As much as I hate installing crap on my computer, I must admit that the Boots Treat Street browser toolbar comes in quite handy.  It pops up whenever I'm on a website that participates in the scheme and reminds me to "log myself in" to the system before making my purchase, thus securing my Boots Advantage Card Points from the deal.
If you haven't shopped via the Boots Treat Street website before, you'll be wanting this code: WELCOME500 and these instructions on what to do next.
Happy points collecting!  Do you use Treat Street?  Tempted to sign up?