In honour of my due date (yes, that's today little dink if you're paying attention – are you ever coming out smelly bum?) I thought I'd share my thoughts on a skincare line that I've been using throughout my pregnancy.
Mama Mio have a skincare range to suit most everyone, but I think it's safe to say that they are most well known for their luxurious treats for mummies to be.
This is the kit that I've been using…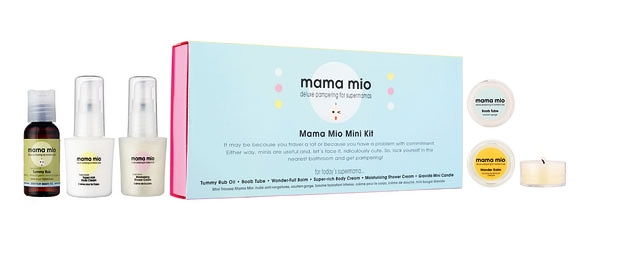 Mama Mio Mini Kit is for commitment phobes, jet-setters or Mama Mio beginners. This kit contains the best of the Mama Mio skin care range in convenient miniatures, so you can pamper your supermama-self wherever you are.
I was lucky enough to be bought this lovely little kit for Christmas, and have been putting it to good use on my poor pregnancy riddled belly and boobs!
It contains 6 of Mama Mio's most popular products.
Here's what Mama Mio say about them, followed by my thoughts…
Boob Tube Firming Cream:
Mama Mio Boob Tube is a product we just can't do without. If you haven't heard about it already (voted 10/10 by OK Magazine, winner of Greatest Product from the iParenting Awards) it was Kathy's saviour when pregnant with twins and forevermore. This will help you defy gravity over time and stop the sag.
A nice balmy cream that helped to soothe on days when I was suffering from a feeling of ultra heaviness and achiness in that area.  I can't put much stock into gravity defying claims, but as a moisturiser, it's really nice.  I should also point out that I haven't developed any stretch marks here compared to the road map that is now my stomach.  Probably a coincidence, but worth mentioning.
Moisturising Shower Cream:
Want to know a secret? Our Moisturising Shower Cream is actually a baby cleanser. We felt that every mama can use a little babying sometimes. That explains why it is so gentle – it won't strip your skin like a harsh soap.  And of course it is sodium laureth sulfate free – it's from Mama Mio.
I haven't used this yet, I've packed it in my hospital bag as a post birth shower treat.
Super Rich Body Cream:
Our Super-rich Body Cream is a must for every mama. It's rich yet quickly absorbed, nourishing but light, and makes skin feel silky with no lingering film, and smell gorgeous. So lavish your skin with this super-nourishing cream and glory at the glow and softness.
My favourite, a stand out product for me – mainly due to the scent, citrusy but with deeper, sweeter notes.  Utterly gorgeous and intoxicating.  I'm very tempted to repurchase this after I've had little dink.  Ultra moisturising without leaving a sticky feeling, the scent which is initially quite strong fades leaving a subtle hint on your skin.  It absorbs completely and leaves my skin feeling really soft and supple.
Wonder-Full Balm:
Mama Mio Wonder-Full Balm really is. We called it Wonder-Full Balm because you will find a million different ways to use it. Nine natural oils in a beeswax base, it is really a solid oil that melts in contact with your skin and provides rich intense moisture.
This was a lifesaver throughout the freezing month of January, I slathered it on my elbows, lips and any dry bits that appeared on my face.  Not the most comfortable product to wear thanks to the fact that it is after all a greasy balm that tended to stay on the surface – but it really stopped my skin from cracking compared to the days that I didn't have it on me… In fairness, I'm not sure how this would have compared to a cheaper version like Badger Balms Healing Balm or even super budget Vaseline – but it definitely smells better than Vaseline!
Gravida Candle:
We added our Gravida Candle as we know that regardless of where you are, if you get five minutes to yourself, you'll grab it. Whether it is a hotel room, bedroom or just enough room, you can sit back, relax, lay back and breathe deeply.
The most disappointing, I just couldn't smell anything from this.  I actually thought it was just a plain tealight until I read on the website that it was supposed to be scented.  Total 'meh' product for me… and just 'cos I'm a nerd – a 'gravida' is a pregnant woman incase you're interested – which you like, totally weren't.
Tummy Rub Oil:
Last but not least is our Tummy Rub Oil. A well tested, beautifully fragrant, omega-rich oil to ease your stretched and itchy skin. It is stretch mark prevention at its very best. It is also brilliant as banishing winter lizard legs…
Another beautifully scented product, but I prefer my Sanctuary Body Oils as I found Mama Mio's Tummy Rub Oil stubbornly left a filmy coating on my skin despite intense rubbing in!  The little bottle also made application without dribbling it on the carpet a bit of a nightmare!  Despite religious use of this product, I also developed stretchmarks – although not until 35 weeks.  I am prone to stretchmarks though, and in honesty I believe it has far more to do with genetics than what you slather on your skin… I think I was destined to get them no matter what, so for them to only develop in the last 5 weeks of pregnancy is pretty good going and may or may not be related to the product I was using – who really knows?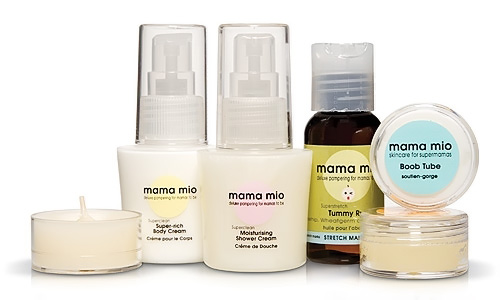 Ok, so that's a little run down of Mama Mio's most popular products for mummies-to-be and my thoughts after using them for a few months.
In conclusion, there are some really nice products in this range, one of them in particular stands out as a product that I would repurchase.  Having said that, there are also products out there on the market designed for everyday use that would match up to the quality of these (and offer the same properties for overstretched pregnant skin) but at half the price.  Although the convenience of having a specially designed range like this can't be argued against.
I was also delighted to read that:
Every Mama Mio product is safe to use at any time from pregnancy stage to pensionable age. It is Paraben Free, Petrolatum Free, Sodium Laureth and Sodium Laurel Sulphate Free, Xenoestrogen and Phtalates Free, Colourant and Synthetic Fragrance Free.
So if you've been searching for products practically guaranteed to be skin friendly – look no further!
If you're looking for a gift for a mum-to-be, this is a really well put together little kit and couldn't fail to please a lady in need of a little pampering.