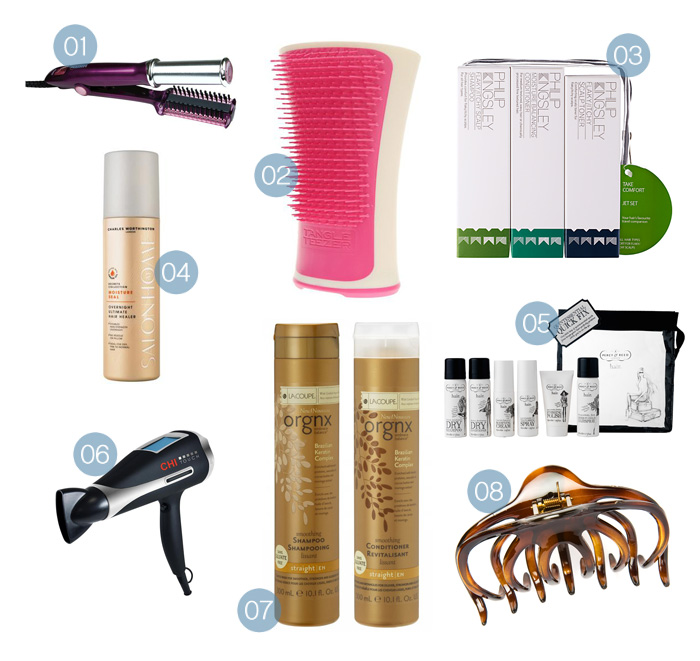 01: Instyler Rotating Iron in Purple 32mm (£99.99)
A revolving barrel and brush combo that promises to both smooth the hair and add shine as you pull the brush from root to tip. Potentially, the perfect solution for those who want both volume and smoothness.
02: Tangle Teezer Aqua Splash (£13.99)
The latest addition to the Tangle Teezer family which has been specifically designed for use in the shower. A hollow structure, "drying" feet, and the patented detangling design make this a great tool for combing through conditioning treatments.
03: Philip Kingsley Take Comfort Jet Set (£17.00)
Not a great choice for the secret Santas out there but if you know someone with a problem scalp, this is a great kit for providing a targeted solution. The kit contains three hard-working treatment-based formulas to soothe the itch and rebalance the scalp.
04: Charles Worthington Salon at Home Secrets Collection: Moisture Seal Overnight Hair Healer (£14.99)*
We all like to see results and Charles Worthington's Salon at Home Secrets Collection promises tangible results after one application. The Overnight Hair Healer is a deeply moisturising treatment to help replenish, restore and nourish dry hair. Particularly good for coloured locks.
05: Percy & Reed Quintessential Quick Fix Travel Pack (£17.96)
Following on with the quick-fix theme, the Percy & Reed Quintessential Quick Fix Travel Pack offers a selection of travel-sized goodies to perk up your tresses without the palaver of changing your entire hair routine. Available online at Beauty Bay.
06: CHI Touch Screen Dryer (£150.00)
Know a gadget girl? if you thought that touch-screens were purely for smart phones, think again. Head to Urban Retreat's Beautique for a gander at CHI's Touch Screen dryer which offers a wealth of settings and configurations to ensure that you get the exact drying power and temperature that you need for your style.
07: Orgnx Brazilian Keratin Range (from £9.95)*
For barnets that are shamefully wilder than their owner's, take comfort from the Orgnx Brazilian Keratin Line which promises to tame frizzy hair and leave it looking silky-smooth thanks to a blend of complex oils and proteins. The range includes shampoo, conditioner, serum and a 14-day treatment.
08: Stone Bridge Octopus Large Hair Claw (£16.50)
Every girl needs a great hair claw in her life, it's the most reliable of hair tools that requires no fussing or coaxing to achieve a perfect updo in seconds. The Octopus Large Hair Claw promises to grip every strand with a uniquely clever design that's both elegant and effective.
Tomorrow's penultimate gift guide indulges in some of the most tantalising cosmetic cravings around…
* press sample