There ain't half some bloody odd names about for products aren't there?  I always think that the weirdest are the ones that go onnnnnnnnnnnn forever.  By the time I've finished reading them, I've forgotten how they started.  In the name of all things catchy, surely that can't be good for memorability?
Skincare is particularly notorious for rubbish names, I guess the brand often needs to name-check the technologies involved *cough* Estee Lauder Daywear Sheer Tint Release Advanced Multi-Protection Anti-Oxidant Moisturizer SPF15 *cough* but really… surely it's more important not to have your customer standing at the counter scratching their heads.
I know there are women out there who refuse to buy certain products because of their names.  Mostly the sexually-oriented ones like: Orgasm & Deep Throat [NARS], Sexy Mother Pucker [Soap & Glory], MILF [Illamasqua] and the notoriously risque [Urban Decay] with shade names like: Jailbait, Gash & Fetish… or perhaps worse are the drug-loaded references in: Blow, Loaded, Baked, Yeyo, Narcotic and hell, don't even get me started on [TooFaced's] Pearl Necklace!
.
Anyway, there's not really much point to this post other than a ramble and to give props to the kooky names out there that never fail to put a smile on my face.  Here are some of my favourites…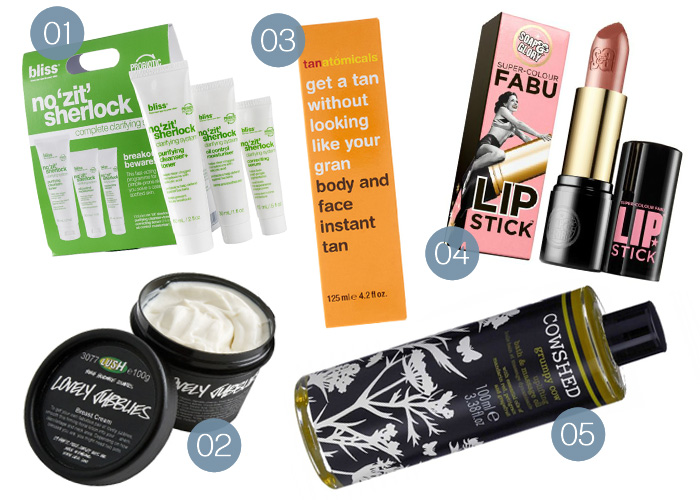 01: Bliss – No 'Zit' Sherlock
02: Lush – Lovely Jubblies
03: Tanatomicals – Get A Tan Without Looking Like Your Gran (my personal favourite!)
04: Soap & Glory – Super-Colour-Fabu-Lipstick
05: Cowshed – Grumpy Cow Uplifting Bath & Massage Oil
.
What are some of your best and worst product names?