Nothing screams "I got a tattoo in the late 90s" like a tattooed arm or ankle band.
Chanel's latest must-have accessory was recently showcased on the Paris runway and it's just as well the 90s are back in fashion, 'cos check these babies out!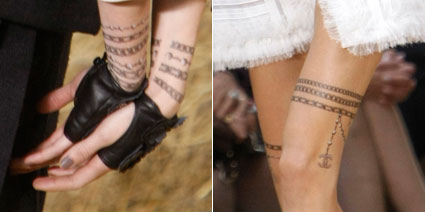 "Les Trompe L'œil de Chanel", a set of 55 individual tattoos priced at an eye-watering £49 will be available on the Selfridges Chanel counter from 1st March.
I think I'll stick to the ones you get free with bubblegum… or if I really must indulge, there must be 101 purse-friendly alternatives out there.
What say you? Fabulousness or Folly?