One of the most talked about so-called 'dupes' is the infamous $5.99 Milani Luminous blush which many say is a dead ringer for the even more infamous $25 NARS Orgasm.
Here's my take on that theory…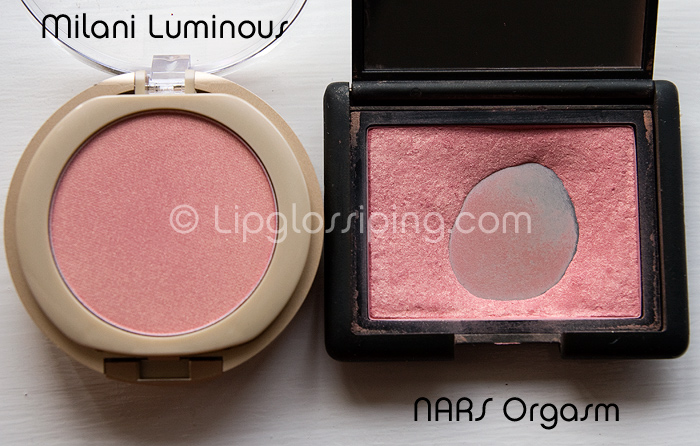 You can immediately see the similarities between them.  In the pan, Orgasm has a little more sparkle, but the shades are a very close match indeed.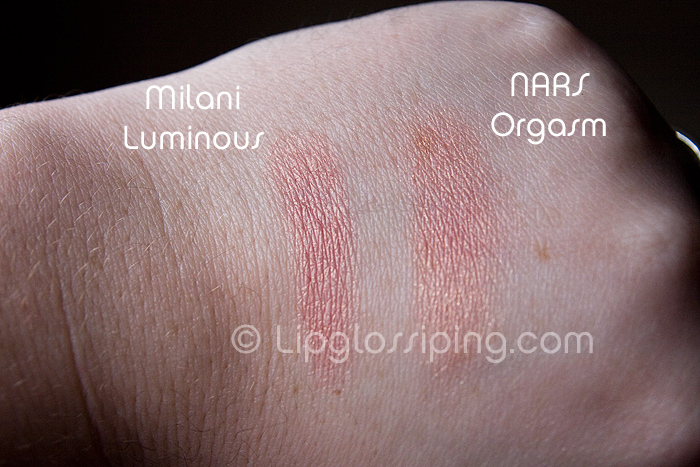 On my skin…
I find Milani's Luminous to be slightly pinker than NARS Orgasm on my skintone, it also swatches a little heavier which was a surprise to me, as I rank NARS blushes up there as among the most pigmented I've used.
The Milani only lasts for a couple of hours before fading compared to Orgasm (a.k.a – shit to a blanket).  Once applied to my cheeks, NARS Orgasm has that "Je Ne Sais Quoi"… a slightly ethereal quality that is lacking from the Milani.
Does that relegate the Milani to the dupe bin?  Not at all, I would happily take Luminous on a fortnight holiday with me.  I love it, it's a fantastic dupe and I'm pleased to own it.  Would I be happy for it to completely replace Orgasm?
No.  On my skin, NARS Orgasm gives me that famed full on post coital flush that Milani Luminous only hints at.