So, Tsunimee and I were bitching on twitter that we didn't really like metallic finishes to our polishes, and of course… that same day one of THE MOST BEAUTIFUL metallic nail polishes EVER showed up in my little ASOS haul.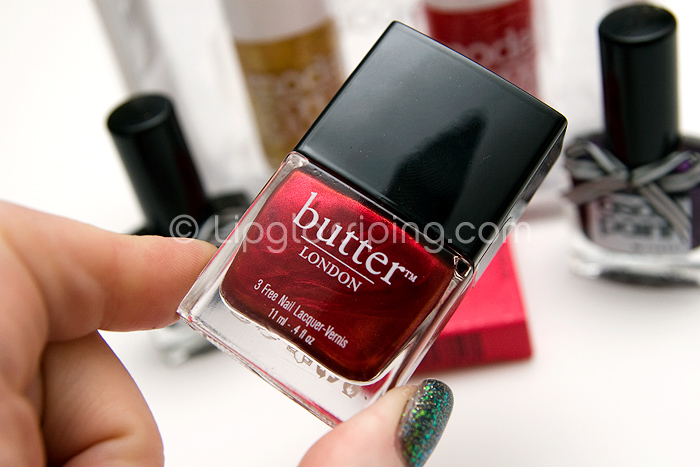 It has that Quality Street wrapper quality doesn't it?
Of course I had to apply it immediately…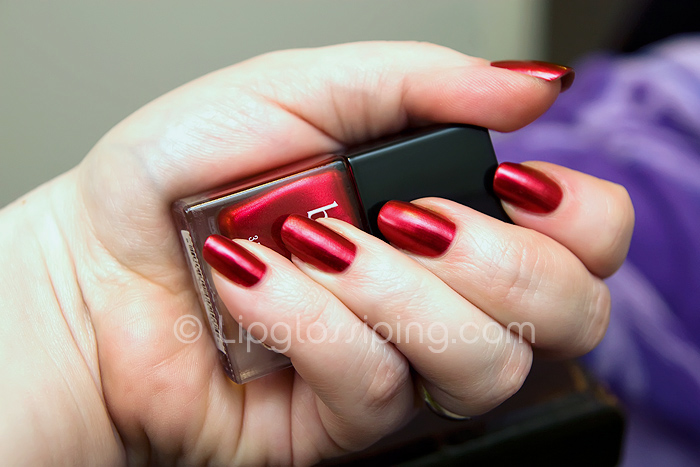 I love it. And this photo… does not do it justice.  In real life, it looks like someone has foiled my nails with this glorious jeweled ruby red.  It's perfect.  It looks like there are brush strokes in the image… which is hugely unfair, because I'm squinting at my fingertips now and I just can't see any.
You pop off the clunky square 'lid' with a sharp tug and it reveals an altogether easier to manipulate round handle for application purposes.  Unfortunately, the brush is a STUPID thin thing, like in my Orly polishes… but other than meaning it needed about 5 strokes to cover the nail bed, it didn't cause me any issues.
Application was *nearly* spot on.  Opaque in the first coat, I needed to go back in for a second just to tidy it up…. however, I did experience a couple of bubbles on 2 nails, which sucked especially as I know I wasn't applying it too thickly.  Still, it's so beautiful I don't really care.  Plus, when the polish had dried (very quickly I might add) I could barely see these two bubbles… but I needed to mention it as bubbling isn't something I usually experience with polishes.  Longevity is amazing for a metallic, I'm on my 3rd day (with no top coat) and it looks as good as new.
This was my first Butter London and I'm smitten.  They're not cheap at around £10 each, but I want more…
What are your Butter London favs?