… so I sent out a 2am cry on Twitter of "I haven't blogged anything for tomorrow, please send me some inspiration!" and moments later I got a fab reply from the beautiful Liloo who said that she loves reading the odd "non recommendation" post.
So whilst I apologise for taking the path of least resistance with a nice easy "don't have to think too hard" post, I'm quite excited 'cos I don't usually do taggy type posts like this!
I'd also like to apologise for the fact that I can't count.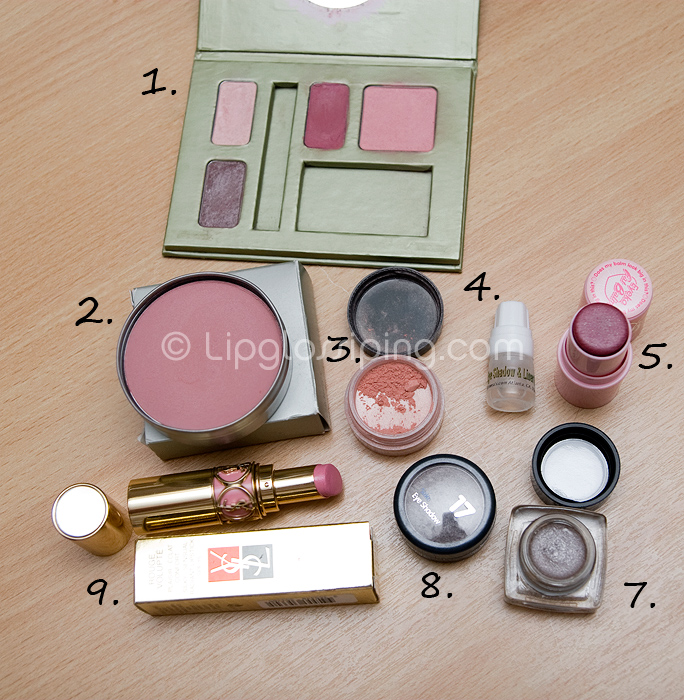 1. Benefit Decked Out Dandelion Palette
I bought this years ago, infact the lippie's gone a bit hard :/ It really is time to part company with this palette.  I don't hate it, but it's never been worth the money I spent on it.  Dandelion was supposed to be THE blush that made me learn how to love and wear blushes on my pale skin.  It doesn't show up on me!  I liked the bottom left eyeshadow colour (Mr. Right Now) but that's it.  And one out of 4 just ain't good enough.
2. CARGO Blush in Tonga
I had really high hopes for this blush that has received many glowing reviews across places like MUA and not having a Sainsburys near me that stocks the CARGO line, I was gutted when I found out there was a half price sale going on.  Rowena from Cosmetic Candy offered to pick me up this blush from her local and I was TOO excited to receive it.  It's very finely milled with a nice, smooth matte texture, but I just find it a tiny bit patchy on me.  It also makes me look a little ruddy…  It just. doesn't. work.
3. Silk Naturals Mineral Blush in Climax
One of the well known Orgasm dupes and very nice it is too.  But I just don't use it.  I prefer the convenience of the Milani dupe (being a pressed powder) and now I have the real thing, I appreciate that this stuff doesn't have the staying power of the NARS original.  However, if you're into your minerals… I would still recommend this as an alternative.
4. EGMinerals Eye Shadow and Liner Gel
One of those sealing gel products to turn your eyeshadows into liners or to aid the foiling of pigments.  Again, I have nothing against the actual product… but I just don' t reach for it.  If I want to foil a pigment for a liner, I spray my brush with my Body Shop Vitamin E Face Mist and I get great longevity from my foiled pigment/shadow.  I've always got my face mist close at hand for a spritz after setting my foundation with powder anyway so it's just more convenient for me.
5. Eyeko Strawberry Fat Balm
Don't you just hate binning products that you've used once?  Well, I need to do that with this one.  For a product that you're supposed to be able to apply on your lips, it tastes horrific.  I also really dislike the synthetic Strawberry scent which when applied to my lips sits under my nose being… obnoxious.  I find it too sticky to wear as a blush, so despite loving the shade, it's a bit fat fail of a product for me.
6. That number *obviously* doesn't exist to me for whatever reason I've buried deep in my psyche.
7. Bobbi Brown Metallic Long Wear Cream Shadows
I've got a few of them, which you may remember from my review.  I just don't use them enough to justify the space they take up in my collection.  They're very glittery, so not a huge amount of good for day wear, and I'm a sad mummy who doesn't leave the house past baby's bedtime soooo…
I also expected a smoother formula and less chunky glitter from a high end brand like Bobbi's.
8. Boots 17 Eyeshadow in Mardi Gras
This is such a beautiful taupe, but it just doesn't last for longer than about 4 hours without completely disappearing.  It's not even that it creases… it simply vanishes.  UDPP, Art Deco Primer, ELF… I've tried a myriad of primers with it, it hates me.
9. YSL Rouge Volupte in #7 Lingerie Pink
Let's be clear.  I love this lipstick. Love. It.
I have the Rouge Volupte in #1 aswell… they're beautiful lipsticks, but at £20 a pop…. I wanna get more use out of them than I do this one.  I think I've worn it twice since I bought it in December.  I knew it was the infamous bright of the line up and tried it on more out of curiosity than with any serious intentions of buying it.  It trapped me.  Right then and there and before I knew it, I was handing over my debit card.  Not only that, but my cousin who was with me also bought one!  It's witchcraft I tell thee.  And I'm not sure it suits either of us :/
.
And that's it… my 5, 9, 8 things I wish I'd never bought.  Of course, being a bit of a hoarder means that I could quite easily add a few more to that list, but these were the first 5, 9, 8 that I happened upon whilst I was rummaging!
Now, tell me.
Anyone's Alice palette arrived yet? I wanna know what you think of it!!
Hopefully it'll be back online today at some point!