I have a love/hate relationship with these Guerlain Rouge G lipsticks.  They're stupidly expensive and I blame it ALL on the elaborate casing.  Yes, the packaging is kinda delightful… it's sexy and tactile and all those things but it also weighs my bag down and brings guilt to my purse.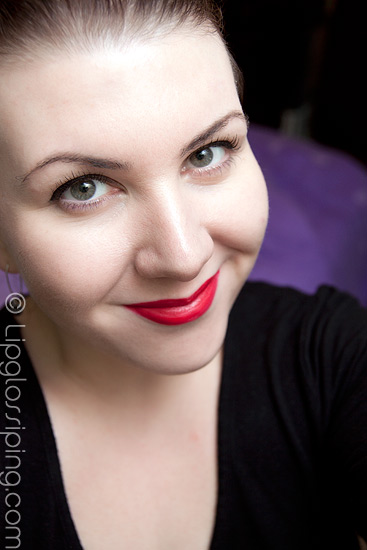 Greta is a cool toned, creamy red that delivers maximum pigmentation with little effort.  It's a formula that's comfortable to wear for many hours despite drying down to a slight satin finish.  It's fairly well behaved but I still wouldn't recommend wearing without a lip liner.
Wear is slightly better than average.  I'm not sure what 'average' is, I haven't really quantified it that definitively… but if I'm pleased with the wear (which I was) it means that a).  I wasn't infront of a mirror every hour reapplying and b).  I didn't scare myself with patchiness when I made it to the mirror.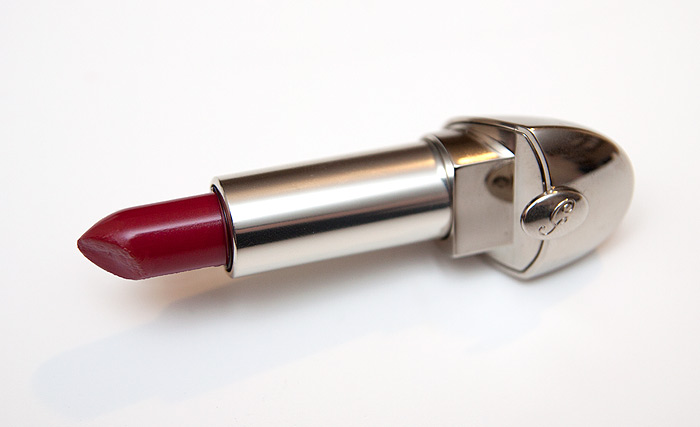 £28 is a lot of money to spend on one lipstick and it's not something I do that often. (honest guv)
If you wanted a signature red with classy packaging, a great formula and bold colouring… I would recommend checking out the Guerlain Rouge G reds… they also do a more orange-toned one too (the name escapes me atm).