Spring is coming, can you feel it?  The evenings are just starting to get the teeniest bit lighter and I for one, am pretty darn excited about it.
Beauty-wise though… Spring, for me, is the dullest season collection-wise.  I don't really 'dig' pastels… they wash me out.  I have to wait nearly a whole year for my favourite to come round again – A/W FTW!
My Spring blues were lifted somewhat though when I saw this post on Cosmetic Candy.
To put it simply, Barielle's Spring 2010 Wildflower Collection looks hawt.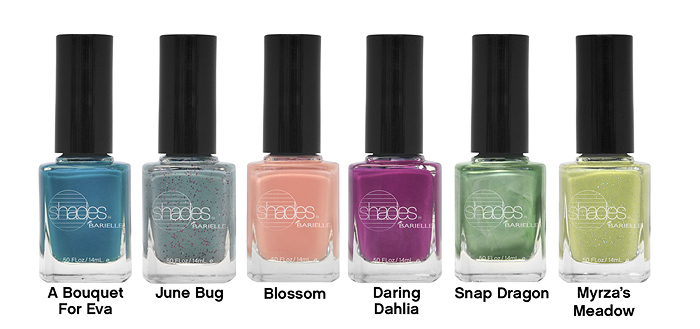 Comprised of 6 shades, it's screams: "Hey, I'm doing Spring… but I'm doing it my way!"
The stand-out shades for me are A Bouquet For Eva, June Bug and Daring Dahlia.
Myrza's Meadow captures my imagination, but I can't imagine it looking good on my skintone.
Here's how Barielle describe them:
A Bouquet for Eva – A cool Caribbean blue
June Bug – A teal with fuchsia glitter
Blossom – An opaque peach
Daring Dahlia – A deep fuchsia with a hint of silver metallic
Snap Dragon – A metallic sea foam green
Myrza's Meadow – A light lime green with silver glitter
Barielle Shade's polishes are available to buy from the Barielle UK Website and are priced at £8.00ea.  No sign of the Spring Wildflower Collection yet though… Hurry up Barielle, it'll be Summer soon!
Any of them on your radar?