Lemme tell you about this "Love Colour" event that Space NK have going on at the end of the month, then listen up… cos I'm thinking of making that 30 mile trek to the seaside (and local store) and attending.  I wanna know if you go to these kind of events.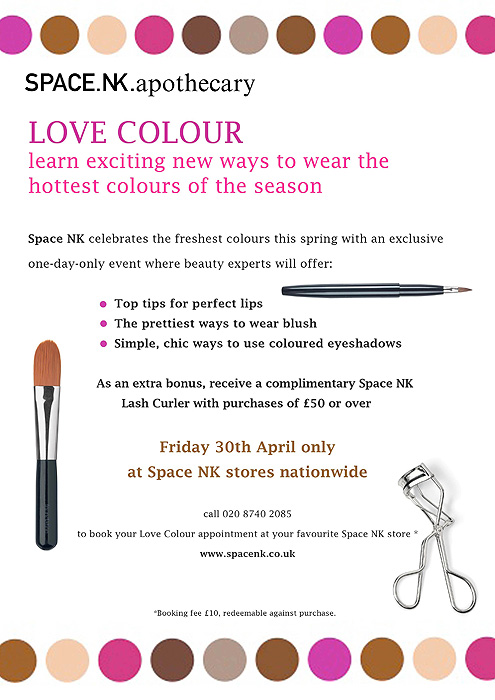 Can you read that phone number and the small print? *squints*
020 8740 2085 is the number and there's a £10 booking fee which is redeemable against purchases.
.
OK, so now I wanna chat about these kind of events…
Do you ever attend them?  I've never been to one… I'm kinda shy, not hugely… but enough that the thought makes me feel a teeny bit uncomfortable.  But let's face it… counter staff in general make me feel quite uncomfortable.
I never know what to say or how much I should buy before I reach the level of "acceptability" once they've started to lavish their attentions on me.  I mean, don't get me wrong… I don't spend beyond my means just 'cos I feel uncomfortable (although I have in the past), it's just… there's etiquette isn't there?
And what about when the events include other 'strangers' and you have to be all like… "oh, that blush really suits you, you look 10 years younger!"
I'm not a very good 'pack' shopper. Or liar.
I'm scared, someone come hold my hand and do the talking for me.  Just don't get in my way or make me come look at your wrist swatches when I've got my "shopping face" on.