The lovely VexintheCity got me lemming this cream just over a month ago when she nonchalantly tweeted that it was time to repurchase for the winter.  Repurchase?!  That's a word I rarely hear in the beauty community and so it was that my interest was piqued!
When I was in London at the beginning of December I headed to The Garden Pharmacy on Long Acre to check out the Art Deco they stock there, but it wasn't long before my attention was diverted when I saw the Dr. Hauschka display on the shelves nearby.
Dropping the Art Deco like a hot potato (such is the fickle nature of makeup shopping) I made a beeline for the Dr. Hauschka display and started rummaging amongst the plain-looking boxes to find what I was looking for: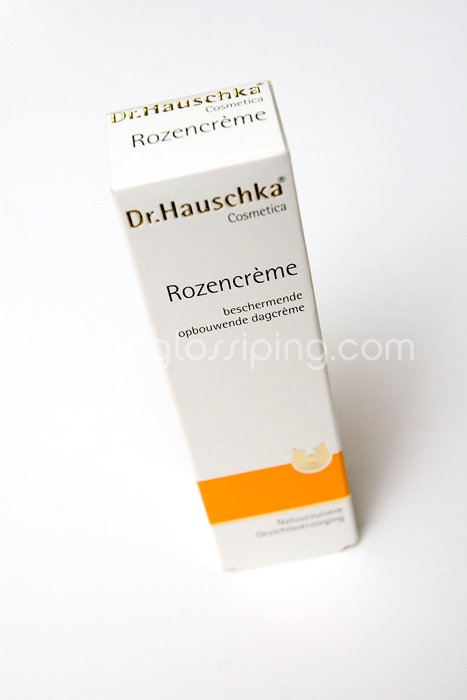 It's a thick, silky-feeling cream which as the name would suggest… is rose scented.  I don't find the scent too overpowering, but then, I do like rose-scented things.
You get 30ml of product for a £20 price tag.  Yes, it's expensive and I balked at the price.
I suffer every winter from dry patches on my face.  My skin doesn't seem to be au fait with THE RULES.  It's supposed to know to be oily on the nose and dry on the cheeks… such is the bane of typical combination skin.  My skin SCOFFS at THE RULES.   Crusty and flaky down the sides of the nose and on the chin/top lip line with a great big pimple on the cheek.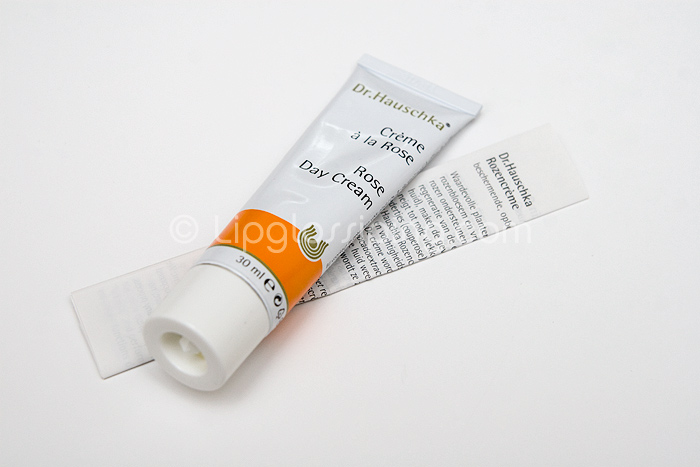 It dispenses easily out of the tube, thankfully at £20 a pop it doesn't pour out too much product when you squeeze the tube.  As you can see from the following picture it spreads itself quite thinly too, so you really only need a small amount of product to get a great amount of coverage.
It has an impressive list of ingredients which (if interested) you can find here.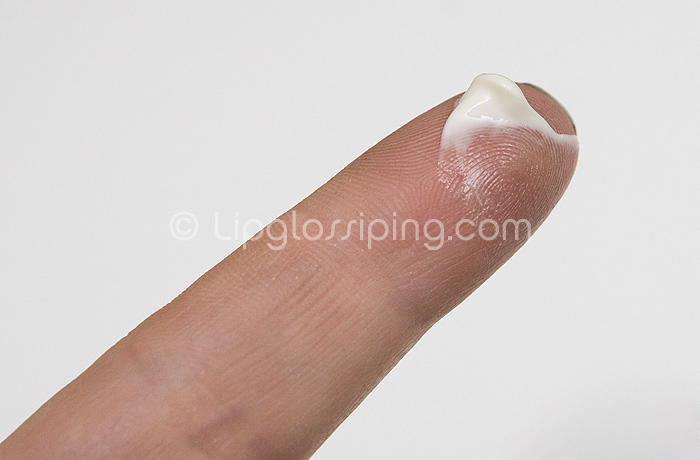 So how did I find it? Will I be repurchasing?
I loved it.
I've tried many 'thick' creams in the winter to combat the flaky bits that make foundation look horrific about 20secs after applying and I've tried many creamier foundations in an attempt to stave off that crusty, dry, clumpy effect I get over the dry patches.  Nothing worked until I picked up a tube of Dr. Hauschka's Rose Day Cream.
I was wary about slathering it on my nose… It *is* thick and heavy feeling and I was concerned that my makeup would slide right off, but it sinks in nicely in about 3 minutes.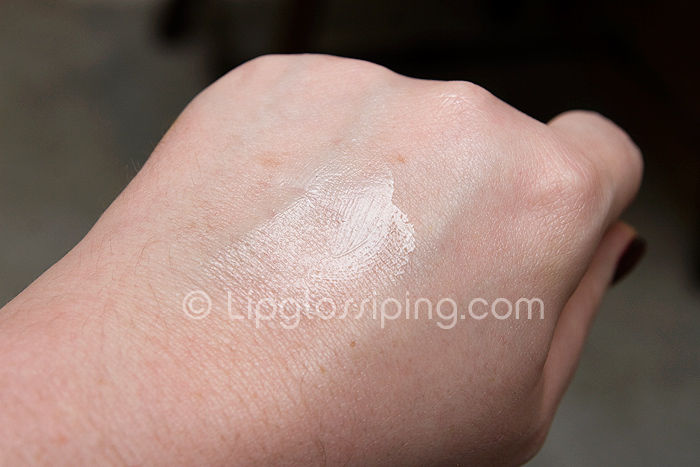 The singular reason why I will be repurchasing next winter is this…
It's an instant cure.  I don't have to apply this a couple of times a day to see the effect a few days down the line (hello Eucerin) – I simply slap a bit of this on and the dryness is gone.  A gentle rub with a dry flannel to exfoliate and remove any dead skin flakes and they're not coming back for the day once this has sunk in.  And that's what I want.  I have cuticles like cactus spikes because I'm not hugely dedicated to the cause of massaging cuticle butter into them 5 times a day.  Ooooh I'm gonna try this on my nails too, that was an instant brainwave right there… you're watching genius as it happens people!
Anyway, I'm really happy with it.  I'm still gonna shriek at the numbers that pop up on the till next November, but when I think of all the money I've spent on rich day creams and foundations in an attempt to battle winter skin problems.  For me, it's completely worth it.
You can find Dr. Hauschka's Rose Day Cream online on their website where you can even purchase a sample size (although £3.50 p&p charges may make this seem less tempting).