When I was in London last Friday… I was travelling up the escalator at Oxford Circus tube station *tsking* at the impatient healthy types that were overtaking me on the left when I noticed the woman in front of me.  Or more accurately, I noticed her non-existent skirt.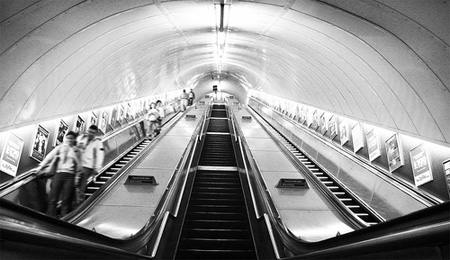 For a moment I wasn't quite sure where to look… I mean, seriously… you could see the (baggy) gusset of her tights.  I was half tempted to make her aware of this fact but decided to keep schtum for two reasons…
1).  She might have been a total exhibitionist and telling her would only have made her day.
2).  I didn't fancy a smack in the gob.
So instead of looking ahead, I kept my eyes down and concentrated on her ankles.  I had to give a wry smile when I saw a pair of beige plasters covering the backs of her heels where her shoes had obviously been rubbing.
Priorities ladies… if you're gonna cover the backs of your ankles you can go one step further and cover up your minges too.  I don't care if it's sunny… have some class.
Now… what I should have done, was tapped her on the shoulder and told her about these: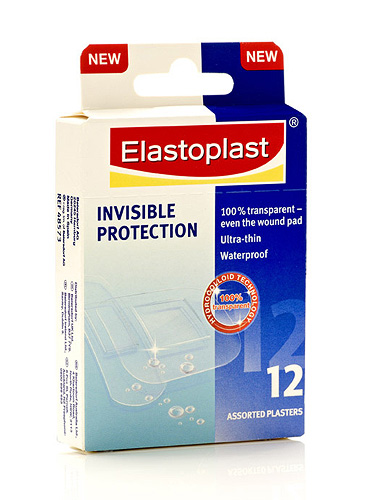 Elastoplast Invisible Protection is a new plaster on the market.  An innovation in plaster technology if you will… I'm so excited, I might just pee myself.
Ok, let's face it.  It's not exactly the height of glamour is it?  But I go through plasters like nobody's business (clumsy oaf that I am) and have been known to remove and discard a plaster after half an hour if it's in a conspicuous position and I'm feeling self-conscious about it's placement.  Don't try and tell me you haven't done that too…
Elastoplast Invisible Protection simply promises to be the most invisible a plaster can be.  It's always the simple ideas that work the best no?
Not only that… but Elastoplast are offering you a free sample so you can put their claims to the test yourself.
Click here to register for your free sample.
Elastoplast Invisible Protection plasters are priced at £2.99 and available from all major erm… plaster retailers.  What are you waiting for?  Go stick I mean stock up!