I've hit the shops a few times in recent weeks in a bid to cheer myself up – I've been a total grump lately.  Mr. L says that extra-marital affairs are out so I took comfort in the warm arms of the high street instead.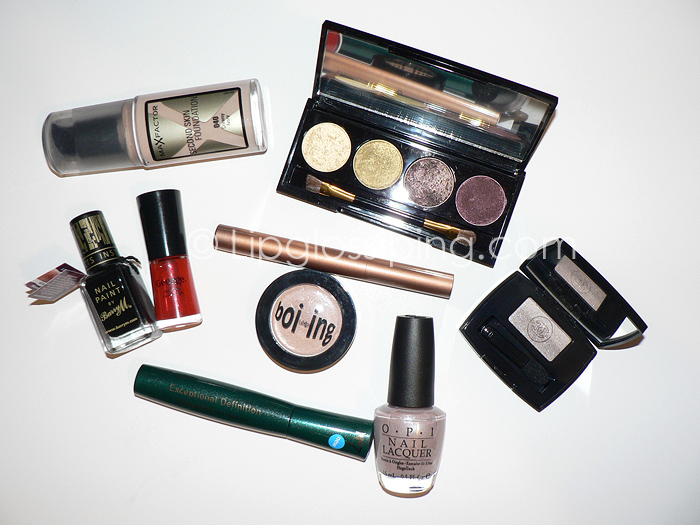 Here's what I've been indulging in recently…
I repurchased Max Factor Second Skin Foundation (£12.99) today.  It's become an everyday staple… I wouldn't reach for it on a night out or when I need flawless skin, but for daily wear… it's a keeper.  Doesn't let me down and evens out my skintone without looking heavily made-up.
Last week, I took a risk on Benefit's Boi-ing "industrial strength" Concealer (£16.50) and whilst it's 'ok'… it's not wow-ing me.  I find it quite dry and hard to blend… plus it emphasises any dry skin around my nose.  Coverage is indeed good and lasting power impressive.  I think perhaps I would have been better buying this at the start of summer rather than the prelude to Winter.
I can't stop myself from heading for the makeup aisle whenever I'm in Asda… it's those George nail polishes (£1.00)!  And right now, they're back on at £1 each.  I originally picked up 2 to go towards this year's Advent Giveaway (yeah, I'm a big spender) but I liked one of them so much, I picked it up for me too!  It's a glass flecked orange that enchanted me in the bottle.  Very Hallowe'eny!
Talking of nail polishes, I grabbed the last bottle of Barry M's new Instant Nail Effects (£2.95) this afternoon.  Superdrug was out of stock, but Boots came up trumps!  On my way home, I stopped off at Sallys and raided their reduced section for O.P.Is.  Only one caught my eye… infact, more than anything… it was the name.  "You're a Doll!" (£3.50) – too cute.
What else…
Also whilst I was in Boots today, I took advantage of the return of the £5 off No7/R&M vouchers and picked up something I'd missed out on last time!  Everyone was raving about the deal where you could purchase No7's new Exceptional Definition (£12.00) mascara and get a lovely Autumnal eye palette (at top of picture) for free.  Using the voucher meant that I only had to hand over £7 for both!  Bargain!  I need a new mascara like I need hole in the head but… um… shhhhhh.
I also sneaked in John Lewis over the weekend and emerged clutching Chanel's Ombre Essentielle Eyeshadow in Safari (£19.50).  I don't know how it happened… I was just browsing the concession (officer) when all of a sudden I found myself merrily handing over a crisp £20 note and sobbing at the pitiful change I shoved back in my purse.
Lastly, I scored MACs discontinued Penny Shadestick from the CCO last time I was in – which was ages ago… but I've only just found it in the bottom of a bag *blush*.
.
What have you been buying recently?