I was recently introduced to Salon nail brand Precision during a press event and although not a brand I'd encountered before, my eye was immediately drawn to their new collection entitled Glam Rock.

The overall look of the products is sleek with their OPI-esque packaging, heavyweight bottles and even contoured handles!
The Glam Rock collection comprises of 6 darker, slighty industrial shades which all fit in well with the concept.
R01: Glam Metal – warm charcoal base with multi coloured shimmer
R02: U Rock & I Roll – Industrial dark grey creme
R03: VIP Very Important Polish – Berry purple with multi coloured shimmer
R04: The After After Party – Navy with multi coloured shimmer
R05: Rebel Red in You – Black with Red Glitter
R06 : Party Like a Rockstar – Gold with multi coloured shimmer
I'm really late in swatching these… I've been looking at them longingly for about a month, but having been without camera means that I've got a hell of a lot of catching up to do now!
I'll leave you with one swatch shot.  Here's R05: Rebel Red in You…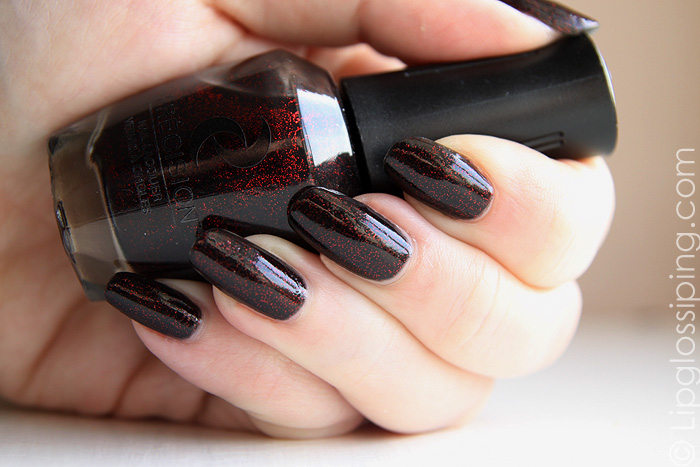 The red glitter suspended in a black base is not an original concept.  I'm thinking China Glaze Lubu Heels, Eyeko Vampira, Color Club Red Velvet etc.. etc… but it's a good idea well executed here by Precision.  I have no complaints about quality, infact the bottle and brush are simply divine.
It did require three thin coats to achieve the above finish… but if you're a little more heavy handed than me, you would be done in two.
What I will say for this collection is that so far I've worn two from the six shades I was given and one of them has just easily jumped into my top 20 Winter polishes of all time.  It's THAT gorgeous.  I'll get it posted up later in the week.
Precision is available to buy online from their website or Venus Nail & Beauty with bottles priced at around £5.99 each.