I like to pretend that I'm not really a cupcake person.  I mean, we all know what cupcake 'people' are like right?  They have TONS of hair, usually swept horizontally across their foreheads in a faux-bo style (hair jewellery optional).  They giggle.  A lot.  And they wear far too many layers.
I'm not a giggly person (lies – it's a nervous thing rather than an affectual thing though) and I don't have much hair.  As for layers, I find it a struggle to co-ordinate my top with my bottoms let alone style an outfit akin to a fucking onion.
But cupcakes, well… I can't help it – as much as I want to hate them (and everything they stand for), they taste too good.  I'd like to make them all muffin-sized though.
Look what I made last night.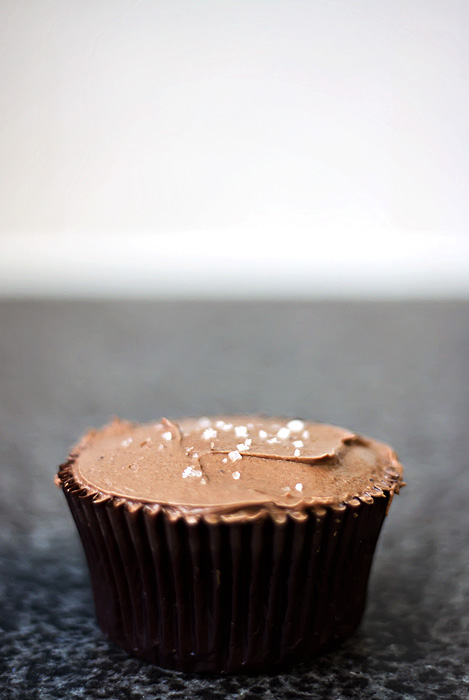 OHMYGODSOGOODITHURTSMYTEETH.
The touch of Fleur de Sel makes the whole cupcake affair slightly less twatty don't you think?  I like salted sweet things.  Have I ever told you about my favourite chocs?  These are them (you can find them in Selfridges) and when I was a kid, I could only have dreamt about paying out £13 for some chocolates.  Mr. L looks equally disappointed and elated whenever I bring a box home, which to be fair, is only about twice a year.  But still…
These cupcakes present a cheaper way of getting my salted chocolate fix, read on for the recipe – which isn't mine by the way but is my absolute favouritest no-fail chocolate cupcake recipe – courtesy of Hummingbird Bakery…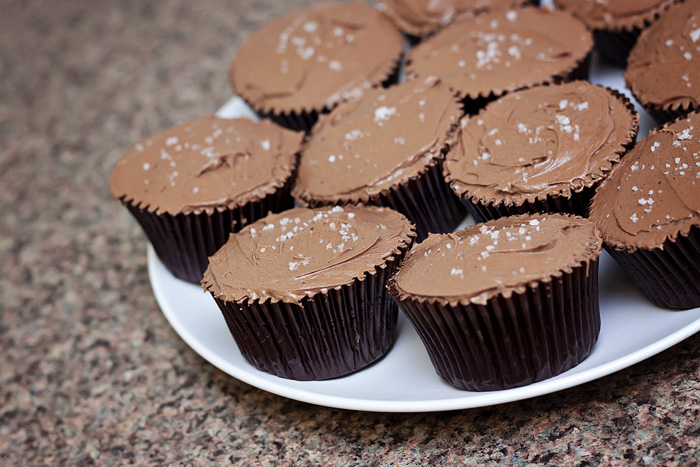 yields 12 chocolate cupcakes
100g plain flour
20g cocoa powder
140g caster sugar
1½tsp baking powder
a pinch of salt
40g unsalted butter (I use clover, don't shout at me)
120ml whole milk
1 egg
¼tsp vanilla extract
Pre-heat the oven to 170 degrees celsius.
Add the flour, cocoa powder, sugar, baking powder, salt and butter to a bowl and using the lowest setting on your hand-mixer, whisk until the mixture begins to look 'sandy'.  Watch out for flour clouds.
In another bowl, whisk the egg, milk and vanilla extract together before adding it to the dry mixture, a little at a time, whisking all the while until you get a smooth consistency, don't overmix.
Fill 12 cupcake cases around 2/3 full and bake for 20-25 minutes.  Mine were nicely done by the 20-minute mark.  The surface should spring back when pressed.  Allow to cool completely on a wire rack before icing.
Now, as for the buttercream… I may be in a minority here, but there is definitely such a thing as TOO MUCH OF A GOOD THING.  I simply don't like towers of icing that drown my cupcake, I want the icing to complement, not invade and conquer the cake below.  What say you?
That's not to say I'm a joyless spoil-sport… *wipes buttercream from mouth* I just generally find that when making buttercream, I can usually half the recommended quantities listed in the recipe book and still get my chocolate, sugary, gooey fix.
Here's how I made it:
for the Buttercream
150g icing sugar
50g unsalted butter, at room temperature (again, Clover for me)
20g cocoa powder, sifted
20ml milk
Whisk everything except the milk… then add the milk a spoonful at a time.  Continue whisking until you get bored.  The longer you whisk, the lighter/fluffier the buttercream.
And the magic ingredient?  Just a little sprinkle of Fleur de Sel ontop of each one does the job… you can leave the salt off some of them if you like, it's not everyone's cup of tea now is it?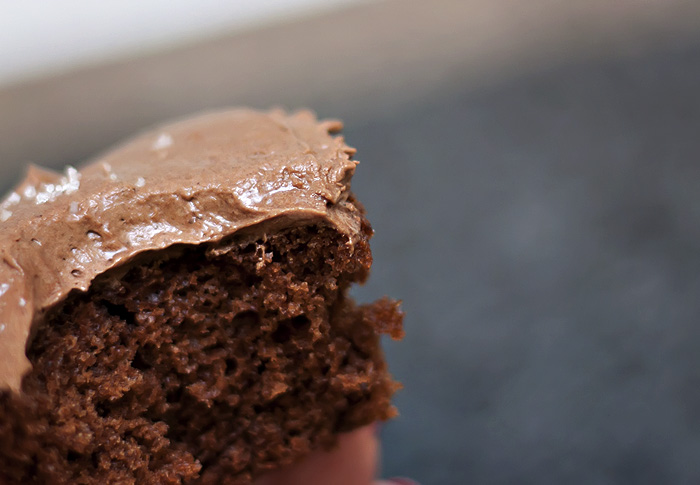 These are SO light and airy, with just the right amount of buttercream and that little salty tingle on the tongue that reminds you just how incredibly bad these actually are for your health.  Stunning.
In other news, not-cake related.  I'm off on holiday tomorrow for a week in Liverpool/Manchester – thank god the diet is starting the week after eh?  All those curry cafes are making extra portions in preparation for my arrival.  As always, any insider tips/places to visit/things to do/goodies to eat – I'm all ears, you made my last holiday earlier this year in Torquay, absolutely blinding with a little local knowledge!
I'm probably not going to be posting much, if at all, next week – I just haven't built up any reserves in my draft folder to see me through the drought.  Hope you all have a fabulous week, and long may this warm spell continue – though if it could stop by bedtime, that would be great, thanks.
x