As soon as I saw the veining in one of the latest Accessorize Merged Blushers… I knew I'd seen it before.  I didn't even really want the shade but my curiosity got the better of me, so I picked it up along with the rest of my little haul yesterday afternoon.
On the way home, the penny dropped and I dug out my discontinued MAC Moon River mineralize Blush.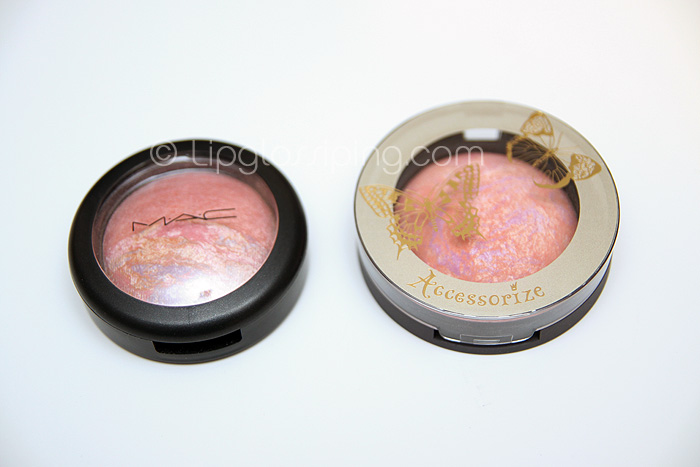 MAC Moon River mineralize blush was released as part of the Grand Duo collection in Spring '09 and has recently been spotted in a few CCO's up and down the country.  It's a particular favourite amongst pale skin types who just want a hint of colour.
Compared to Accessorize's Merged Blushed in #3 Pretty Pink, first impressions as a dupe possibility are promising.  The veining is simillar: Pink, Lilac and Soft Yellow.  Accessorize's offering looks slightly less glittery in the pan and also just a hint warmer/peachier.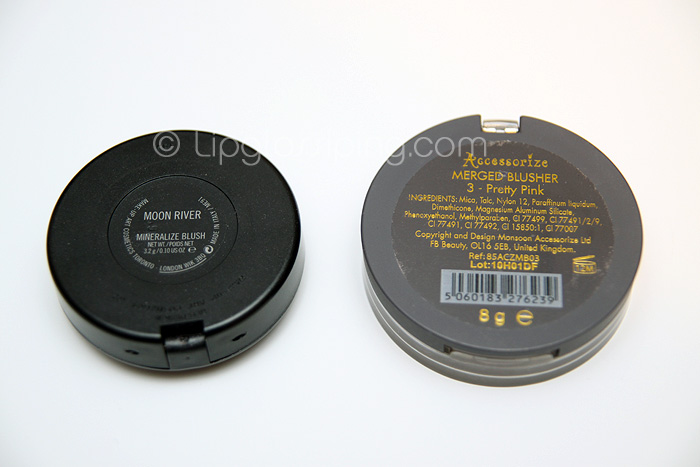 Accessorize gives us 8g of product for £5.50 compared to MAC's 3.2g of product for around £17.50.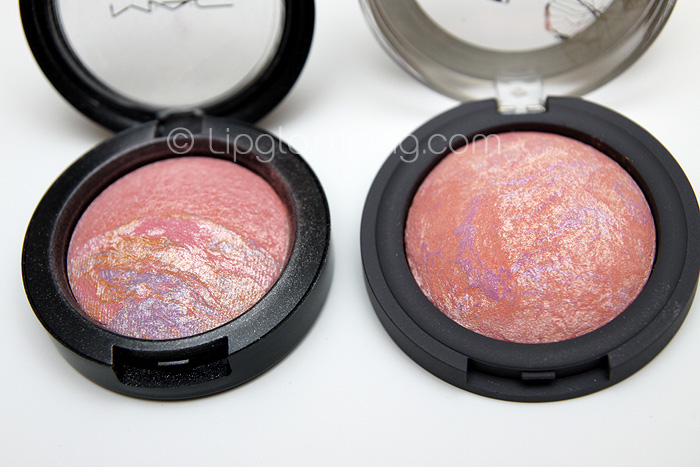 MAC on the left, Accessorize on the right.  Are you seeing dupes?
Obviously… Accessorize Pretty Pink isn't a duo… the veining is consistent throughout the pan.  Do you agree that Pretty Pink looks a little warmer than Moon River?
As for texture…
Moon River feels a little softer and my brush picks up the powder more readily when swept over Moon River.  Despite this, pigmentation is pretty simillar.  I'd say that Moon River appears to be more glittery than Pretty Pink, though strangely the sheen on the Accessorize dupe is a little more apparent…. a touch more 'metallic' once on the skin.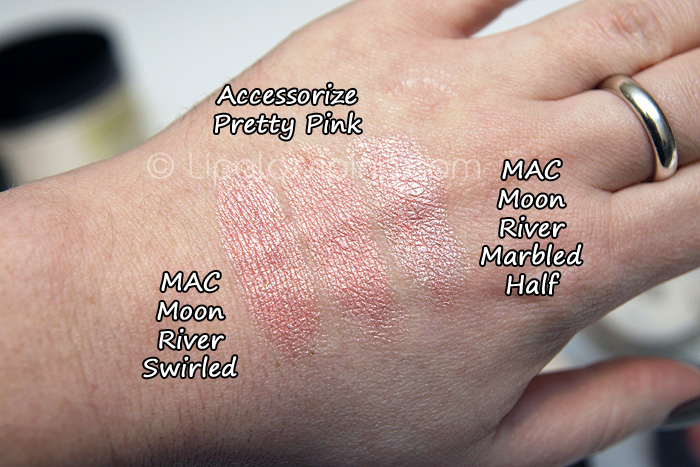 The most important swatches are the two on the left.  I added the third just to show the marbled half of Moon River alone.
What do you think?
MAC Moon River vs. Accessorize #3 Pretty Pink – Dupe or no dupe?

Loading ...