Being charitable isn't always glamourous and I think we could probably all be more generous of spirit at times but it's often hard to find causes that resonate.
I'll be the first to put my hands up and admit that I could be more giving over the course of the year.  There's only really two charities that I support all year round and I need the push that their newsletters bring to remind me to do so.  Which is why Christmastime gives me a focus to broaden my horizons and learn about the other good causes out there.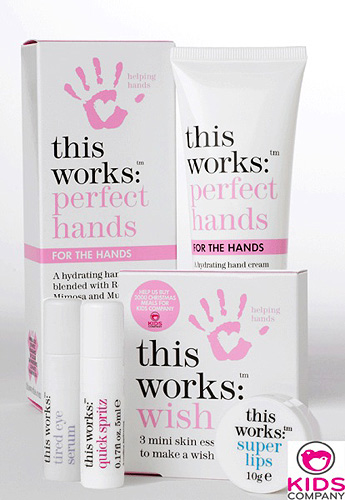 It may be a cliche… but for me, Christmas is all about children… which is why I want to introduce you to a very specfic cause that has a beautifully clear and heart-warming aim.
British skincare brand This Works have joined forces with London-based charity Kids Company to release two products that promote a very worthy cause.
The aim?
To provide 2000 Christmas Dinners for vulnerable children who would otherwise be alone on Christmas Day.
I've heard that the Kids Company Christmas Event is a sight to behold… games, activities, Christmas dinners and at the end of a long, fun-filled day.. a beautifully wrapped present for each child to take home with them!
Christmas should be magical regardless of your age and it's events like these that give one hell of a boost, not only to the kids but also to the families that can watch their babies enjoy themselves and just. be. children.
So what are the products?
Perfect Hands – £18
"Perfect Hands is a deeply hydrating natural hand cream blended with Rose oil, Mimosa and Musk Mallow for smooth and young looking hands.  It contains powerful natural actives such as Larch extract which tightens and firms the skin while anti-aging Hyaluronic acid locks moisture in.  Rape Seed extract also helps to reduce the appearance of dark spots on the skin."
Wish – £14
"Wish is the perfect hand-bag accessory with three mini skincare solutions for beautiful skin.
· The 100% natural multi-purpose Super Lips (10g) with Monoi Oil to hydrate the lips
· Soothing Tired Eye Serum (5ml) with Arnica to eliminate dark circles and Cucumber and Aloe Vera to soothe
· A refreshing facial spray, Quick Spritz (5ml) with Rosewood Oil to keep you cool on the go."
£1.80 from each Helping Hands product sold will go towards Kids Company
You can buy This Works Helping Hands sets online from http://www.thisworks.com/home/helping-hands
Do you try to buy gifts that 'give back' at Christmastime?