After enjoying a fortnight-long exclusive at Debenhams, the latest fragrant release from Jimmy Choo, FLASH launches nationwide today.  The story behind the scent supposedly begins with the thrill and anticipation of getting ready for a big night out, a strange premise for a fragrance but something that is undoubtedly relatable for many young women.
Jimmy Choo's creative directors Sandra Choi and Simon Holloway explain the vision:
"FLASH is about the cool rush of excitement and the sense of power a woman feels when dressed in a pair of sexy shoes.  Its character, which is both heady and effervescent, captures this perfectly".
Well, I don't know about all that, but then again… I'm not really a "shoe" girl… handbags? maybe… lipstick? definitely.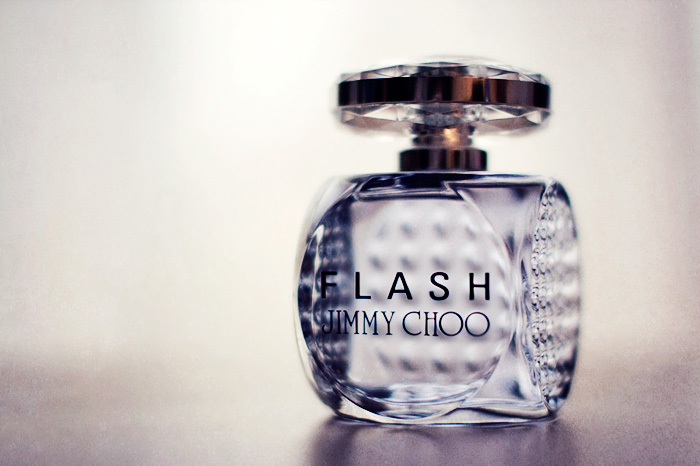 I do know that I love a sexy bottle when I see one, and this is indeed a sexy bottle, though I do wish for a little more weight to the lid.  The styling is supposed to be reminiscent of a paparazzi flash bulb/chandelier… but I'm wondering if the designers have ever seen an off-camera flash bulb?  If mine looked as sexy as this bottle, I'd taking pictures of it rather than with it.  Nevertheless, the fragrance is undoubtedly dressed in a tactile, display-friendly way.
As for the juice inside, described by the press release as a "solar floral", which I think is supposed to describe an amped-up floral, injected with lights, excitement, effervescence and ultimately action.  For which, I can translate…. pepper.  Lots of pink pepper, the note that says "I may be a perfume for girls but check me out 'cos I'm not too girly" which is no bad thing seeing as I prefer perfumes that aren't actually for girls but this note does indeed add a hit of spiciness to the florals, albeit in the girliest of androgynous ways possible.
The white flowers keep the scent smelling incredibly clean from start to finish, injecting the whole affair with plenty of airiness making this a perfectly-timed release for Spring.  The effervescence in the opening moments reminds me somewhat of a subtle juniper with its crisp freshness albeit without the gin (this makes sense in my head).  I'm guessing that the pink pepper is doing something naughty with the strawberry (which I strangely can't smell!) and that this is what is evoking an instant impression of juniper.
As the fragrance dries down, it becomes smoother and more sensual but without becoming creamy or sweet.  The woody notes soften the edges and give the florals a base in which to plant their roots without losing any of their femininity.
Jimmy Choo's FLASH is a nicely done perfume that offers no real surprises but remains true to itself from start to finish.  What my nose smells (and my brain interprets) doesn't really gel with the marketing or the whole "getting ready for a night out" vision, I get no high-octane, adrenalin-pumping, hedonism as the blurb suggests.  Instead, what I take away from Christine Nagel's creation is a far more sophisticated (read: classy), wearable, and ultimately likeable concoction.  Oh, and did I mention the rather impressive staying power?
I absolutely recommend giving this one a passing-sniff, I think it will prove very popular.
Jimmy Choo FLASH is available on counters nationwide, priced from £36.00 for 40ml. 
* press sample