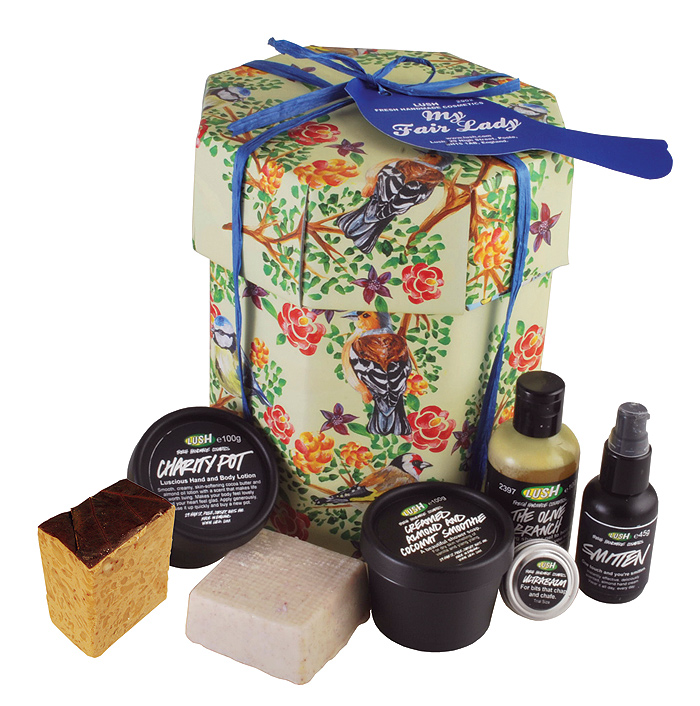 Are you a LUSHIE?
If so… don't hesitate to put your name down for a chance to win the My Fair Lady Hatbox (£29.50), kindly donated by the good people at LUSH.
This giveaway will be closing at midnight tonight – you have been warned!
The Hatbox contains: The Olive Branch Shower Gel, Creamed Almond and Coconut Shower Smoothie, Smitten Hand Cream, Charity Pot Body Lotion, Ultrabalm body balm, Buffy Body Butter and a Figs and Leaves Soap.
Leave a comment to enter.  Giveaway closes at 23:59GMT on 31st January.
UK Only.
My lovely international ladies, I'm sorry but the rest of the daily prizes will be available only within the UK.  I don't want  you to keep returning to enter only to be disappointed that you can't.
If you're from outside the UK but don't want to miss your chance at winning "most dedicated" entrant mystery prize… you can still comment.  Just let me know that you're not eligible to win the daily prize because of your location!

Winners will be announced early next month.  Info and rulez can be found here.