It takes dedication, perseverance and often a lot of money to discover a holy grail in your collection, it's also no mean feat when the market is so saturated with product.  I was having a little think about the (now discontinued) Chanel Dragon the other evening (completely normal behaviour) and after I'd wiped away the tears (also normal), I thought about some of the other products that have left my stash over the years, never to be seen again.  Here are a few things that I'm very sad to no longer be able to lay my hands on…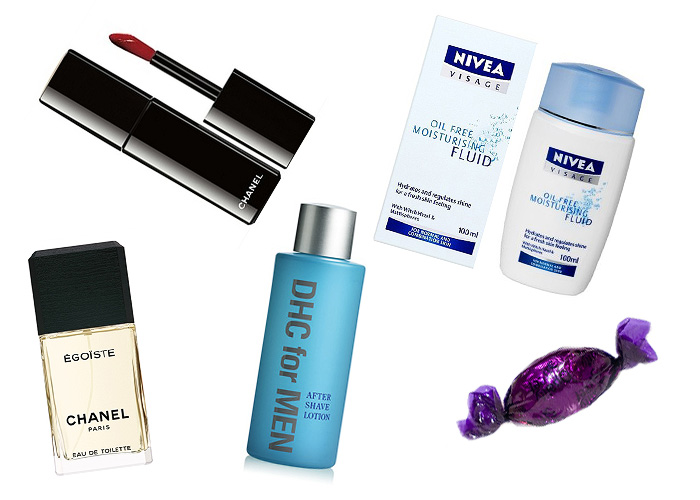 A concise selection, I think you'll agree (don't even get me started on nail polish…)
Chanel Rouge Allure Laque in Dragon – Chanel are on my shit list for this.  Big time.
Nivea Oil-Free Moisturising Fluid – Don't like the new "cream" version, rubbish.  This was really light and perfect for my t-zone in Summer
Chanel Egoiste EdT – OK, so it's not discontinued as such, it's just nowhere I've looked in the last 7 years.  I bullied my first boyfriend until he bought a bottle back in the 90s… I didn't keep the boyfriend (ok, he didn't keep me – gay, it turns out – oh how we laughed), but I did keep the bottle.
DHC for Men After Shave Lotion – Great stuff for cooling irritated post-shave skin says Mr. L – still haven't found anything to replace it (BOO!)
Quality Street Purple Ones – Yes, I know the tins still have them but they're IMPOSTERS.  Hazelnuts suck, bring back the brazil nut centres.
And breathe.
I'd also add No7 Luscious Lip Colour in Morello Cherry to the list (but I couldn't find a picture).  T'was my first grown up lipstick and I'd love to find it again!
Are there any discontinued products you still pine for?