I'm not letting the end of the month sneak up on me again like usual.  Infact, I'm gonna do my "product love" post right now in a rebellious "up yours" to the Gregorian calendar.  Screw you end of month!
Veet Hair Minimising Body Moisturiser*(£4.99) – The difference in hair growth since I've been using this has been minimal BUT I've just repurchased a bottle regardless because it smells amazing and has become my go-to body moisturiser this month.  Light, easily absorbed and keeps my skin soft and supple during the warmer weather.  If it is slowing down my hair re-growth, good… but I'm not completely convinced on this (though do keep in mind that I has weird hair issues!)
Goody Tortoiseshell Slide Combs (under £2 a pack) – I get annoyed with Goody because they seem to discontinue my favourite hair accessories at such a rate of knots that it sometimes feels like a conspiracy *looks around*.  I'm not sure if these have been discontinued but I haven't been able to find a backup pack when I looked this month.  These side combs are brilliant because they grip my fine hair like no other.  Brilliantly well made and discreet enough to make it look like you're creating awesome hair styles with the help of magic pixies.
Kings & Queens Sultan of Grenada Lemon Flower Roll-On Deodorant (£3.50) – My best friend at Uni came from Grenada so this always reminds me of her.  I'm not sure she'd be keen to know that our friendship lives on in my bottle of roll-on mind you.  Without compromising on efficacy, this is simply a lovely (and slightly different) choice for deodorant scenting.  If you haven't tried Kings & Queens yet, you should.  Keep your eyes peeled in T.K. Maxx too because I've seen some mini sets in there recently.
ASDA Little Angels Liquid Talc (£1.47) – If you're well-endowed in the chest department, you may be familliar with the overuse of talc on particularly warm days.  This liquid talc is Leila's but I stole it this month and plan to steal it again.  Talcum powder that applies like a lotion?  Clever!  No more mess, no risk of talc on dark clothing but with the same effectiveness as the powder alternative.  For less than £1.50… gerroff Leila, it's Mummy's now.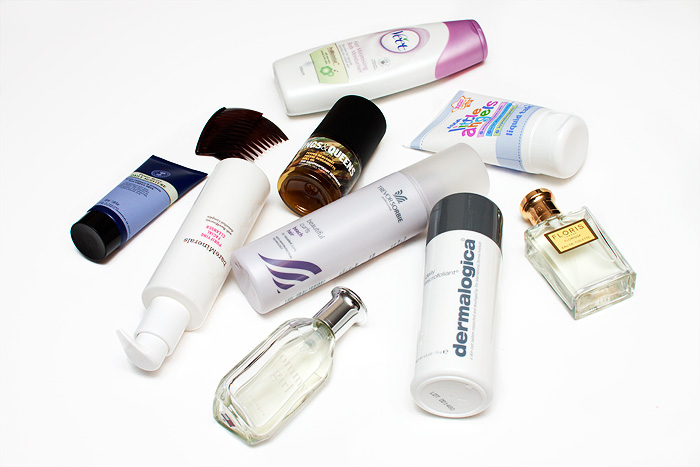 Neals Yard Power Berry Daily Moisture (£22.50) – This was in a try-me kit that I bought a couple of months ago and I've been using it on and off since then.  Whenever my skin feels like it's 'playing up' I return to this… it's like the nurturing, inoffensive aunty of the skincare world that safeguards your delicate state until you feel ready to take on the big boys again.  Make sense?  Well… it did in my head.  It also has anti-inflammatory properties, something I lurve to find in my skincare.  Big thumbs up!
Bare Minerals Purifying Facial Cleanser* (£15.00) – This has been a staple on my bathroom sink since I was given it a few months ago (and it's still got a 1/4 left!) – I use this after oil cleansing as my second cleanser and it cleanses away any residues and leftover grime without leaving my face feeling stripped.  To be fair, that's all it does… but it does it just as well as Cetaphil but with less product.  Basically, it's my Cetaphil replacement.  I take issue at the product's claims to remove eye makeup (it doesn't) but I'm going to forgive it just because everything else is spot on.  Definite repurchase when it eventually runs out.
Trevor Sorbie Beautiful Curl Beach Hair (£5.10) – Currently a massive bargain at Boots because of a 2for£6 offer across the range, this salt spray gives my natural waves some good definition without the crunch you'd get from mousse!  I spray this on to almost dry hair and comb through with my fingers.  If I'm near the hairdryer, I give it a blast to finish.  It's a quick fix for lazy hair days!  Also very excited that Trevor Sorbie have brought their original curl cream back recently, it was discontinued for a while, hoorah for consumer pressure!
Tommy Hilfiger Tommy Girl EDC (£9.00) – Still only £9.00 makes for an incredible bargain Summer fragrance.  I won't go on about it because you can read my review here but more than one of you have fallen under its spell at ASDA's bargain price since I mentioned it last.  I've been reaching for this one more than any other this month.
Dermalogica Daily Microfoliant* (£27.99) – This has become my morning cleanser/exfoliator in one… non-stripping and effective at ridding my complexion of dead skin it's hugely convenient when I'm time-pressed.  I love the exfoliating action which makes use of Papain and Salicylic Acid to help dissolve excess surface cells in a more gentle way.  Who doesn't like results-driven skincare?  Mr. L has also discovered its delights, something I'm not so keen on, it won't be cheap to replace!
Floris London Florissa EDT (£22.50) – Another one that's already been mentioned recently but deserves another shout out as my 2nd favourite fragrance of the month.  I'm particularly appreciating the complexity in this one which is (to me) a real outdoorsy, traditional scent and one that I've been complimented on more than once this month!
.
Phew!  That's quite a few products… what have you been loving this month?
* press sample