A well-engineered scent can whisper inspirational stories to its wearer, weaving tales of history and geography from top note to base and this debut fine fragrance collection from Molton Brown has been attuned to achieve just this.
Navigations Through Scent is a five-piece collection scheduled for nationwide launch this September.  The line up traces the influence of the ancient spice routes, drawing inspiration from key focal points along the trail.  The journey begins in the Egyptian Ancient World before moving through both time and history, settling in the New World, Canada.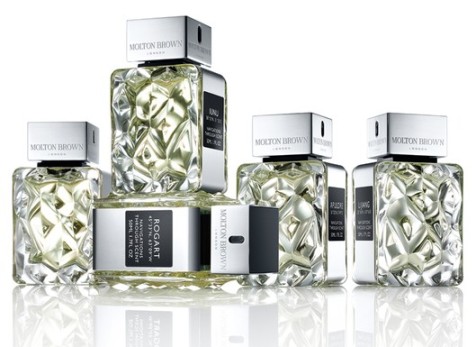 Each 50ml bottle imparts scents that are indigenous to the regions from which they take their name.  Indeed, Jennifer Jambon, Molton Brown's Principal Perfumer, spent a year researching these destinations to uncover a host of unusual scent ingredients that would evoke emotions and memories reminiscent of these faraway lands.
The collection appeals to my inner armchair-geographer, I could spend hours looking at maps, infact, I still remember the day I discovered Google Earth for the first time and the hours I spent poring over the locations in all their satellite glory.  So, of course, the first thing I did when I received the information about Molton Brown's new endeavour?  I fired up Google Maps to discover more about the inspirational places behind each scent!  Quite possibly the most geekiest thing I've done to date.  Possibly.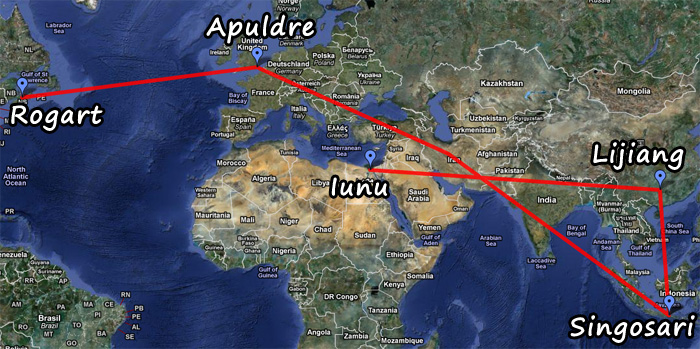 Iunu (07°91'S, 112°65'E) – £65
Iunu, buried under modern-day Cairo starts the ancient journey with a lead ingredient of Egyptian Jasmine and a distinctly rich floriental musk.  My favourite from the collection, feminine and a touch animalic.
Top Note: ginger oil, elemi oil
Middle Note: Egyptian jasmine oil*, ylang ylang, black pepper
Base Note: patchouli oil, oakmoss
Lijiang (25°16'N 110°16'E) – £65
Lijiang, inspired by China is a musky floral featuring Osmanthus absolute.  A prized, high-value oil.  Described as combining the light, delicate softness of silk with crisp tea.
Top Note: vegetal notes, pink berries
Middle Note: white tea, osmanthus absolute*
Base Note: white musks, vetiver
Singosari (07° 91'S, 112° 65'E) – £55
Singosari takes us to Indonesia, historically part of the Spice Islands.  Patchouli plays a lead role in this sensual and feminine fragrance that evokes the spirit of tropical rain and exotic spice.
Top Note: incense, ginger
Middle Note: cinnamon, nutmeg
Base Note: vetiver, patchouli*
Apuldre (51° 02'N 0°47'E) – £55
Apuldre, the old Anglo-Saxon name for Appledore in Kent.  Inspired by the green-aromatics of the English countryside and featuring a hit of juniper berry (think gin!) on a base of leather.  A mischievous scent and the most masculine from the collection.
Top Note: juniper berry*, wormwood
Middle Note: cedarwood, violet leaf absolute
Base Note: modern leather accord, styrax absolute
Rogart (45° 33'N 63°09'W) – £60
Rogart, Nova Scotia marks the end of the journey to the New World.  A juxtaposition of coniferous wilderness with the woody warmth of maple syrup makes for a deliciously Autumnal fragrance.  My 2nd favourite from the collection.
Top Note: elemi oil, juniper
Middle Note: angelica, maple syrup
Base Note: gaiac wood, fir balsam*
* signals the key ingredient native to the fragrance's geographical inspiration.
If you can't wait until the nationwide release in September, the brand will be releasing the Navigations Through Scent collection exclusively at Harrods from August.
.
* Disclosure: I was given a set of sample vials at a recent press day.