Robyn has been one of my weekly reads for many, many months.  The only blogger in existence who makes me want to wear yellow eyeshadow.  She makes me laugh, and she makes me want to grab my makeup and play.  It's a killer combination.
I'm delighted to have her guest blogging an awesome and autumnal-inspired tutorial for us today.  Read on as Lipglossiping.com features:  EyelinerAndSpraypaint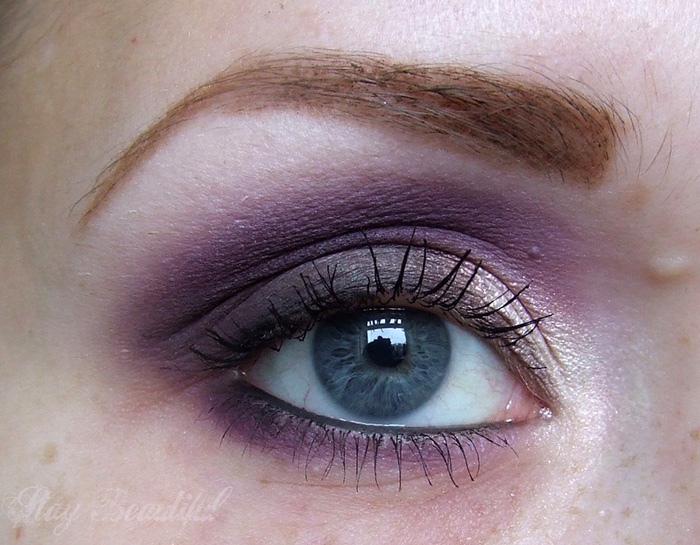 Hello, lovely Lipglossiping readers! I'm thrilled to be writing a guest post for you all, so I thought I'd knock together a little picture tutorial for this purple, chocolate and brown look.  I don't always follow that you should use colours according to season, but this would be perfect for fall and it'd be very easy to switch up the colours in this look if you'd prefer something less smoky.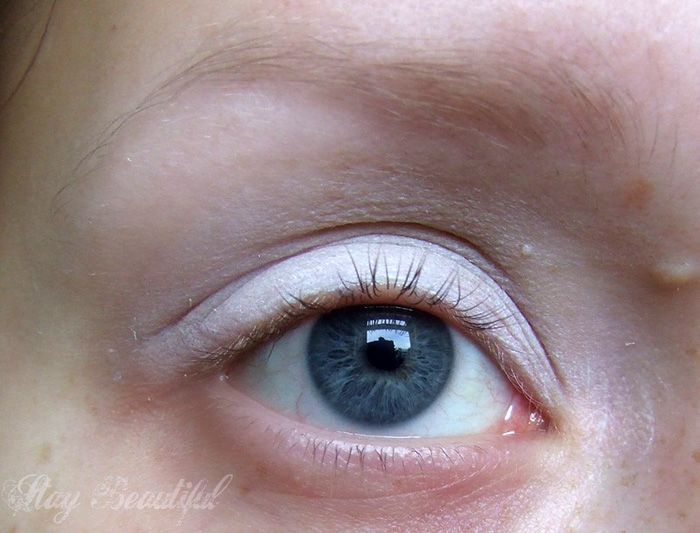 1. Prime your eyelids. I've used Urban Decay Primer potion all over the lid and then NYX Jumbo Eye Pencil in Milk sparingly over that, bringing it slightly up past my crease and blending well. Too much base in the crease area can grab your shadow and make it hard to blend.
2. Apply a bright white-gold on the inner third of your lid, and bring it into the inner corner of your eye.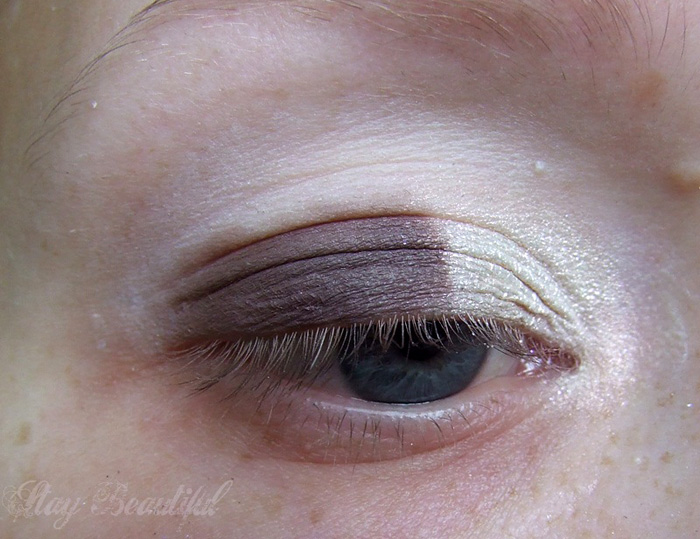 3. On the rest of your lid, add a matte chocolate colour…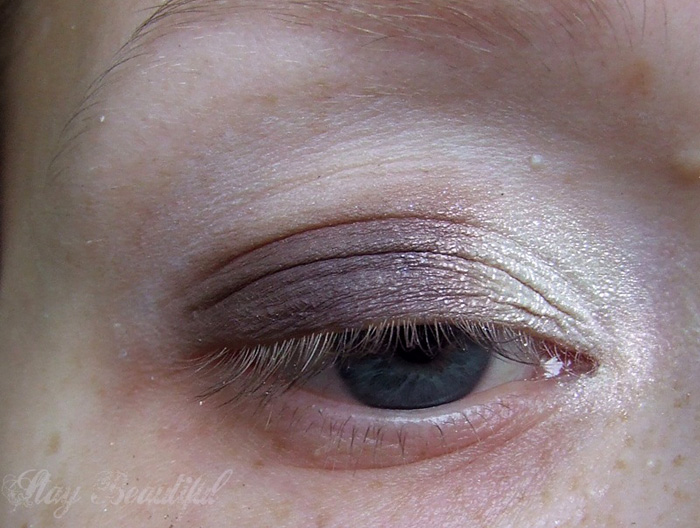 4. …and blend it in with the gold to get rid of that harsh edge. Using a flat shader brush, hold it vertically and make side-to-side motions. Add more of the gold if you need to.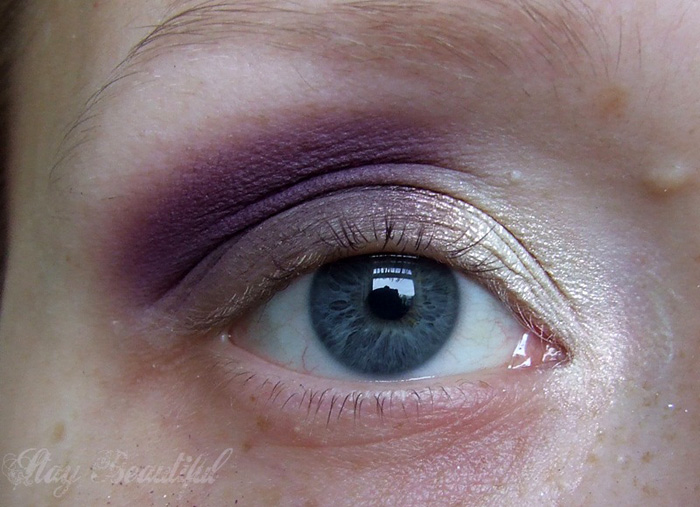 5. Next, take a deep, slightly plummy matte purple and start to define your crease. Using a fluffy brush, I placed the shadow under the highest point of my brow and made small windshield-wiper motions. Go slowly and build up the colour – you can always add more but you can't take it away without taking it off – and make sure you place your brush on the same spot on each eye to make it even. Repeat until you've got your desired depth of colour.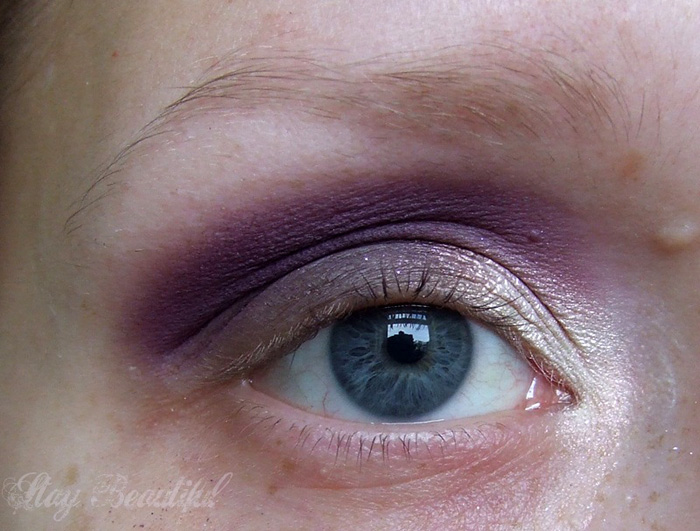 6. Then, using windshield-wiper motions again, blend the crease colour down toward the inner corner of your eye. Make this a little less intense than in step 5 so there's a slight gradient.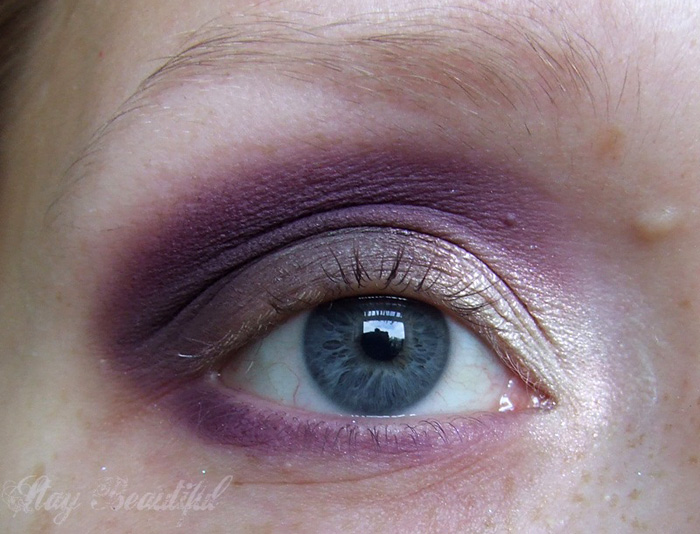 7. Taking the same purple on a pencil brush, line your lower lashline, making sure to join it up with the crease colour.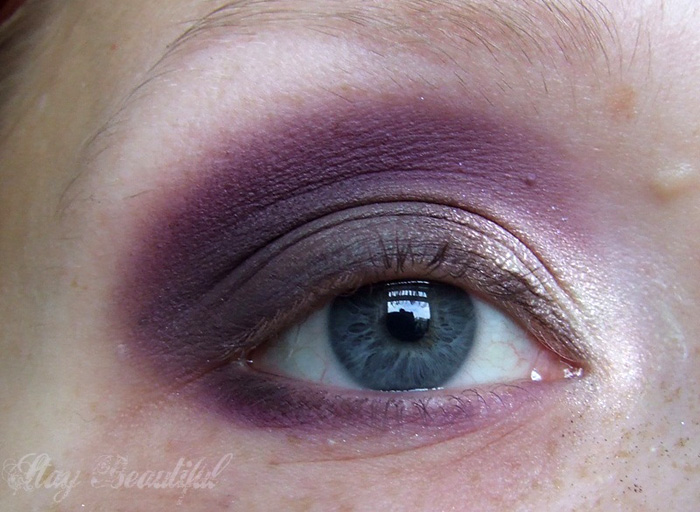 8. Taking a deeper brown on an angled brush, line your upper lashline, the outer half of your lower lashline and darken the outer crease slightly with the same colour using a fluffy brush. You could  use a black shadow if you wanted a more dramatic effect.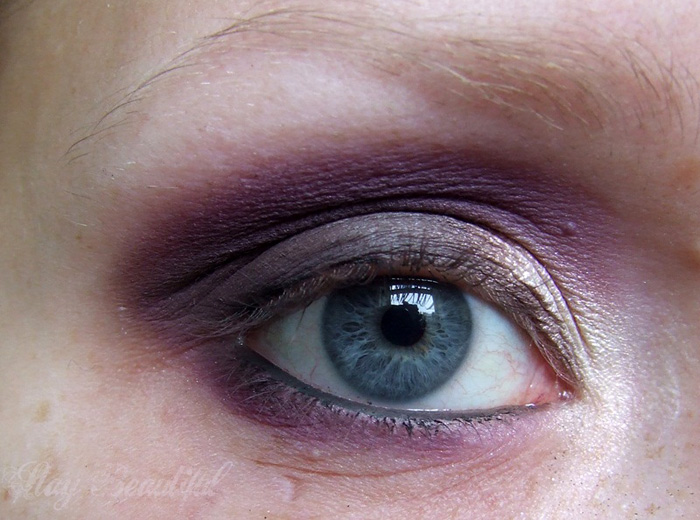 9. Line your waterline with a black (or deep brown) pencil and tightline your upper lashes if you want. If your liner tends not to last very well on your waterline, set it with a touch of matte black (or brown) shadow.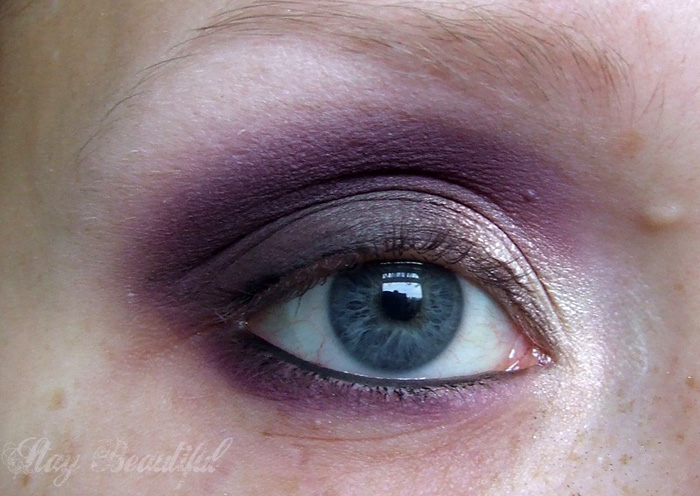 10. Taking a fluffy paddle brush, highlight under your brow and blend any harsh edges in your crease colour and your outer corner. I chose a matte cream shadow, but if you want more drama or sparkle, you could go in lightly with the same shimmery gold we used earlier.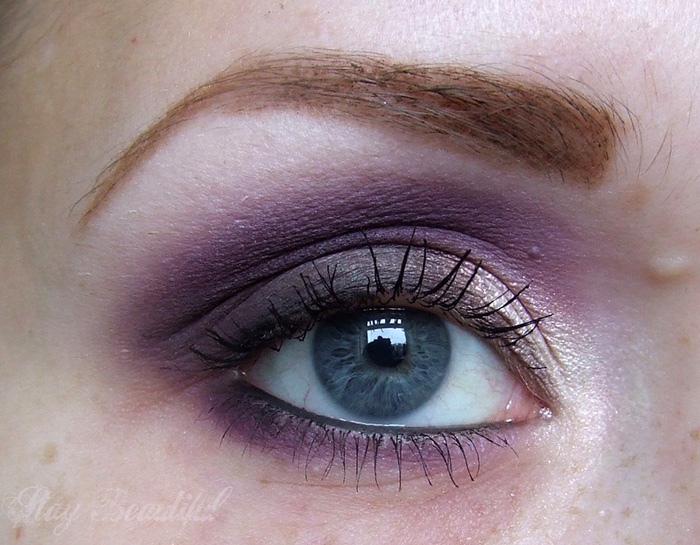 11. Add mascara and brows (and falsies if you want!) and your eyes are done!  Hooray!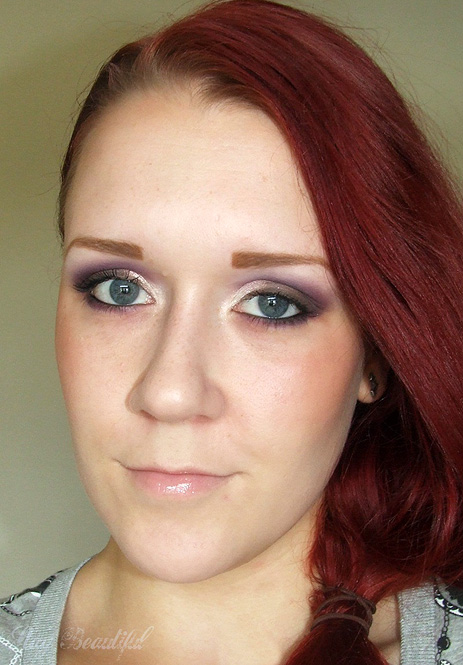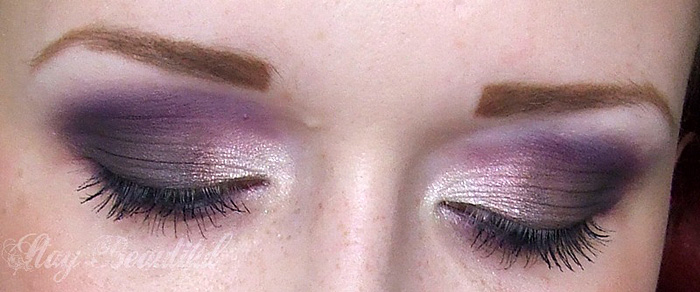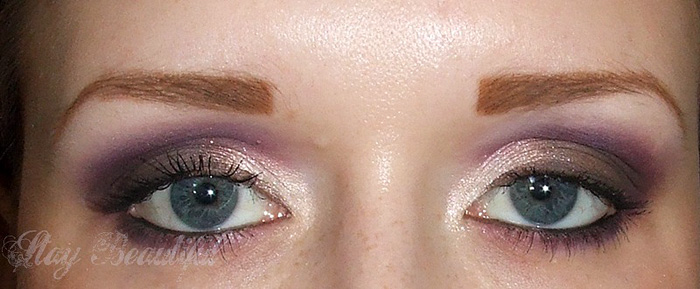 Products used:
Eyes: Gold – Mornings of Gold by Hi Fi Cosmetics. Chocolate brown, Inglot matte 357. Purple from Wet & Wild Lust palette. Deeper brown, Inglot Matte 326. Liner, Benefit Bad Gal waterproof liner in Black, set with Sleek black eyeshadow. Highlight, Inglot matte 351. Mascara, Maybelline One By One. Eyebrow pencil, Rimmel Professional Eyebrow Pencil in Hazel.
Lips: Nameless L.E Barry M Lipgloss Wand
Face: Inglot Cream Foundation in 21, Darling Girl blush in Aloha
.
To finish the look, I added a soft matte bronzer and a pinky-nude gloss. I hope you ladies enjoyed the tutorial, please let me know how you got on if you try it out!


Thanks Robyn! It looks lovely and you know, they say that purple suits EVERY skintone and eye colour. The ultimate universal shade!