Let's face it, we're closer to the festive season than most of us would like to admit.  Have you made any preparations for the big day yet?  No?!
Well, Boots have devised a cunning plan to get us filling up those Christmas stockings quicker than you can devour the mince pies you were supposed to leave out for the main man himself.  They're called Star Gifts and include a series of fabulous one-off offers every week during the Christmas shopping period.  And by Christmas shopping period, I mean NOW.
Not only that, but Boots are getting all social with their Twelve Gifts of Christmas campaign.  Once a week from now until Boxing Day, they'll will be selecting one lucky blogger to receive the Star Gift of the week.  In turn, that blogger will pay it forward by nominating another blogger to receive the same Star Gift.  It's like a paper-chain of beauty booty!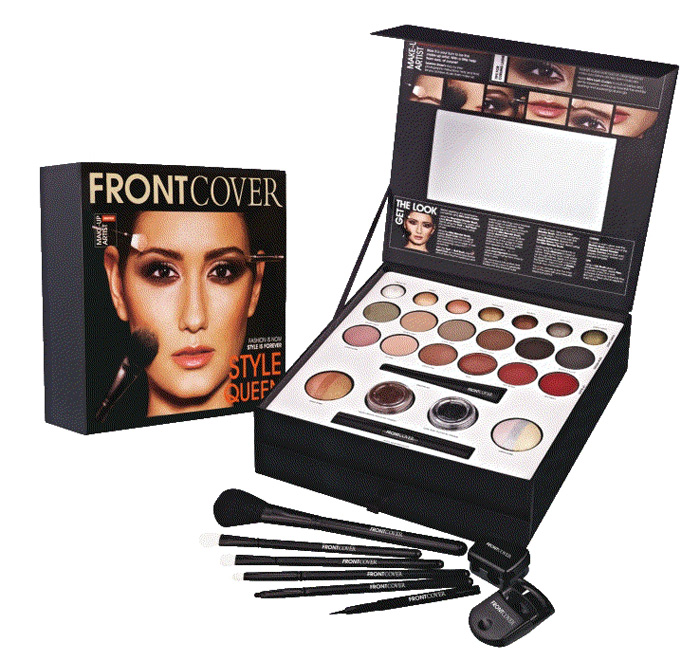 Seeing as I'm the lucky recipient of this week's Star Gift from Frontcover pictured above, I'd better tell you a bit about it!
Frontcover are well known for their fantastic releases this time of year and this one doesn't disappoint.  A one-stop make-up collection for eyes, lips and cheeks which includes hints and tips from Frontcover make-up artist, Leanne Shaw, and all the tools needed to create many different looks for the festive season.
The Frontcover Style Queen Colour Set includes:
~ 6 lip glosses
~ 7 dome baked powder eyeshadows
~ 6 pressed powder eyeshadows
~ 2 fine-line baked powder cheek domes
~ Double ended mascara/sealer
~ 2 iridescent pigments
~ Shadowline
~ 6 make-up brushes
~ Mini lash curler
~ Double pencil sharpener
~ A mirror in the lid
.
For this week only, the set can be snapped up for just £17.00!
(usual price £35.00)
What's the catch?  Y
ou've only got TODAY left to buy it!
.
And now for the extra fun bit…
I'm paying it forward and nominating…. my good friend, Cosmetic Candy to receive this week's Star Gift on me.  Nepotism rules OK.
Keep your eyes peeled because somewhere across the blogosphere, Father Christmas (ok, Boots PR) will be pointing the finger of fortune at another lucky soul to help them count down to Christmas with next week's 'Star Gift' of the week!
Who could it be?  WHAT could it be?!