I am very lazy with my makeup application.  I rarely apply more than one colour to my eyelids. I never bother with things like lip liners (despite owning many).  I rarely contour (it scares me) and most of the time I can't be arsed with highlighting either.
And I call myself a makeup fanatic? *hangs head in shame*
This week, I will endeavour to make more of an effort.  What's the point of having all these lovely products if I don't use them?  So, amongst other makeup resolutions, this week I will be ditching my taupe-y eyeshadows and may even attempt blue again *eek*
I also have a confession… I don't own a blending brush.  There, I said it.  Disown me if you like – just don't tell me that you could 'like, totally already tell from your FOTD shots' or I might have to find a dark corner to sob in.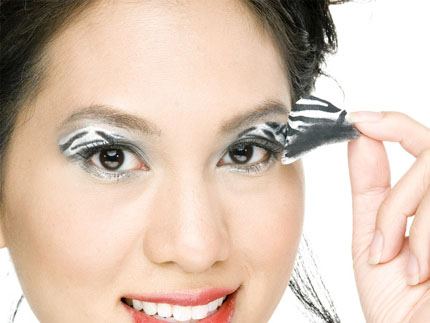 look, my skillz are awesum!
Anyway, I know that the pinnacle of blending brushes involves the MAC 32174893 *bleh, I can't remember numbers* – I know what one I'm talking about.  However, funds aren't gonna stretch this month… so please recommend me a relative cheapie that I could cut my teeth on.  I've heard some good things about a Boots No7 one and also a Revlon one I think?