I'm usually the woman who loves the fragrances that others hate, so reading Julian Kynaston describe the brand's first foray into perfumery as:
There's no middle ground with Freak.  The name, the packaging and the fragrance will polarise opinion to simply love or hate.
I can't help but feel tremendously excited.  I'm really hoping for something that strays wildly from the well-trodden, mass-appeal fruity-floral, mild musk that proliferates the market today.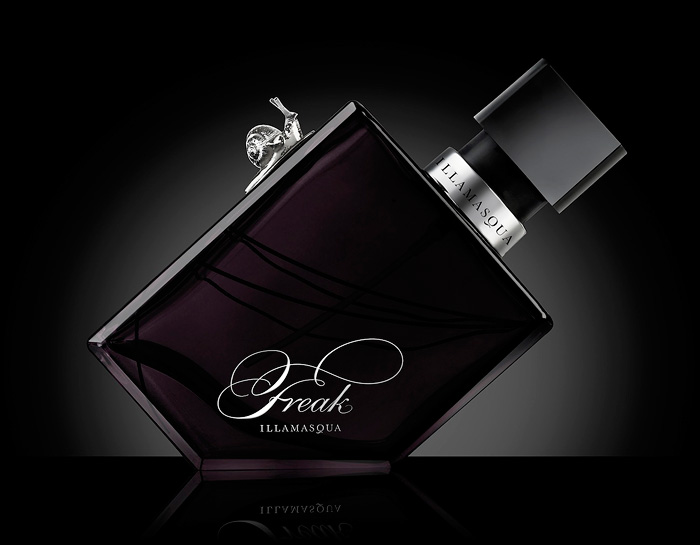 Illamasqua's Freak lists top notes of: Black Davana, Opium Flower and Belladonna followed up with heart notes that include: Poison Hemlock, Datura and Queen of  the Night (are they making these florals up?) sitting on a base of aromatic Frankincense, Oud and Myrrh.  Finally, something I can grasp at, and although I'm not the world's bigest fan of Frankincense, I do love (quality) Oud and Myrrh.  Freak will be available to purchase only in 75ml bottles and will be priced at £59.00.
I have a niggling concern that Illamasqua Freak has the potential to demonstrate a classic case of style over content.  Everything about the fragrance has been so carefully constructed to fit with the brand's ethos and whilst that's clearly not something to be criticised, I hope that the sum of these individual (edgy-sounding) notes add up to something that represents and rings true for their fans.  I don't actually care if I hate it, I just want it to be engaging enough to make me care one way or another.  I also want it to be powerful, with great sillage and turn heads regardless – it wouldn't be Illamasqua without that quality.  The fact that it will be released exclusively as an EDP has me hoping.
First impressions based upon the campaign film and images alone?  I dislike the name, love the film and adore the bottle.
So there we have it, Illamasqua's first fragrance.  On paper, it works.  On the fragrance blotter and under our noses?  Time will tell.
Freak by Illamasqua is available for pre-order from the 3rd October online at Illamasqua.com before it launches on the 20th October.