This month's Cutting Room Floor is a real mish-mash of things that have caught my eye over the last 4 weeks, from salon style to at-home solutions, if you're into hair… read on…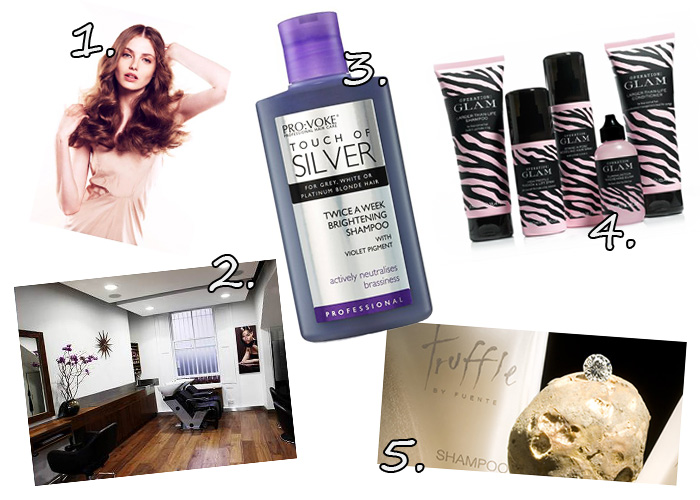 1. Trevor Sorbie launches "The New Wave"
The New Wave takes the long-lasting abilities of a perm but instead of tight curls, offers a natural-looking wave that will last wash-after-wash, until it grows out.  It's on my wishlist!
Currently exclusive to the Covent Garden Salon, priced at £180
2. High Gloss Watercolour Treatment
Hair Organics in Notting Hill is one of the few hair salons to maintain a completely organic policy and in support of this, they've introduced the new High Gloss Watercolour Treatment, a semi-permanent watercolour that contains absolutely no dye or colour pigments.
Dull hair is transformed with a glossy shine that lasts 6 – 8 weeks and both natural and existing highlights are lifted and enhanced without the damaging effects of dyes and chemicals.
The High Gloss Water Colour Treatment is exclusive to Hair Organics, Notting Hill Salon. Price from £71.00
3. Touch of Silver Ultimate Makeover competition
Touch of Silver, famous for their clever violet-toned brightening shampoos are offering the chance to win the ultimate makeover by one of England's most sought-after hair stylists Taylor Taylor London and overnight accommodation at the 4* Bloomsbury Hotel London.
Whether you're grey, white or blonde on top, check out the facebook page for more information and how to enter.
4. Operation Glam Hair Care Range
Songstress, Lulu's haircare range is targeted at thinning or ultra-fine hair.  I have fine hair thanks to my PCOS and have been putting a few pieces from the lineup to the test*.  My pick is the High Profile Thicken and Lift Spray which has a really light texture but when sprayed into my roots before blow drying, helps give an illusion of both volume and thickness.
Available from Lulus Place with prices starting from £5.75
* press samples
5. The Most Expensive Blow Dry in the World
The skin of white truffle, pure diamond dust and meteorite extracts… not your usual 'poo and conditioner ingredients.  In celebration of Dutch haircare brand Fuente's ridiculously decadent collection, Urban Retreat have created The World's Most Expensive Blowdry.
The treatment utilises the transformative power of Truffle Shampoo and Reconditioner at our relaxing hairwash spa. Clients will enjoy a heavenly hot stone cranial massage, which will work to maximise the ingredients' efficacy and can also help to promote hair growth. To ensure guests leave the salon looking fabulously groomed and feeling their absolute best, the treatment will be completed with a glossy blowdry by Urban Retreat's Creative Director Flavian Abbas.  Clients will be gifted with a full sized bottle of Truffle Shampoo and Reconditioner so that the luxury will endure long after they leave the salon.
Available exclusively at Urban Retreat at Harrods (naturally dahling).
.
Have you been rocking any new hair news?  I've mastered the art of wearing a hair doughnut — I'm so pleased!