Some of you may have noticed that I've lost some weight over the past year and although I'm still not at my goal weight – or even close (damn my love for bombay mix and kebabs) – I've decided to come off the strict regimen that I was previously following and go it alone.
The Background
I've always known that my major problem is carbs.  I'm a PCOS girl with insulin resistance.  Long story short, my blood sugars are fine until I eat something carb-o-rific, then they shoot up beyond what would be considered the normal range.  I've tried following a traditional diabetic diet in the hopes that it would help but regular blood sugar testing showed that so many of the recommended foods still sent my blood sugar skyward (hello porridge!)
While I was pregnant, I built a food plan based around the things that kept my sugar levels as steady as possible and I ended up weighing an additional stone less once Leila had been born, I was also feeling a lot healthier.  So, it's to this end that I've meal-planned again.  I've been on the Cambridge Diet since last August (yes, 2010) and as a result, I'm 4.5 stone (63lbs) lighter but my metabolism is (understandably) shot to pieces.  I'm being realistic about some initial weight gain while my body readjusts and comes out of starvation mode and I'm hoping that regular visits to the gym will help give my metabolism a much needed boost.
I have experienced a lot of negativity when I mention the Cambridge Diet which is why I haven't talked about it before on the blog.  I will happily hold my hands up and say that it's not a healthy way to diet, it really isn't and as with all crash diets, you will pile the weight back on quicker than ever if you go back to your old habits, simply because of the havoc very low calorie diets play on your metabolism.  But, when you flip the coin to the other side, I have complete confidence that without it, I would still be sat here today as I was the day I started, all 16st 7lbs of me.
The Food Plan (click to enlarge)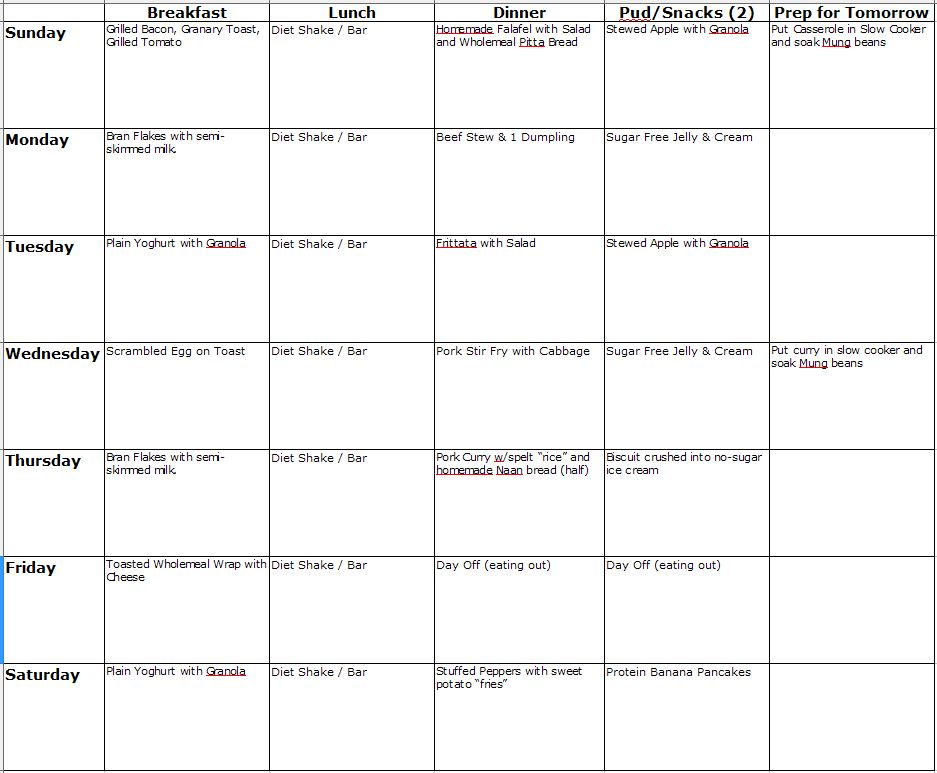 Things to Note
I'm focusing on the Low GI aspect of things.  I'm not carb counting unless I feel that I absolutely have to, simply because it's a pain in the arse.  I'm also not being massively aware of calories or fat content.  Again, I'm hoping that the common sense approach of a Low GI diet will automatically mean that I remain fuller for longer on the increased amount of vegetables and wholegrains.  I'm packing my evening meals with a variety of (non-root, except carrots) vegetables – my stew/curry/stirfrys hold enough veg to sink a battleship!
I admit that I will probably have to look at my calorie intake a little more closely once I've gotten into the above routine and possibly make some adjustments, the same goes for fats.  But I also know that it's the little 'treats' like bacon and tomatoes on toast on a Sunday or a melted cheese wrap that will keep me on this new regime with more enthusiasm than without it!
You'll also notice that I'm still going to be supplementing my days with a protein based diet shake/bar.  Mostly this is because I have them left-over and those things are too expensive to waste, but I also tend to eat my lunch whilst doing a hundred other things, so this is a convenient way to stop myself from falling into the trap of reaching for carbs (read bread) as a quick lunch.
Exercise
I'm also back at the Gym and currently thinking that I need to hire their personal trainer for a couple of sessions to ensure that I maximise my results in the minimum amount of time.  My (unfit person) routine currently looks like this:
~ 15 minutes treadmill (5 minutes warmup, 5 minutes running, 5 minutes cool-down)
~ 10 minutes rowing machine
~ 10 minutes stair-master
~ 5 minutes various weights
I do this three times a week and I'm not entirely sure this is going to be enough to build my metabolism back up, my major motivation for going.
Is anyone else on a kick to get healthier and drop some pounds?  Looking at what I've planned, got any alternative suggestions or tips for me?  Talk to me about your diets peeps!