I first heard about this new indie brand via Sirvinya's blog and immediately fell in love with a couple of the eyeshadows featured in her swatches.  I hot-footed it over to the Victorian Disco Etsy page and ordered a batch of sample baggies to have a closer look myself.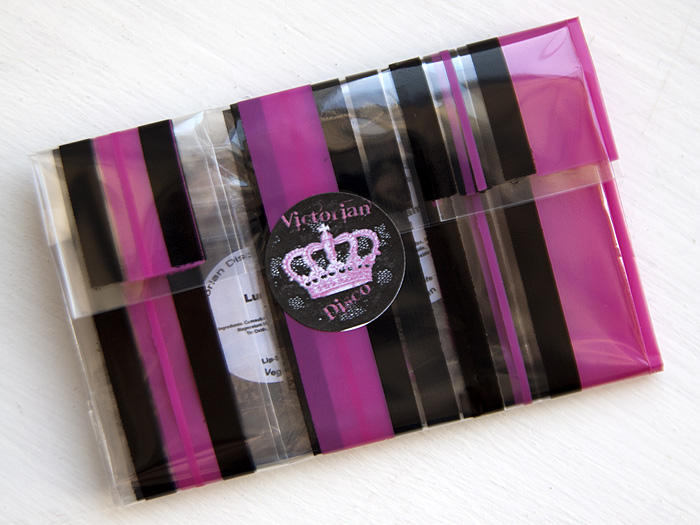 Despite the Christmas rush, I received my order (from the U.S.) after only a week – not that I'm saying it's unusual to receive products promptly from an indie retailer, but… well… you know…
The shadows are finely-milled and well mixed, they apply smoothly and blend beautifully when applied with a dry brush.  With mineral eye shadows, I tend to pat the lid colour on with a wet brush and apply the crease colour with a dry, blending brush to soften the edges and (usually) smoke out.  I haven't experienced any application issues so far with my usual method.
On with the swatches! (…and official colour descriptions) – these have been swatched with a damp brush on dry, bare skin.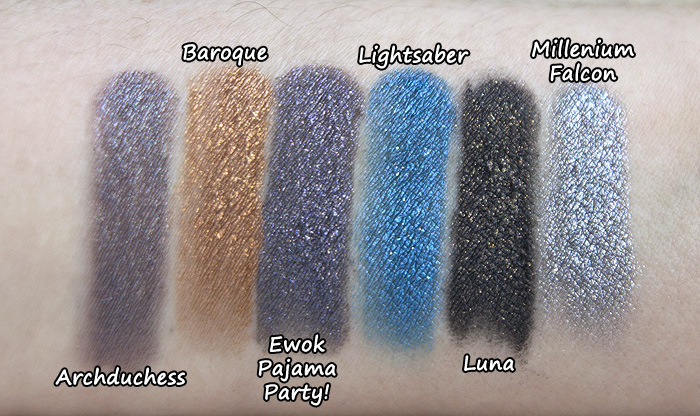 Archduchess: Medium dusty purple with violet, gold and blue sheen
Baroque: Light brown with gold flecks and sheen
Ewok Pajama Party!: Straight black with gold and violet sparkles, slight purple sheen
Lightsaber: Medium blue with a violet sheen
Luna: Deep strong black with a very prominent gold sheen and sparkles
Millenium Falcon: Deep silver with red, purple and 3D sparkles
Pannier: Deep brownish taupe with violet and gold flecks
Powder Wig: Bright metallic white with purple flecks
Revolutionary Ball: Black with a deep blue sheen
Sailor Mars: Rusty red with a pink sheen
The Fett: Deep purple with a light violet red sheen
Tuxedo Mask: Deep reddish black with purple and gold sheen
Pannier bleeds a green tinge around the edges of the swatch and I'd say that some of the colour descriptions are a little off but the shadows are really very, very beautiful.
My top picks are Revolutionary Ball, Sailor Mars, Tuxedo Mask, Ewok Pajama Party!, Archduchess, and Luna.  So, err most of them really.
Here's a quick FOTD – I'm wearing Millenium Falcon (wet) on the lid with Tuxedo Mask (dry) blended softly into the crease and under the eye.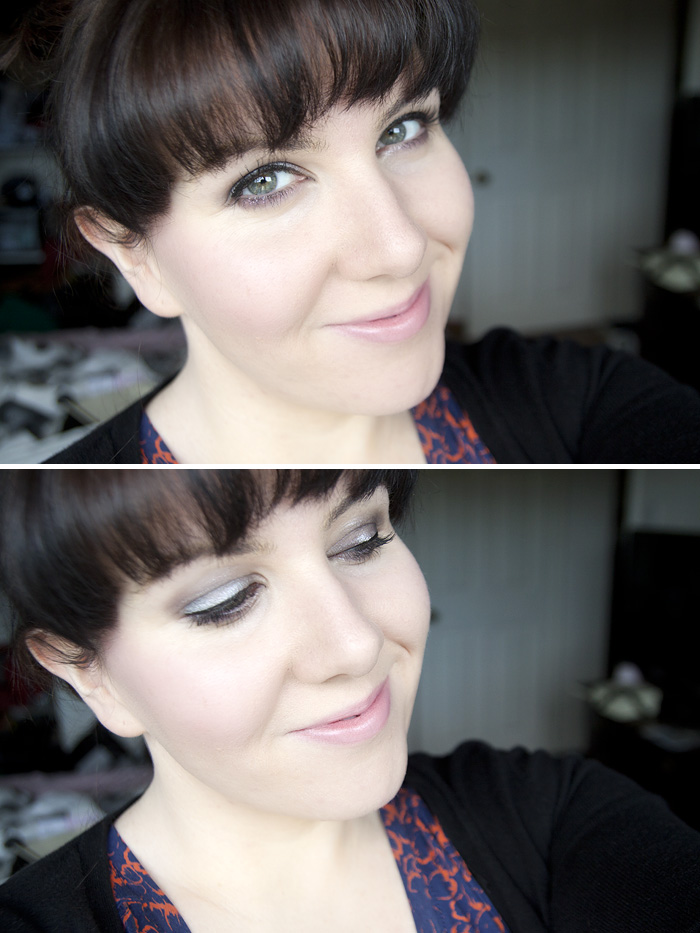 Also wearing: Kevyn Aucoin The Sensual Skin Enhancer  |  MAC Angel Lipstick  |  Illamasqua Sob Cream Blusher  |  Clinique High Impact Mascara
Any of those swatches show a shade with your name on it?