Like Miss Marple, Jessica Fletcher Jane Tennison (sexier)… I'm taking on a cryptic challenge to uncover the secret behind The BIG Skincare Mystery.  Unlike my Prime Suspect role model, they'll be no dead bodies (only dead skin), and hopefully no issues with institutionalised sexism.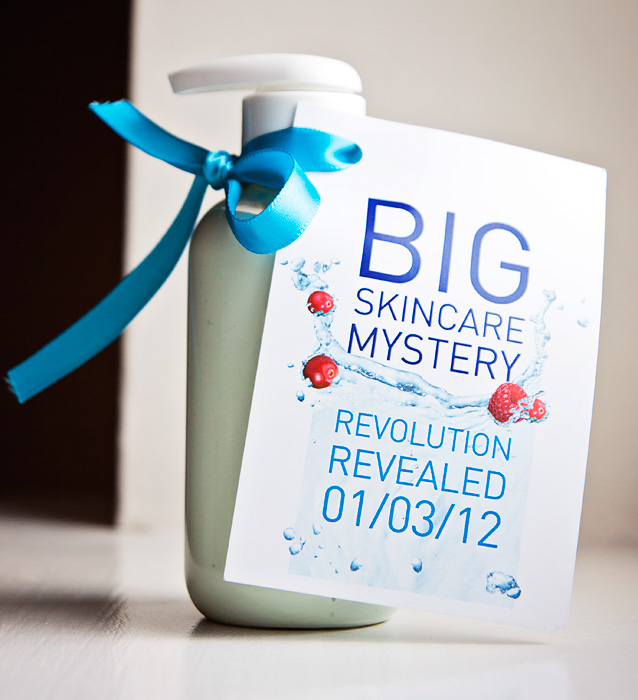 A suspect package containing an unbranded, unmarked bottle of lotion dropped through my letter box* yesterday morning with the curious label you see above attached.  I shall call it… Exhibit A.  A milky, pale green hue with a creamy formula that smells fresh and a little bit like cucumber(?).  Curiouser and curiouser!
Let's look at the evidence.
All I know about it (thanks to a purposefully vague press release) is that it's a new multi-purpose daily cleanser which promises to tackle common skin issues like oiliness without leaving skin feeling tight or dehydrated.  Well, it's picked a tough tester here because my skin tightens at the mere sight of anything targeted toward oilier skins thanks to my typical combination/unbalanced skin type.
Ingredients: Aqua, Glycerin, Sodium Lauroyl Sarcosinate, Betonite, Kaolin, Cocamidopropyl Betaine, Coco-Glucoside, Salicylic Acid, Xantham Gum, Parfum, Sodium Chloride, Acrylates/C10-30 Alkyl Acrylate Crosspolymer, Tocopheryl Acetate, Sodium Sulfate, Propylene Glycol, Disodium EDTA, Benzyl Salicylate, Persea Gratissima Leaf Extract, Punica Granatum Fruit Extract, Phenoxyethanol, Potassium Sorbate, Sodium Citrate, Citric Acid, Sorbic Acid, CI 77891, CI 42090, CI 19140
In my non-expert opinion, the ingredients suggest that it's something we'll find on the high street *strokes chin thoughtfully* and I see clay and salicylic acid to help degunk those pores.  I'm told that it's multi-use and as well as a daily face wash, it can be employed as a face mask up to 3x weekly, leaving on for up to three minutes before rinsing clear.
Dermatologist Susan Mayou from the Cadogan Clinic, London says: "When it comes to facial cleansing, many products, especialy thouse designed for problem skin, can cause drying if used every day.  The impressive thing about this mystery new range is that each product has been specially balanced with ingredients that clear blemishes effectively but are also gentle enough to be used as part of an everyday cleansing regime".
So.
Who wants to be Watson to my Sherlock? (I know, the comparisons are getting bolder)
If you want to join in with the fun, head over to the facebook page for The Big Skincare Mystery and request a mystery sample to try for yourself – by doing so, you also stand the chance at winning your share of £1000 in Topshop vouchers.  The BIG reveal will take place on March 1st 2012.  The game is afoot!
* press sample