This is your Tuesday morning confessional.  Confession All.
You'd be forgiven thinking that people with our level of beauty obsession might get it right, but we don't.  Just because we know the rules, doesn't mean that we don't break them.  I'm feeling a little heavy-hearted this morning, let me lay bare my (grungy) beauty soul in the hopes of lifting a little weight off my shoulders.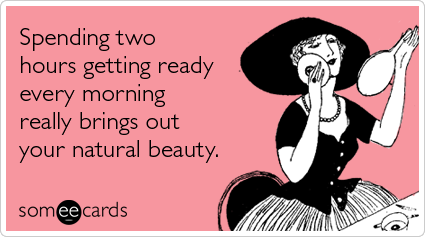 1.  I store my brushes in pots, upside down.  These infact.  They're perfect and lovely and hold all my brushes beautifully – so what's the problem?  Dust.  You know, all that dead skin and tiny insect turds that float down onto my brush heads before I buff them into my pores every morning?  That.

2.  Flannel-washing.  Do I use a clean flannel every morning?  Errr… sometimes… not really, um no… maybe 3x a week (on a good week).

3.  Best Before… Unless the skincare actives are very, very active (vitamin C and the like), I can't promise you that I don't use skincare after its recommended expiry.  I always mean to write the date I opened it somewhere on the packaging to ensure I don't go beyond… but you know, I have a fucking life.

4.  Skin-picking.  I am the queen crater-creator.  Find me the tiniest blemish and I'll make a mountain out of a pimple in no time at all.

5.  Concealer?  Oh, I can't quite reach you over there – never mind, let me add another 7 coats of foundation on this spot instead, I'm *sure* that will fix it.
In my (weak) defence, I do wash my makeup off every night before sleeping.  Without fail.  What used to be a chore turned into a habit and now I'm actually quite compulsive about it.  Not that it really matters though, seeing as I'm using a "dirty" flannel (oh the shame!)
Make me feel better!  Please share your beauty confessionals this morning!