When I saw the Butter London Jelly Collection on sale at ASOS, I made a dive for my handbag and had my order confirmation sat in my inbox in record time!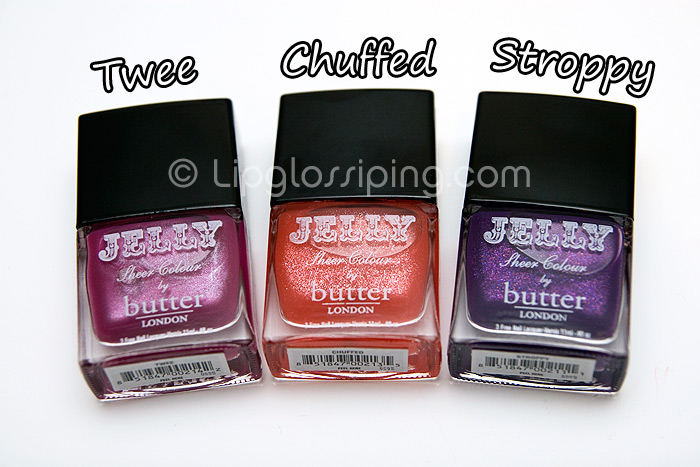 The trio of polishes were a Spring 2010 release.  3 shimmery sheer jelly shades that promise some layering gorgeousness.  They didn't disappoint.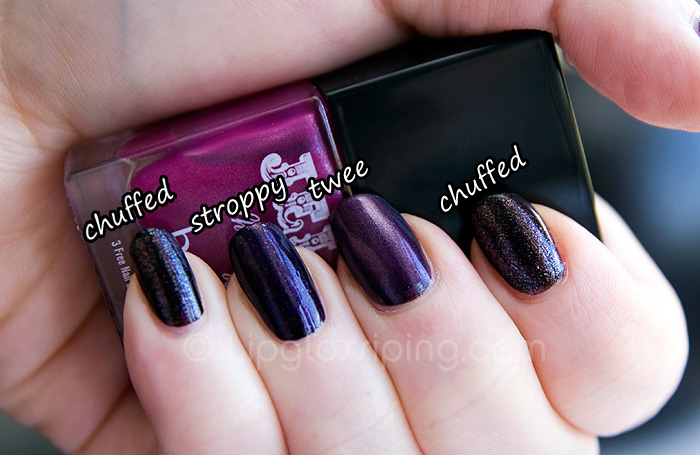 The image shows 2 coats of each applied over a black base.
Stroppy transforms into a blackened purple sparkle fest that reminds me of a vampier version of NARS Purple Rain.
Twee completely changes the hue to a slightly dusky purple with a more subtle sparkle.
Chuffed glitters all over the place… just beautful.
I can't pick a favourite from the three, I thought I'd be able to… but they're each quite different and totally mesmerizing in their own right.  I can't wait to try these over other shades… they apply like a dream, dry smoothly and rapidly with a glossy finish (no top coats in the above image).
You can also wear these shades sheer if you prefer, Kelly over at Vampy Varnish has some great nail swatches to show how they look applied alone.  They're a great option for sprucing up a tired looking manicure when you simply can't be arsed to redo the whole lot… patch up any chips, grab one of these… 2 coats… brand new mani!
Tempted?  If so… grab 'em while they're still a fiver each – free delivery at ASOS! *siren/temptress dance*