Apologies for the lack of posts toward the tail end of last week and over the weekend… let me explain…
I broke my car, tied the bumper on with tinsel to get it home (it was all I could find in Ikea), caught a stinking cold, dragged my snotty self to London and back (like it's the Antarctic or something), lost my wallet while in London, broke my Dad's car (the one that I had borrowed to replace my car), and discovered that Leila had come down with a hefty dose of chickenpox on Friday night.  The poor little mite is now absolutely covered, even her eyelids… my heart is breaking for her.  And just to compound the bad luck, my family are over from Australia (as since a 4am airport run yesterday *yawn*), and we can't take her to visit them until she's non-contagious because my nephew's never had the pox!  I mean, c'mon!  Give a girl a break already.
Because of all this palava, I didn't get to make it to Hyper Japan as I'd planned this weekend, gutted much?  Also, can I have some cheese with my whine?
So anyway, them be the reasons for being AWOL for much of last week.  I think they're quite good ones, better than "dog ate my homework" at least.
Because I know you're all dying to know what I got up to in London, YOU ARE AREN'T YOU? *puppy eyes etc. etc… just nod, I'll be off soon*… here's a quick mishmash of snaps hinting at the kind of posts you'll be seeing later in the week.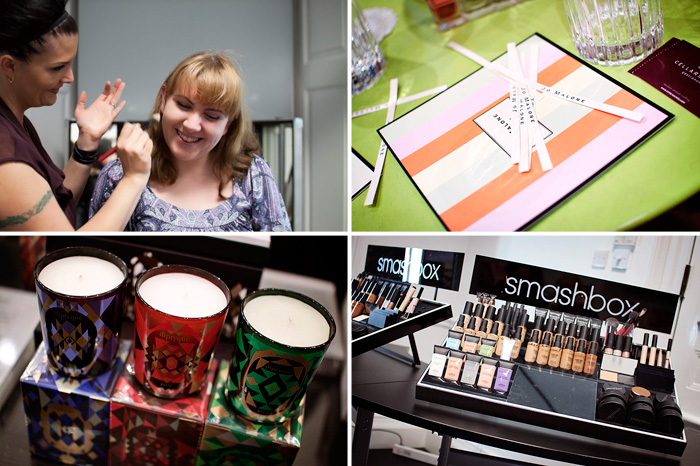 How "speshul" do I look getting my makeup done?  I swear to God that's a perfect mix of bemusement and pity on the makup artist's face right there.
On a more positive note, I got the chance to stock up on my favourite chocolates from Selfridges, indulge in a little Guerlain purchase, buy three of those Miss Sporty Metal Flip polishes for a global giveaway, AND treat myself to a Diptyque candle.  Also a washing machine, but I won't bore you with that one.
How has your weekend been?  Did my lovely U.S. friends enjoy Thanksgiving?
On a side-note, can we get Thanksgiving over here please?  Not the religious/historical bit, that would be a bit like suggesting we all celebrate 4th July, awkward.  Just the being thankful for what you have, no gifts, massive turkey thing.  I'm down with that.  Also, it might stop the supermarkets shoving CHRISTMAS in our faces from late September?  I think we're being shortchanged a fairly acceptable holiday opportunity.
What say you?