I did plan on catching up with my beauty blogging today, jumping back into the routine of photo-taking, editing, and tapping away at the keyboard that I've missed dearly.  What is it they say the best laid plans of mice and men?
Well, my plans went awry the moment Leila came snotting her way into our bedroom at 2 o' clock this morning, coupled with a raging temperature and a hacking cough that made me want to throw one of us out of the window by the time 7am rolled around.  One quick phonecall to the school office later and our fates were decided… 11 hours later, we're still in our pyjamas!
Starting with a bit of card-making (her current crafty obsession), some clothes-sorting and drawer rearranging… and a couple of books later… boredom struck.  Until I remembered a pack of Shrinkables that my friend Soraya from Powder Rooms had gifted Leila over the weekend.  If you've ever watched an empty crisp packet shrink in a pre-heated oven, you'll know exactly what to expect from this novel little stocking filler!

We coloured and cut, scribbled and snipped until we were satisfied with our creations… our attention spans held strong until the last prince needed decorating, and while Madam was busying herself stealing a piece of her Dad's fudge, I took over and ensured that the final Prince Charming was suitably suited and booted!  To be honest, it's not often I can summon up the patience to do this kind of thing (making Play-Doh ice cream cones makes me want to go on a killing spree) but there was just enough colouring to keep her occupied and not too much to start her on a one-colour, screw-staying-in-the-lines rampage.
Three minutes in the oven later (our noses practically pressed to the glass) and we'd created a full set of mini (shrunk to about a 1/4 of their original size), hard plastic fairytale characters.  We discarded the stands (they weren't very easy to attach) and Leila has lined them up lovingly along her windowsill, calling them her "stained glass" people.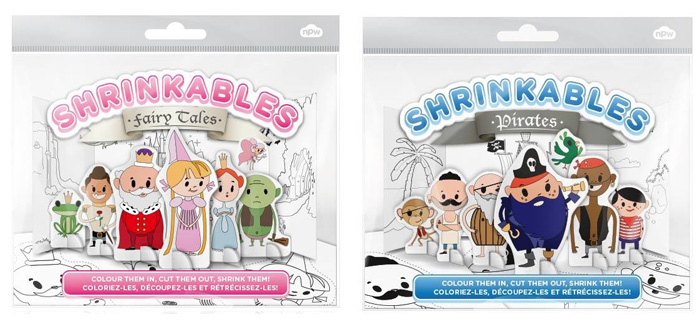 Shrinkables are available in a Fairy Tale and Pirate variety from powderrooms.com. Priced at only £5 each, they make an excellent and original stocking filler for both big *cough* and small kids alike!
All in all, a lazy afternoon well spent.  When was your last pyjama day and was it as fun as mine?!