The historic town of Grasse in the South-Eastern corner of France is widely considered as the world's capital of perfumery. The area enjoys a climate ripe for growing and harvesting flowers and it's reported that over twenty-seven tonnes of jasmine alone are harvested in Grasse annually!  The town is also home to many of the world's oldest perfumeries and most of the industries most famous "noses" have trained there at some point in their career.
L'Occitane have recently released a collection of fragrances that pay tribute to the area's rich history of "scentsory" creation and the set* that I'm reviewing today offers a generous insight into each of the new offerings in 7.5ml form.  You should note that this addition of miniatures is a limited release and according to the L'Occitane website, there are only a few left available to purchase.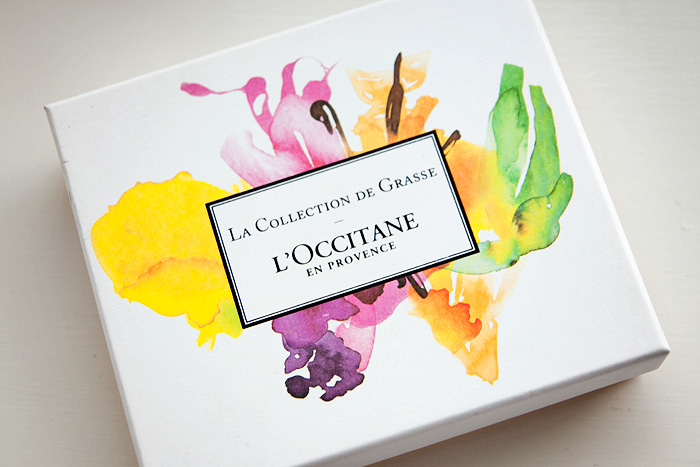 Each fragrance is contained in individual, fully-resealable bottles.  I mention this because I shall never purchase another L'Artisan Parfumeur set whose miniatures evaporate their ridiculous packaging within weeks.  Take your time enjoying these… at £28 for a total of 30ml, you're getting good value that will give you plenty of opportunity to discover your favourite(s).
The lady behind the collection, Karine Dubreuil, has created for L'Occitane before and is fully in-tune with the brand's ethos and love for natural extracts.
I immediately recognised myself in this clear, pure style of authenticity associated with L'OCCITANE.  This vow of sincerity is captured in their fragrances, which expresses the beauty of nature in all its transparency. – Karine Dubreuil
The collection plays around with the idea of capturing a pair of players in the fragrance world and weaving their simplicity into something a little more meaningful.  Whether a chance encounter, or destined to be together… the ingredients are chosen and combined expertly under Karine's care.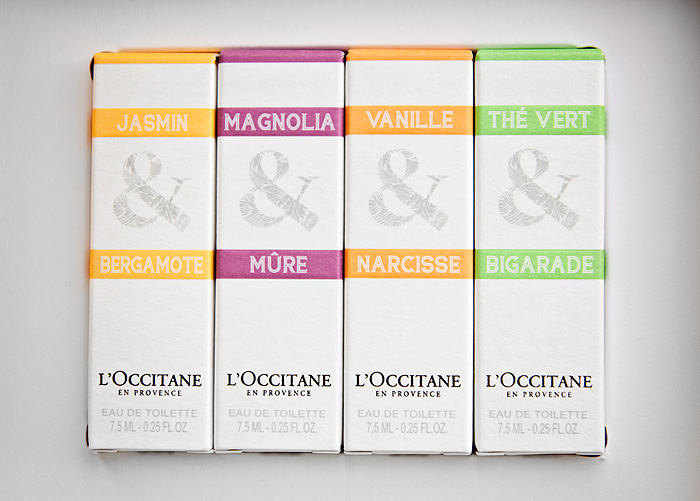 Jasmine & Bergamote
Bergamot discreetly lights up the scent and continues to retain a lingering presence. Contrasts blend with ambivalence as jasmine reveals all its facets. To convey this ambiguity, at least two types of jasmine would be needed: a jasmine from Grasse and a jasmine from Egypt. The balance fluctuates between petals and leaves, freshness and sensuality, day and night.
Top notes: mandarin orange, BERGAMOT
Heart notes: JASMINE, lemon leaves
Base notes: sandalwood, cedar
Magnolia & Mure
Between flower and fruit, the magnolia essence provides the prelude to wild and slightly musky blackberry notes. Present throughout the fragrance, blackberry gives a tenderness to the woody structure. Its velvety seeds soften the solemnity of patchouli. Over time, the fragrance asserts its chypre character.
Top notes: bergamot, BLACKBERRY
Heart notes: MAGNOLIA, rose
Base notes: patchouli, moss
Vanille & Narcisse
Discreet at first, the scent of narcissus swells to reveal a bouquet of white flowers and spicy heart accords. Finally, rich and radiant vanilla borrows the wilder, untamed notes of narcissus that give it spirit.
Top notes: blackcurrant, bergamot
Heart notes: NARCISSUS, gardenia
Base notes: VANILLA, tonka bean
Thé Vert & Bigarade
This great classic from L'OCCITANE joins La Collection de Grasse. Refreshing, essential and aimed at both men and women, it has a thirst-quenching effect from the very first contact, when sparkling citrus notes burst forth in an accord of sweet and bitter orange. Hints of green tea, yerba mate and hay give a reassuring touch before drying down into an aromatic trail.
Top notes: orange, BITTER ORANGE
Heart notes: GREEN TEA, yerba mate
Base notes: cedar, thyme, musk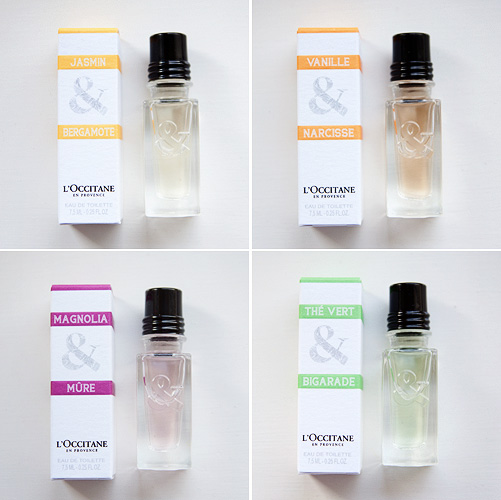 From the collection, Thé Vert & Bigarade is my pick of the bunch.  An uplifting citrus without any of the prickliness that one might usually associate with the genre.  It's both refreshing and warming with a hint of the oriental that softens the edges of the bitter orange and evokes a feeling of comfort and well-being.  In all honesty, there's not an awful lot more to it than that… there's no great complexity or layer upon layer of twists and turns to excite your senses.  Thé Vert & Bigarade simply displays a beautiful pairing of notes that were clearly meant to be together.
There's a fantastic interview with the perfumer Karine Dubreuil which I've embedded below, it explains more about the inspiration behind the collection and gives a little insight into the region and it's rich wealth of fragrant history.
The Petit Grasse Fragrance Collection is available to buy instore and online at uk.loccitane.com, priced at £28 for the boxed selection (3oml total)
* press sample