I know many people think that chocolate brownies are one of the most over-hyped cake(y) substances known to man.  That and macarons.  And cupcakes.  Probably also whoopie pies.
Killjoys.
Although in fairness, I'm inclined to agree on the macaron front, I mean wtf are they all about anyway?  They're like suped-up communion wafers that weld themselves to the backs of your teeth while simultaneously scouring your soft palette so fiercly, you can't consume a hot drink for a month without whimpering.  Sure, they look pretty but I ain't shallow.  Much.
But brownies… A good chocolate brownie is heavenly, and if you think they're overrated, I'd hazard a guess that you've been buying yours from Costa Coffee for too long.
I'd also like it to be known that I'm squarely in the fudgy-is-best camp when it comes to brownies.  If I wanted a "cakey" brownie, I'd go buy a fucking cake.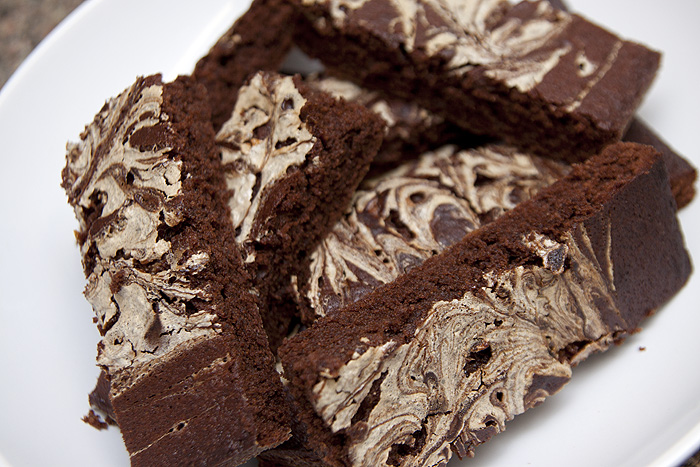 Anyway, I found a jar of slightly-out-of-date Marshmallow Fluff that I'd bought purely for the novelty factor and promptly forgot to use, so I googled for some recipes but didn't like the sound of anything that was coming up on the search.
Instead, I decided to make a batch of my favourite brownies, omit my usual chocolate/fudge pieces and marble some swirly Fluff into the baking tin instead.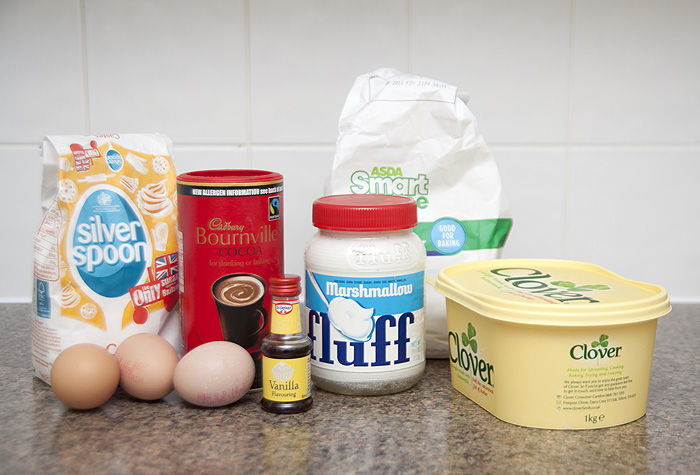 For the Brownies (makes 12 – use a smaller tin or double the quantities for a 30cm long tin)
140g  butter, softened
190g caster sugar
3 medium eggs
50g cocoa powder
50g self-raising flour
1/2tsp baking powder
Chuck all of the ingredients (yes, all at once – another reason I love this recipe), into a bowl and mix until combined and smooth.  Don't overmix, you just want to get everything together and looking glossy.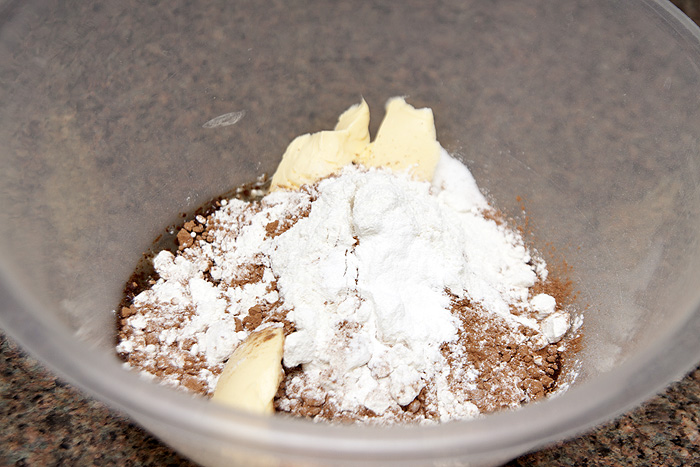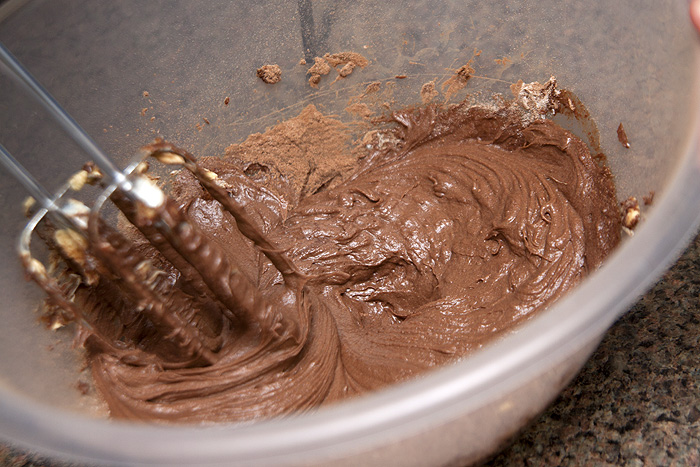 Spoon the mixture into a greased tin and use a spatula to spread it across the surface.
For the Fluff topping
50g Marshmallow Fluff
20g butter, softened
1/2 tsp vanilla essence
Add the topping ingredients into a bowl and beat with a whisk until combined, you can add a tsp of water to thin the consistency if needed.  It should be smooth, silky but not "runny".
Spoon the topping over the (uncooked) brownie mixture in tsp-sized "blobs" and use a skewer (I only had a straw to hand) to "marble" the topping.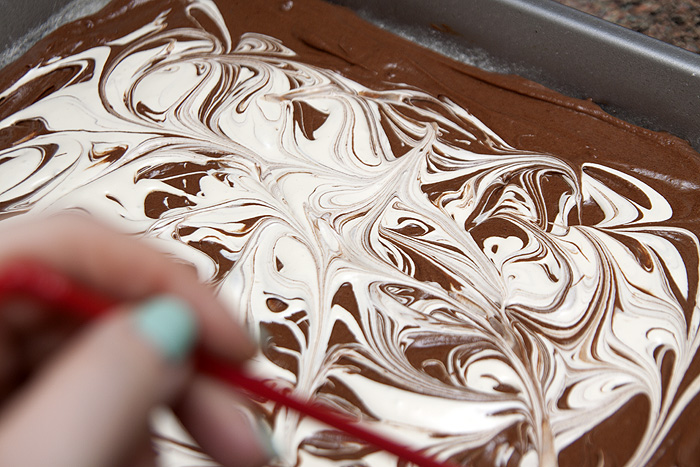 Bake in a pre-heated oven (180 degrees/160 fan) for around20/25 minutes.  Test with a knife to check if it's done and if you've got any leftover "topping" mixture, you know what you need to do – don't you?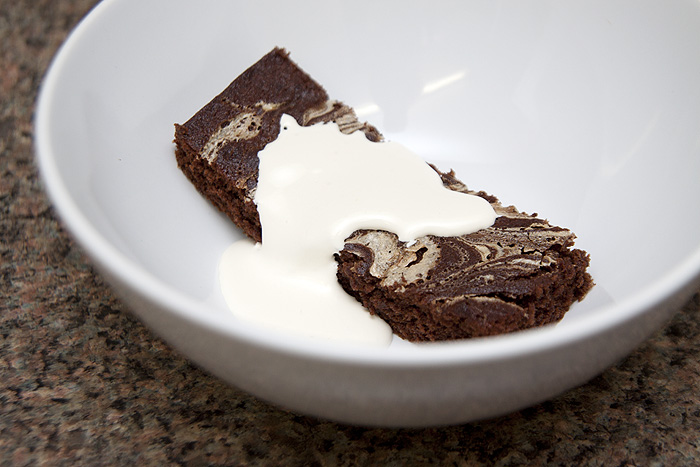 Overall, they're not my best experiment to be honest.  The brownie is definitely more fudgy than cakey and the Marshmallow Fluff, whilst it adds a teeny bit of chew to the topping… doesn't add much else.  I'd suggest adding a crap-ton more than I did and to hell with whether it marbles or not.  Also, don't leave out the chocolate and/or fudgy pieces… these are definitely more cakey than fudgy.  Bother.
Having said all that, they're still nice.  They're just not better than my usual recipe which I'll post here sometime closer to Halloween.
Did you get your "bake" on last weekend?