I first discovered the joy of Laksa courtesy of an inner-city food court almost 15 years ago.  I was living in Sydney at the time and alternating my lunches between New York Style pastrami sandwiches, Lebanese Fattoush, and Singaporean Chicken Laksa.  Such was the multi-cultural diversity of the city, coming from the British countryside, it was a revelation to taste my way around the continents in such an informal setting.  When I returned, I really missed some of my favourite dishes, and the first one that I had to learn for myself was the Chicken Laksa.
Now, back then… it was practically impossible to find a ready-made Chicken Laksa paste.  There are billions of recipes online describing how to make your own but nowadays, I just buy a jar of paste from my local Asian supermarket – tastes great and much less hassle.  I believe that some mainstream supermarkets stock it now, I'm pretty sure Sainsburys do anyway.
Chicken Laksa is a great dish to serve up when you're looking to impress.  It's a warming taste sensation, constructed around a base of chilli and coconut milk, you can customise it to suit your taste for spice just by adding more or less paste.  Not only that but it takes a mere half an hour to put together.
And this is what you need to do it…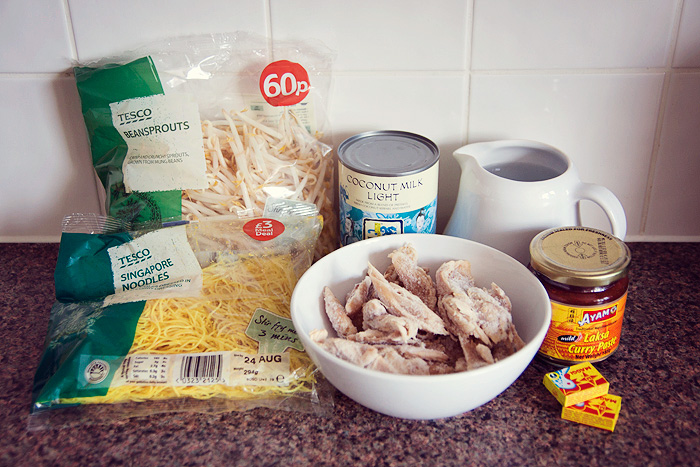 Not too many ingredients at all huh?  Just the way I like my cooking!  The above serves 2/3 people.
1 large fresh chicken breast/frozen chicken pieces – I used the meat that I'd pulled from a whole roasted bird after cutting off the breasts.
1 bag of bean sprouts (I use about half a bag for 2 people)
1 bag of noodles (traditionally vermicelli noodles but I've used rice, egg, whatever!)
1 can of coconut milk
Roughly 500ml water or chicken stock.  If you're using water, add some chicken oxo-type cubes to the pan during cooking.
1 jar of Laksa paste (My favourite brand is Yeos – I use a whole jar but this will make it hot, for a milder version, use half a jar)
Apologies that my list is a little vague in terms of quantities, this is one of those recipes that is best judged by the eye as you go along… honest!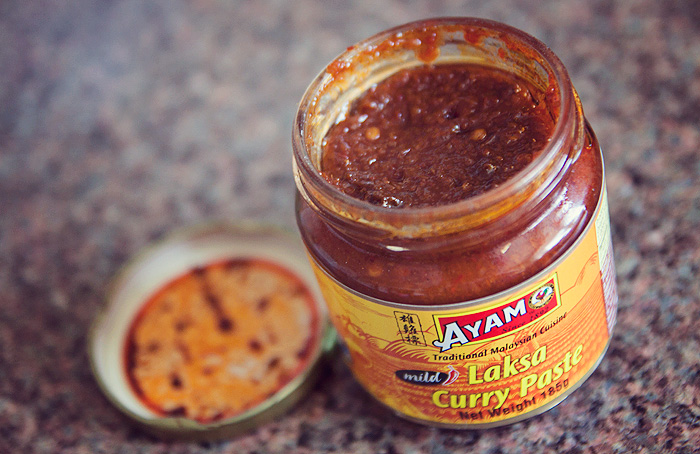 Grab a large saucepan or stockpot and add the paste, coconut milk, water+oxo cubes/stock and the chicken.  Bring to a simmer, put the lid on and stir occasionally until your chicken is cooked through.  How long this takes will depend on whether you're using raw, pre-cooked, or frozen (pre-cooked) chicken… err on the side of caution and make sure the chicken is fully-cooked/heated to safe temperature.
I usually give it a good 15-minutes bubbling away for pre-cooked, frozen chicken.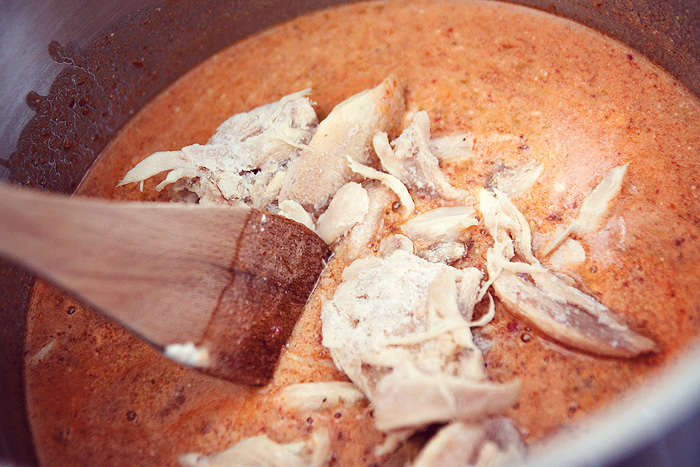 Take note of the water levels and at this point decide if your "soup" is thin enough… if it feels a little too thick, add some more water.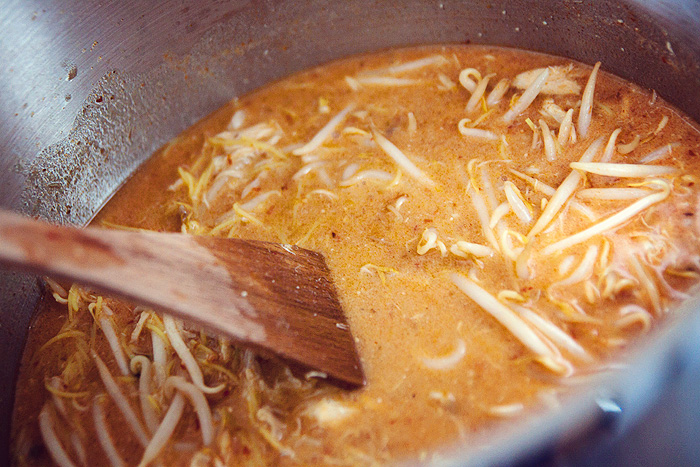 Throw in your noodles and bean-sprouts and cook for a further 5-minutes before serving.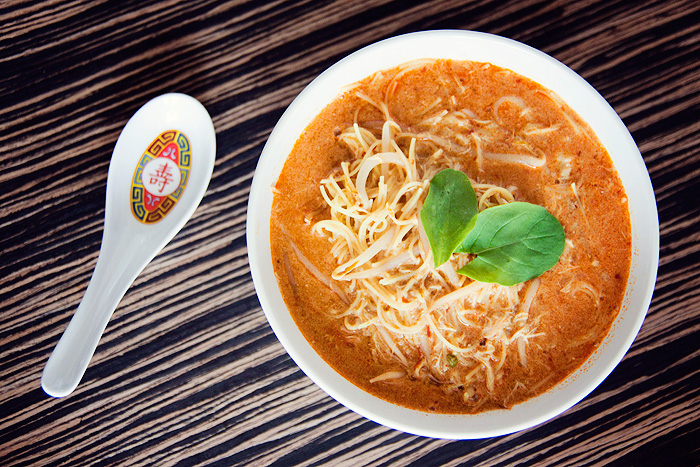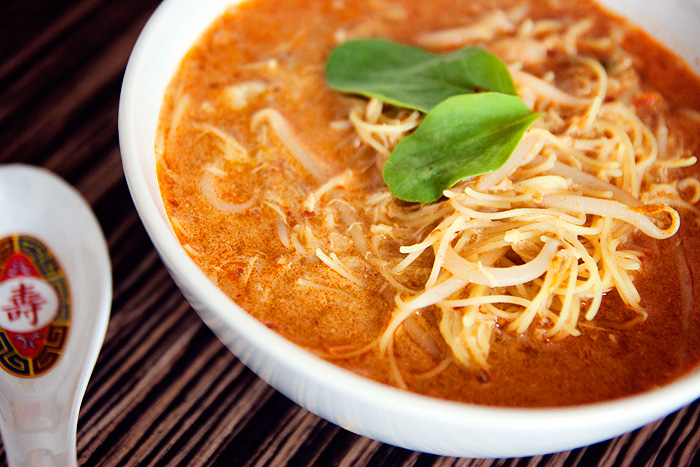 Done!  How easy is that?  And even though I do say so myself, it looks pretty impressive!
I usually serve it with some crusty bread… completely not traditional.  Not bothered either.
One of the best things about Laksa though is just how versatile it is.  If you're vegetarian, use tofu instead of chicken (although remember to check the paste ingredients, they vary).  If you don't like chicken, use king prawns instead!
Have you ever made a Laksa?  What's your favourite way to cook it?