I've just bought the Chanel Rouge Coco lippie deal from BuyaPowa which offers a potential saving of 26% – it comes in shade #5 (Mademoiselle) which was the shade I tried when the range was first released.
I didn't love the formula BUT it will make a brilliant Christmas pressie for someone as it comes complete with Chanel gift bag.  Alright, so it's not Chanel for 50p (boo) but you don't normally get more than 10% off high end brands like that, so it's a start.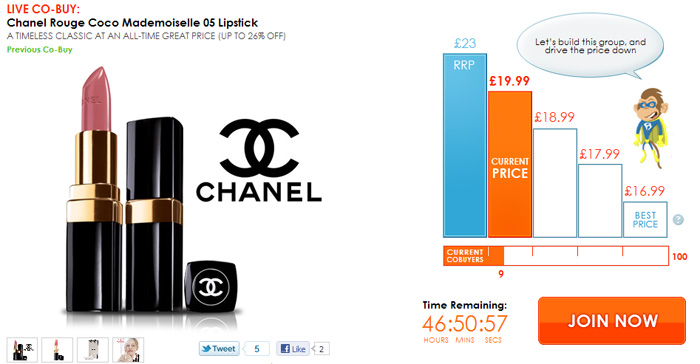 I had a few queries about authorising payment when I mentioned the Nails Inc deal… so to clarify, you authorise at the payment level at which you buy.  I authorised my Paypal account to release the full price (I was the 2nd to buy) but you will only ever pay the lowest price so if 100 people purchase, you will also benefit from that lowest price point.  Clear as mud?  Good.  Now go get a nice Xmas pressie for your Mum for cheap.
P.S.  I haven't been incentivised to post about this – other than the thing where if you partake, I'd be mega-chuffed if you'd click my icon to say you heard it from me.  I got a leaderboard beat down on the Nails Inc deal, it was like being picked last for gymnastics ALL OVER AGAIN.