Whilst I try not to get too hung up on product packaging, I do feel that it's only fair to point out that the bottle for the new Cartier La Panthere fragrance is way, way, too cool for school.  Seriously, it builds the kind of bottle-lust in me that I didn't even know existed until now.  Solid and strong… it's a beautifully angular monument to the luxury brand with the iconic Cartier panther peering out from within.
I think my favourite part about it is the top… the err, spritzer… and the golden, almost neo-classical design of those geometric lines under the cap.  Despite it's obvious *cough* panther *cough* extravagance, there remains a certain understated quality… it just screams glamour, expensiveness, and good taste.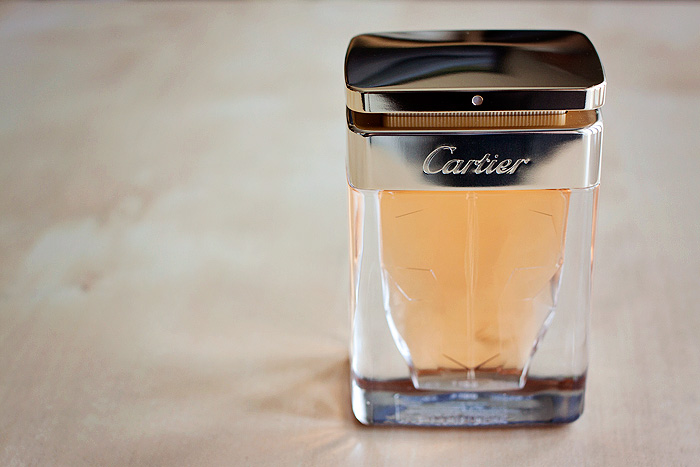 The press release describes Cartier La Panthere as a "feral floral", flowers gone wild… animalistic, even.  Indeed the gardenia within has been let loose with abandon, allowed to bloom until the milky white petals exude their earthy qualities to the max.  It's a kind of dirty glory that you might not have imagined a floral could possess, don't fight it… just enjoy its pungent qualities and subtle sweetness.
Some have described La Panthere as unwashed, and a little skanky (which in my opinion could only be a fragrant compliment when it comes to perfume!) but to my nose, it's not a true skank-fest in this way.  Perhaps, as a lover of "dirty" fragrances, my skank benchmark is placed a little higher than most!  Sure, it's musky and a little sour in places but there's just too much refinement going on, too much floral elegance for it to ever be anything other than fairly well-tamed at all times.
The sillage and longevity of La Panthere is testament to the quality of the work behind it.  On my skin, I get at least 6 hours of wear that floats across the ether, casting its warm drydown out like a (oak)mossy net among the crowd.  I feel classy with this fragrance against my skin, nay womanly… without a hint of girlish mischief, I'm all about the serious business.
Cartier La Panthere is available exclusively on counter and online at Harrods, priced from £49 for 30ml
* press sample
if you liked this post, please don't forget to check out my subscriber options, here