I'm a big fan of Dr. Bronner's Magic Soaps, they're multi-use and an absolute must have for travelling.  Fantastically, they're Suphate-Free and you can use them for washing, laundry, dish washing, cleaning, shampooing and even toothbrushing!  Although I'm not too sure about that last one…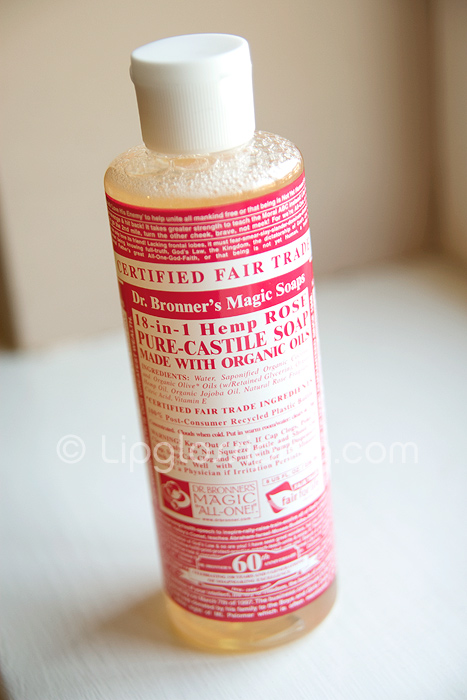 My favourite use for this little bottle of rose-scented magic has to be cleaning my makeup brushes.  You just need the tiniest amount.  I've washed my brushes at least 3 times using the bottle above and it's barely made any impact at all.
It leaves my brushes feeling soft, clean and conditioned, gets out all the crud and all that remains is a gentle rose-scent.  What more can I ask for?
More varieties?  Well… you can have: Peppermint (nice), Eucalyptus (bleh), Almond (yum), Rose (yay), Baby Mild (boring), Citrus (zesty!), Lavender (bleh) and Tea Tree (meh).   Please excuse the childish running commentary that accompanied the variety listing… sometimes I just can't help myself.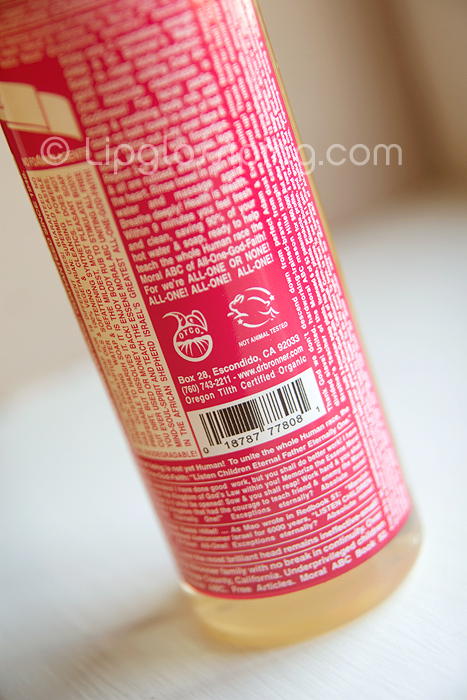 Oh yes, they don't test on bunny rabbits either.
INGREDIENTS: Water, Saponified Organic Coconut, Organic Palm and Organic Olive Oils (w/Retained Glycerin), Organic Hemp Oil, Organic Jojoba Oil, Essential Oils, Citric Acid, Vitamin E
You like?
I purchase mine from EcoHamster 'cos they offer free delivery and I like hamsters. £4.95 for 236ml.