There's a new toothpaste in town. It's lean, mean and err not very minty as it happens.  Featuring the revolutionary bacteria-busting ingredient Stabilised Stannous Flouride, this supposed super-paste claims to be all you need to target the oral issues that affect us daily.
It's taken 15 years of development and 70 scientific studies ahead of today's launch because this volatile active ingredient has proven difficult to present in a stable, usable form.  That sounds like me before my morning cuppa.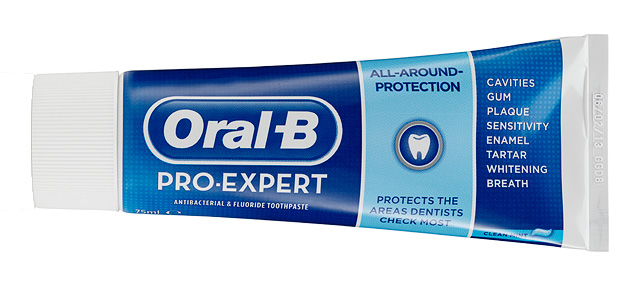 Finally, the bods at Oral-B reckon they've nailed it in the form of the new Oral-B Pro-Expert toothpaste which goes on general sale today.  There's more sciencey stuff behind it about how they managed to stabilise and tame this chemical but seeing as it involves words like polyphosphate, you will excuse me if I skim over those finer details this early in the morning?
The bottom line is that Oral-B Pro-Expert is proclaimed to be the toothpaste to put an end to forced compromises.  Oral-B say that you really can have your whitening, cavity protection, plaque reduction, tartar control, enamel strengthening, sensitivity repair, gum improving and breath freshening all in one tube.  Phew!
I used it for the first time last night and it's really a little strange!  It feels slightly gritty on the teeth (although I have been promised that it's 100% non-abrasive) and the taste!  Oh the taste!  It is EXACTLY like the rinse you get at the dentist.  It's not bad, I actually really like it… but don't expect that minty zing because this is something altogether quite different!
Oral-B Pro-Expert goes on sale today priced at £3.49 for 75ml