I have been practising like a demon and have finally come up with a way to make a mean loaf (or two) of relatively healthy bread.  My ambition is to get it as low GI as possible without compromising on taste.  I'm still a long way off that goal but edging ever-closer.
I don't know if any of you are nifty with a bit of dough (and I don't mean at the Chanel counter) but if you've got any tips, I'm all ears!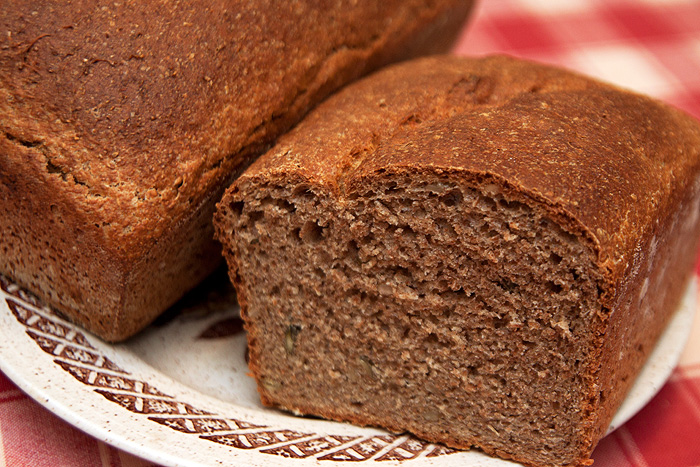 Wholemeal Loaf  (makes one loaf)

400g strong wholemeal flour (bread flour)
50g wholemeal spelt flour
2 tsp dried active yeast
1.5 tsp salt (can use less but expect slightly less taste)
2 tsp sugar
2 Tbsp Sunflower Seeds/Pumpkin Seeds (optional)
350ml warm water
50g melted butter or 3Tbsp Olive Oil
1. Reactivate your yeast by stirring the yeast and sugar into your measured water.  Make sure it's not too hot… it should be slightly warmer than tepid.  Leave for around 10 minutes, the yeast should have made the surface foamy.
2.  Combine the flours and salt together in a large mixing bowl.
3.  Add the yeasty water to the dry mixture and combine well before pouring in the melted butter/olive oil.
4.  I use a hand mixer with two dough hooks attached at this stage and mix for 5 minutes on level 3.  If you're a traditionalist, get kneading for a good 10 minutes.  I use the hand mixer because whenever I knead by hand, I always get tougher bread.  Infact, I just bought a new hand mixer, it's this one and I thoroughly recommend it.  I paid £18 (not inc. p&p).  Usually when sellers bump the price up like that it means that it's temporarily out of stock.  The price should drop back down as soon as they get new stock.
6. Cover the bowl with a tea towel and place somewhere warm for ONE hour.  I put mine in the airing cupboard.
7. After an hour, turn the bowl onto a lightly floured surface and punch down to release the gas that's built up inside the dough.
8. Give the dough a 1 minute knead/shape and place into a well-oiled bread tin.  There are lots of videos about on how to 'shape' a loaf.  I'm AWFUL at it.  At this stage, sprinkle in the additional seeds that you may want to add.
9. Cover again and return to warm place for no longer than 30 minutes.  I find this bread is prone to over-proofing and getting a flat top in the oven if I leave it any longer for the 2nd rise.
10.  Pre-heat the oven to 200 degrees celsius (fan oven) and whack it on the middle shelf for 45/50 minutes.
11.  Once cooked, you should hear a hollow sound when you tap the bottom of the loaf.  Allow to cool before cutting, no really… as tempting as warm bread is – cutting it too soon is death to a home-baked loaf.
.
I usually double up the quantities and make two loaves at once.  Although it sounds laborious, the actual time spent with the dough is minimal (especially if you use a hand-mixer).  This isn't the kind of recipe you have to stand over watching, stirring etc…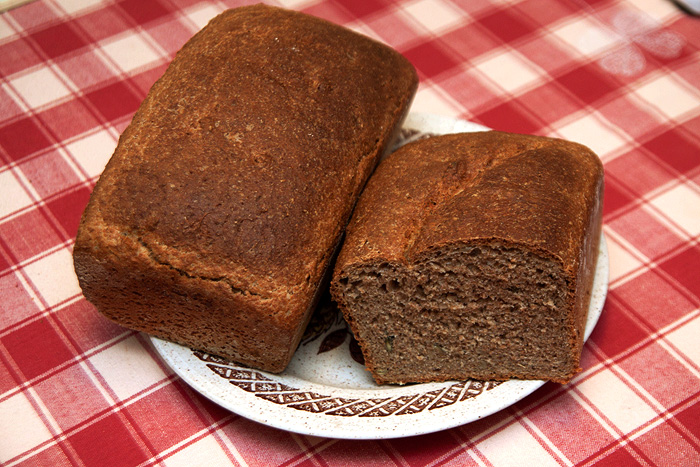 The recipe above works out at around £1.04 a loaf – less if you stick to only wholemeal flour (up the quantity to 450g) and do without the seeds.  There is something very special about turning out a freshly cooked loaf of bread and watching your family come to the conclusion that they never realised that 'proper' bread could taste so good.
As usual, my version is kinda lazy and a little bit cheat-y.  It's not massively low GI but the use of wholemeal/spelt and the addition of seeds means that I 'fill up' quicker on smaller portions and it doesn't spike my blood sugar *quite* as rapidly as plain old white supermarket bread does.  I'm genuinely the kind of girl who could eat bread all day long and this loaf cuts very finely without disintegrating… I really get better portion control without feeling like I'm missing out.  It also tastes a 100x better.
Do you bake your own bread?