Made you look, made you stare, made you lose your underwear.
A product that's too good?  Can this even be possible?  And if so, what the hell are you talking about woman?
Well, I'm talking about the new Benefit They're Real Push-Up Liner.  You know, that one everyone and his eyeliner-wearing dog is talking about.  Or at least, they were… before we all moved on to the next latest release.  Us bloggers, we be so fickle.
So, what's so right with it?  And more importantly, why is this a bad thing?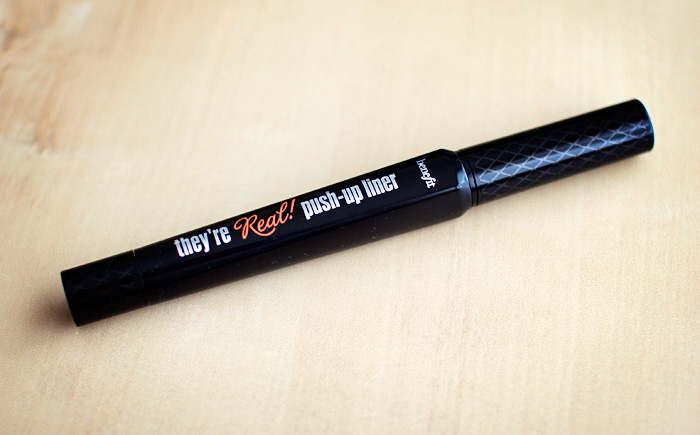 The new Benefit They're Real Push-Up Eyeliner – usual twee Benefit marketing aside – is actually one of those genuinely innovative releases that we all crave.  It's something that I've never seen done before, a truly delightful way of dispensing product that delivers on both the novelty-factor and the this-is-actually-quite-good factor.
Let me tell you about the technicalities of the eyeliner, in my own completely untechnical way.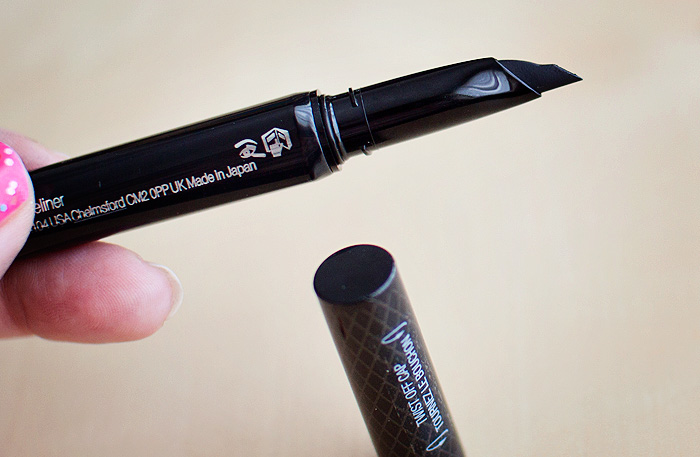 You see that tip?  That nib up there?  It's a rubberized doo-dah with a small opening through which oozes gel eyeliner when you twist the bottom of the pen mechanism.  The gel it dispenses is the kind that you usually get in a pot.  As for the mechanism, it doesn't shoot out in an unusable stream of fast-moving black lava, it actually dispenses pretty slowly, playing nicely and stopping dead when you quit twisting the base of the pen.  That in itself is miraculous and something that most similar products have failed to achieve.
Sadly, any product remaining in or on the nib dries out pretty quickly once it's left the airtight chamber.  Benefit have tried to counteract this by providing an odd little "plug" that you keep in the opening when the pen isn't in use.  Sadly, for me, this idea falls short… replacing and removing the plug is the quickest way I've found to get your hands covered in smears of product.  I'll talk more about that later…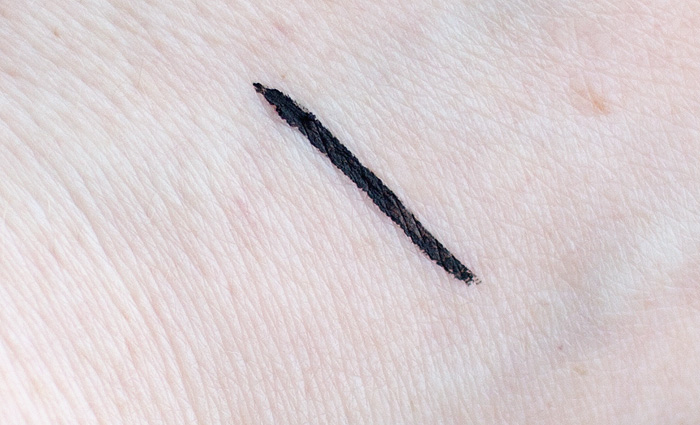 Let's talk about the formula first.
It's inky and it's very black, just as you'd hope.  As far as eyeliners go, this one has a pretty dry consistency… delivering a solid pigment with hardly any feathering or creep from a too-wet formula.  You'd expect this from any gel eyeliner, and this is a good one.
The downside to this precision is that, as with most drier textures, it has a tendency to flake.  Especially if you dare "go over" your drawn line once too often.  This is frustrating, especially for someone who isn't naturally gifted at drawing impeccable edges the first time round.  I usually need to do the whole "thicken the line to neaten it" thing after the first application.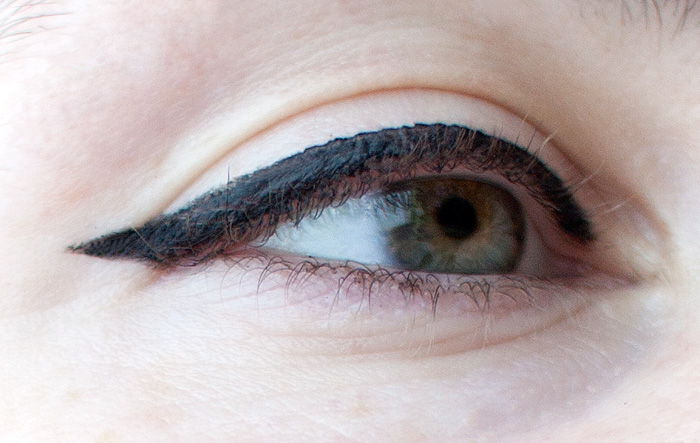 The upside is that when you get it right (the first or at a push, the second time), you'll be rewarded with the darkest, matte-est, most gloriously lined eyes you could ever wish for.  Particularly if you're wanting to throw a cheeky eye-flick into the mix.  The applicator nib positively excels at painting the product onto the skin.  It's a joy to use.  An absolute bloody joy.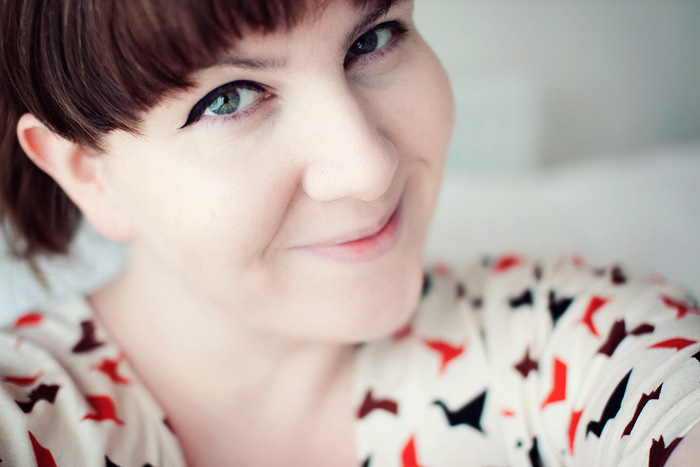 So, what the hell is wrong with it?!
Well, I can't remove the damn stuff without a pan-scourer and half a litre of sugar soap.
The Benefit They're Real Push-Up Liner, is infact, so stubborn that Benefit had to release a specially-formulated eye makeup remover to go with.  My regular cleansing methods just don't cut the mustard.  I can usually tackle most waterproof formulas with something in my makeup-removing arsenal, but this one eludes me.  Perhaps because I don't own any bi-phase products, I've read that they can help do the job… but my skin doesn't tolerate them especially well.
This is all fine and dandy if you don't mind spending £14.50 for 50ml of Benefit's makeup remover but frankly, I do.
"But Charlotte… surely, that incredible longevity is worth paying for?!" I hear you hayfever sufferers screaming at me!
Well, yes… it would be but annoyingly, despite the liner's reluctance to get. the. fuck. off. my. fingers. (see earlier note about plug removal/replacement) – the same stuff doesn't mind migrating from my lashline to my hooded eyelids.  In fairness, we're not talking panda proportions of transfer… but it's enough to get my index finger rubbing at my droopy lids.
What about you? Have you tried Benefit's latest release yet?
The Benefit They're Real Push-Up Liner is priced at £18.50 and is available to buy on counter and online from Boots, ASOS, and Debenhams
* press sample
if you liked this post, please don't forget to check out my subscriber options, here