I'm a big fan of homeopathic brand Nelsons, a British institution with over 150 years of history behind it.  As a teen, I relied on their Bach's Rescue Remedy to get me through my GCSEs and driving test, I keep an Arnica kid's stick in my handbag for when Leila walks into something/falls over/needs to pretend that she's a doctor, and I keep forgetting to pick up a tube of Graphites Cream for the little eczema flare ups that I get where my wedding ring sits.  I find the products effective at providing quick relief (almost like a security blanket) without breaking the bank.
I was sent a tube of Calendula Cream*, which is marketed as a multi-purpose cream for rough, dry, flaky or chapped skin.  Oh hai!  That's me that is!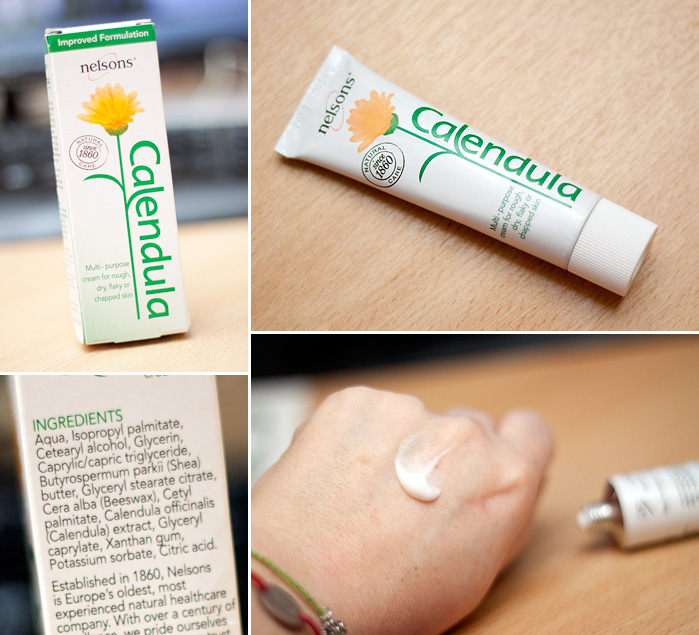 I've spent the past two days rubbing it into my cuticles as a benchmark, simply because I'm so used to nourishing that area I feel that I can judge it's efficacy better here than by using it on other parts on my body.  I'd describe the Calendula Cream as a good option for those who need a lightweight but nourishing moisturiser.  This isn't something I'd apply before bed for an intensive treatment, it's better suited to a daytime environment.  It's a little too slow to absorb to keep in my handbag (when you've literally only got about 30 seconds before you need to be doing stuff/touching things again) but it's nicely balanced as an option for your desk drawer.
It has been effective at softening the hardest bits of skin around my fingernails even after only a couple of days.  I don't care for the scent, which I'm struggling to describe as it smells (to me) neither floral, nor herbal.  I don't know what calendula (the plant) actually smells like, it may be a perfect representation.  The cream doesn't leave a greasy film behind but does leave a silky sensation that may put you off… you can 'feel' it, but it doesn't hinder at all.
You can use this on any dry bits, I'm currently suffering around my hairline… so I'll be giving it a go on my face, albeit a little concerned that it may be too rich… we shall see!  I've posted a picture of the ingredient's list above, the cream is described as being free from: artificial colourings, fragrances, parabens, PEGs, lanolin, silicones and mineral oils.  So basically, it's a good option for anyone that has experienced (or feels they have experienced) any problems with the above ingredients in the past.  I also really like the Weleda Calendula Weather Protection Cream which is more of an intensive treatment (and doesn't sink in so well) for very dry skin.
Priced at £6.35, Nelsons Calendula Cream is available to buy instore and online at Boots
* press sample