The new cream shadow range from Bare Escentuals had me foaming at the mouth when I saw swatches of them over on Temptalia earlier this month.  I'm a cream eyeshadow fan, there's nothing like them for a quick application and depending on the brand and packaging, you can often get away with just using your fingers to blend.  A lazy girl's dream.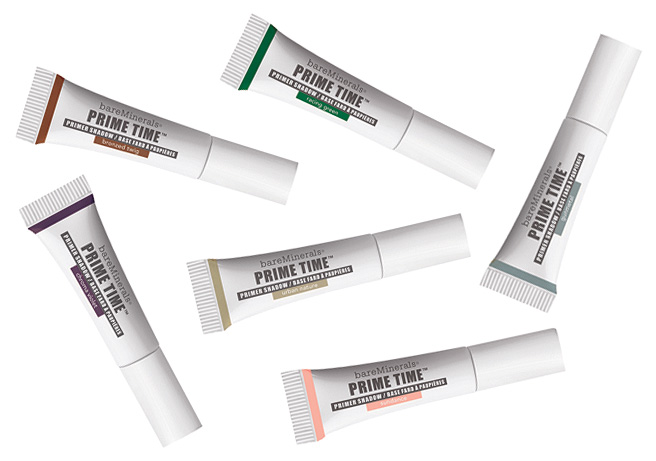 Six shades will be available in the UK from August 1st, with one particualarly special looking duo-chrome (Urban Nature) that is bound to set many hearts-a-racing.
• Urban Nature – duochrome khaki/purple
• Racing Green – vivid forest green
• Sundance – metallic peach which leans toward gold
• Bronzed Twig – the ubiquitous bronze
• Gunmetal – pewter grey
• Chroma Violet – purple with silver shimmer
I've been playing with the shade Chroma Violet for almost a week and have a few thoughts about the formula, longevity and price.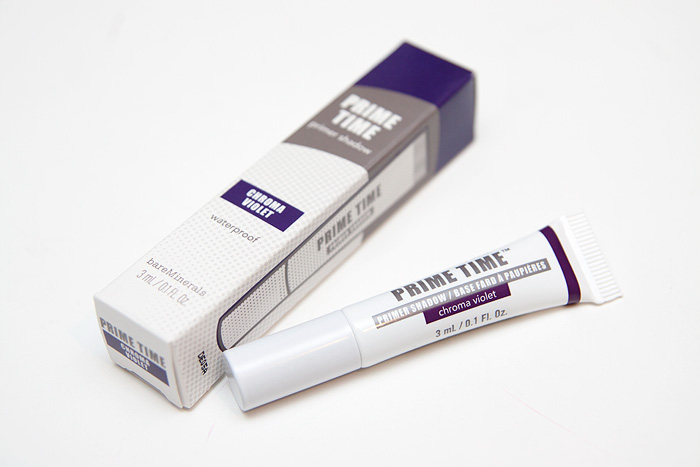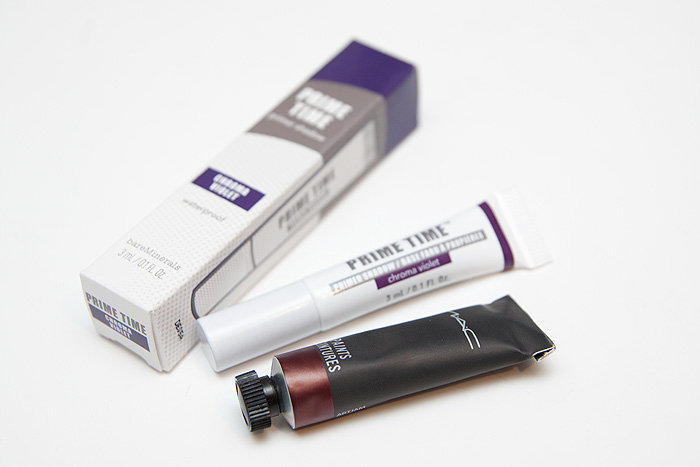 Let's get the (very small) elephant in the room out of the way first.  Size.  These things are tiny.  I've photographed a MAC Paint alongside for reference.  Considering the UK are receiving them priced at £16 a pop, we're not getting a whole lot of product for a considerable amount of money.
A Chanel Ombre D'eau costs £3.60 per ml.  A Bare Escentuals Prime Time Primer Shadow will set you back £5.33 per ml.  Value for money?  Frankly, I would like to see more product for the price.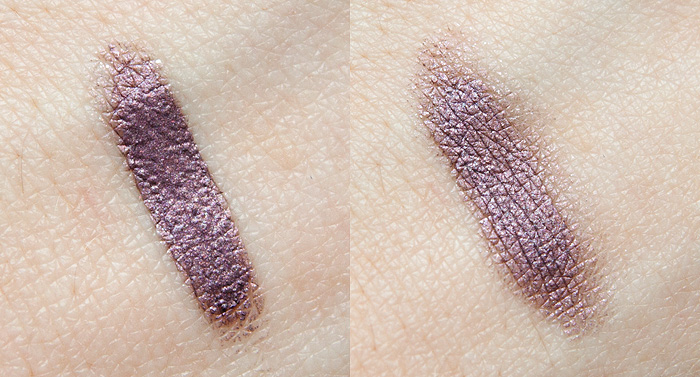 Having said that, Chroma Violet is beautiful.  It's a stunning purple that doesn't move an inch on my lids once set.  I can blend the edges with my fingers easily and it doesn't do that thing of sheering out too much leaving only sparkle.  It's a pretty awesome cream shadow with a punch of pigment.  Very awesome infact.  Very expensive (no, I'm not letting that go), but truly high quality.
I've also worn this as a priming base for an intense smokey eye.  A wash all over with Maybelline's Cosmic Black blended in the crease and pulled down into the purple.  It was one of the least fussy but most effective smokey eyes I've done and it lasted through both a swim and a night out in London!
It's because of the quality that I know I'll take myself to the boutique in Covent Garden next time I'm in London to buy the gunmetal shade… I feel a little hypocritical moaning about the price of these when I'm still considering picking up another Armani ETKI and they don't even last on my lids!
The Bare Escentuals Prime Time Primer Shadows will be available on counter from August 1st priced at £16 each.
Do you stretch the budget if something ticks all the right boxes?
* PR Sample