Here comes the older, more glam sister…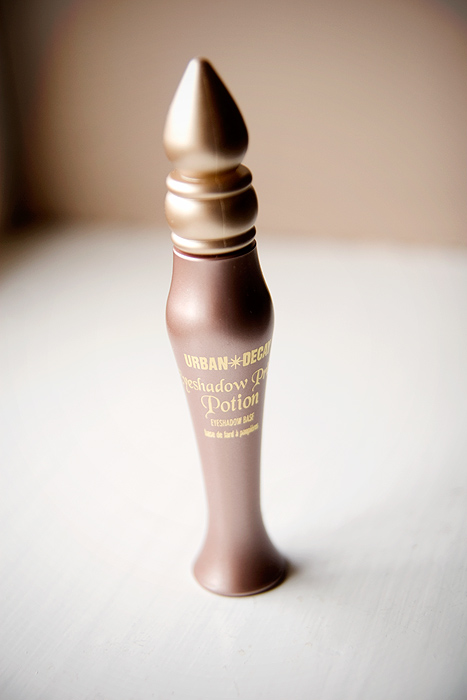 Urban Decay Primer Potion in Sin has been out in the US for over a year now, and I've been cooling my heels ever since I saw it pop up on Sephora many moons ago!
It promises all the benefits of the original UDPP with a little added pizazz.
They Say:
~ Use it alone; it's a crease proof shadow!
~ Maximise it's potential by using it as a highlighter, dab on brow bone, eye corners and cheeks for a radiant finish.
~ Sin works perfectly with any eye shadow and doesn't show through, experience vibrant colour all day, with absolutely no creasing!
I received the sample of this last week and as a fan of the original, I was keen to see exactly why I'd want to purchase this one instead.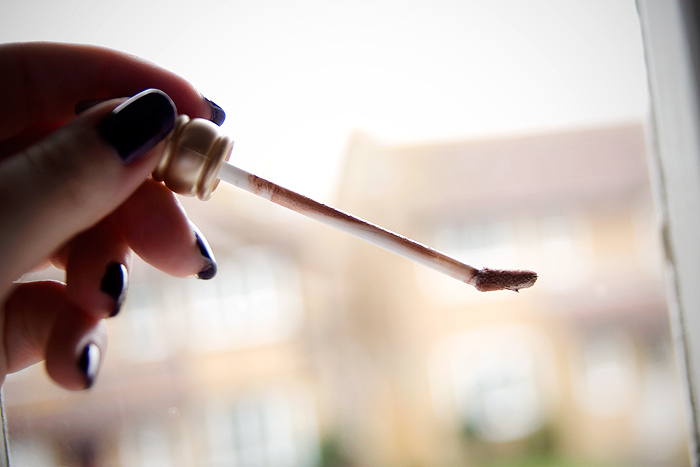 The new-fangled angled (I'm a poet) wand which promises to reach into each dark primer-potion filled corner of your tube.  I was initially sceptical about how putting an angle on the wand would *really* help, but having had a little play at 'scooping' from that very bottom jutting out bit, I think it might just work.  I don't like how it makes the wand more difficult to remove from the tube though, I keep thinking it's gonna ping primer at me as it pops free.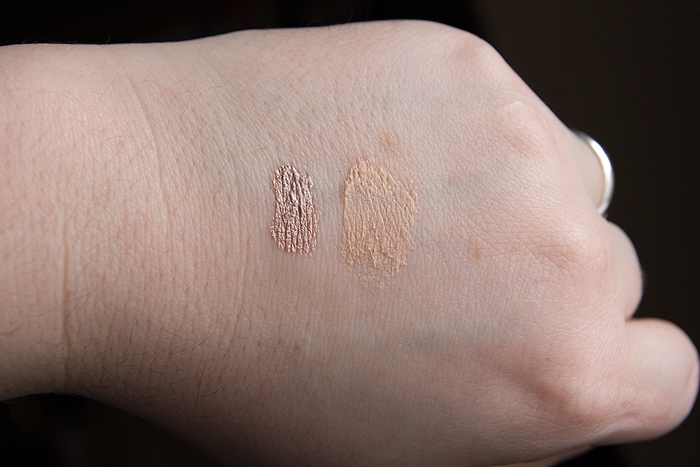 Swatched beside the original UDPP you can see that it's a champagne cream with a metallic looking shimmer.  I instantly liked it… what with being a fan of metallic neutrals with a bit of shimmer n'all  😉
It's quite heavily pigmented and the first thought that struck me was that it may do a better job at evening out skintone on pigmented eyelids better than the original.  I'm only speculating here as I don't have a particular issue with red eyelids, but it makes a nice neutral base that sheers out well depending on how much you blend.
I really like this worn as a cream eyeshadow combined with a powder crease colour, as you would imagine, the staying power is rather marvellous.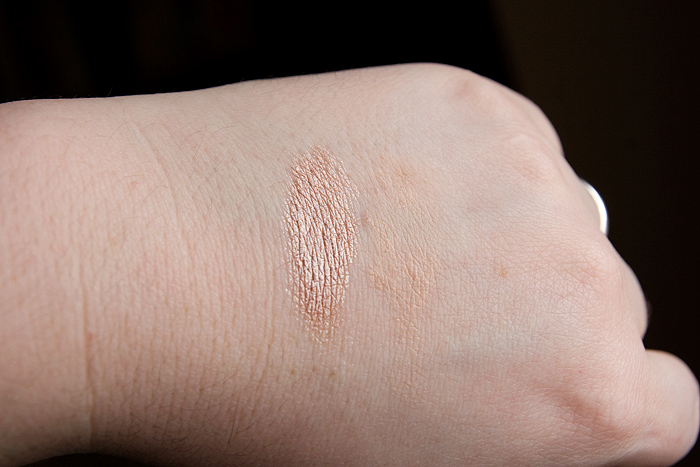 The two primers blended out a little (not completely).
You can see that Sin retains it's champagne shimmer whilst the original UDPP is well on it's way to blending invisibly.
I'm an idiot and forgot to take a photo demonstrating how the same eye shadow looked applied over both primers.  I promise I'll do it before the week is out and just pop up a quick comparison post.  Basically, if you're applying a shadow over UDPP Sin… it ups the shimmer.  I <3 it, but it's important to see as it may put you off completely.
I find that staying power for eyeshadows applied ontop is pretty equal for both primers, if there is a difference, it's not discernible to me.  Blendability is still hard work over Sin and I'm a bit disappointed about that as it's the only thing I really would have loved to see changed about the original UDPP.
D'yanowot… I'm on the fence about it with regards to my original question: "Why would I purchase this one over the original?"
Don't get me wrong… I  really like it, there's nothing for me not to like.  I like neutral, I like shimmer…
Might I sometimes want some of my shimmer eyeshadows even more shimmery… Possibly!
Do I want all my eyeshadows turned a bit shimmery by using it?  Probably not…
Do I want a lovely champagne cream eyeshadow practically guaranteed not to budge in the summer? Yes please!
Would I purchase?  I dunno!  Stop asking me hard questions!!  What say you?
Urban Decay Primer Potion in Sin is due out next month, priced at £11.50.