As I've gotten older, I've made friends with products that promise sheerer coverage.  As a younger makeup-addict, I definitely went all out on their fuller-finish, matte counterparts that obliterated every blemish with a single swipe, they were my makeup nirvana.  The sad fact of the matter is, that on younger skin, you can get away with it… but as you get older, you need to find products that rest more lightly against your skin.  Products that reflect the light and even out your complexion without sinking into pores, fine lines, and *whispers* wrinkles.
Clarins latest release promises to do just this.  The Clarins Instant Light Radiance Boosting Complexion Base is available in three shades: 01 Rose, 02 Champagne, 03 Peach… each of which promise a light texture and effortless glide over the skin.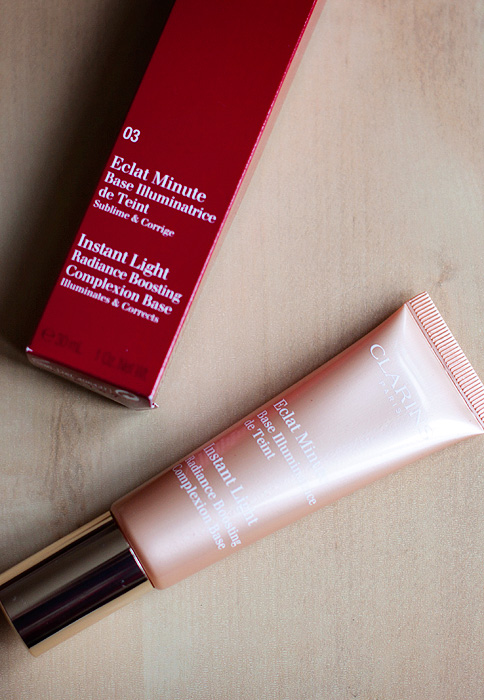 Don't think of this as a typical base product.  It's not a foundation, neither is it a primer… I like to think of it more as a little touch of skin S.O.S which would come into its own on a morning after the night before.  It contains pigments that will help reflect light and luminosity back from the skin surface, giving the impression of a more well-rested complexion and also contains moisture-boosting Katafray to help balance the skin's natural hydration levels.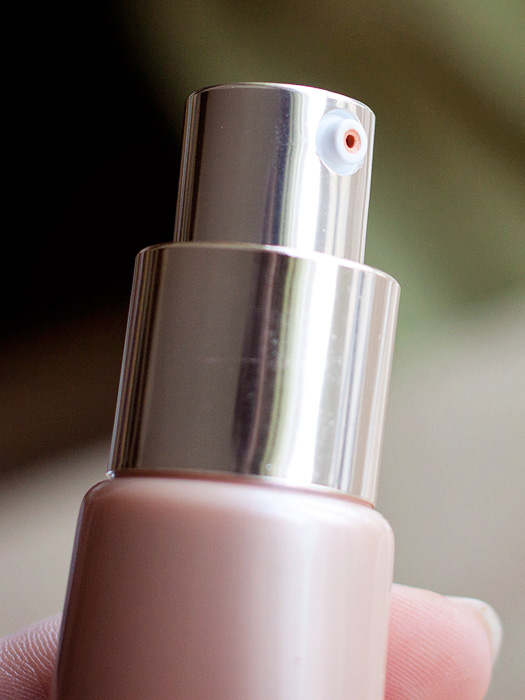 My skin is unlikely to ever be good enough to wear this alone, but I would happily combine it with a light foundation base to further even out the redness and tone without overloading my pores with product.  The 30ml pump tube delivers the product efficiently and without wastage, always a plus point in my opinion.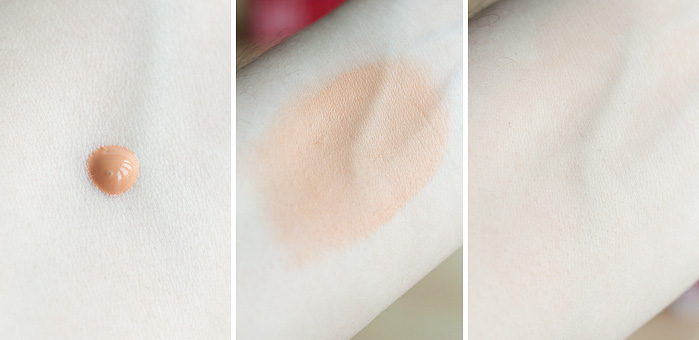 My only caveat is shade selection.  As you can see, the shade (03 Peach) that I have is too dark and shade-impacting for my complexion.  As sheer as it is, it gives me an overall warmth that isn't flattering.  You may still need a little assistance from a Clarins expert on counter who will help ensure that you walk away with the shade that benefits your skin-tone the most.
As far as the texture goes, the base shows a lot of promise.  You can apply allover the face or simply buff it into the areas that need some extra radiance, I've also tried mixing it into my foundation and the formula takes to this well without balling up on the skin or grumbling about such an injustice!
I'm going to leave you with a link to ReallyRee's before/after photos that demonstrate better than I am able, how the product actually looks when worn on the face.
Clarins Instant Light Radiance Boosting Complexion Base is priced at £26.00 and is available on counter and online now.
* press sample
if you liked this post, don't forget to check out my subscriber options, here